The Space Force has debuted its official logo, which reprises the use of the delta symbol from the service's seal and flag.
The service introduced the logo Wednesday, accompanied with its formal motto, "Semper supra," which translates from Latin as "always above," according to an announcement on Twitter.
Read Next: 'I Never Looked Back': Goldfein Says Trump's Joint Chiefs Chairman Pick Wasn't Personal
The motto "represents our role in establishing, maintaining, and preserving U.S. freedom of operations in the space domain," the Space Force said.
The logo itself is a delta symbol, which also appears on the Space Force seal and flag.
With each unveiling, Twitter users have been quick to point out that the insignia is highly reminiscent of the "Star Trek" Starfleet Command logo; but the military says the symbol is part of its history, too.
"The delta symbol, the central design element in the seal, was first used as early as 1942 by the U.S. Army Air Forces; and was used in early Air Force space organization emblems dating back to 1961," an official previously told Military.com. "Since then, the delta symbol has been a prominent feature in military space community emblems."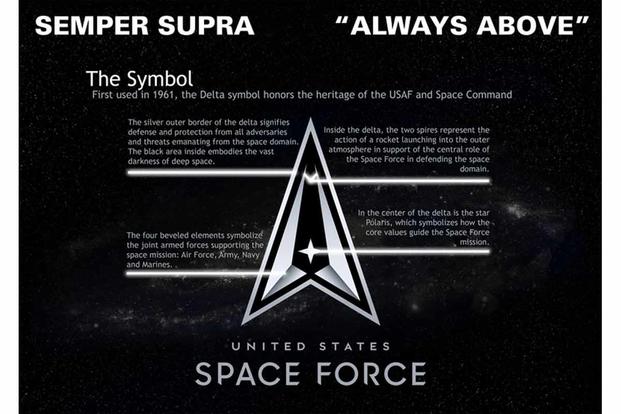 The logo has four pronounced bars within the delta to represent the four military branches -- Army, Navy, Air Force and Marine Corps -- that support the Space Force, according to an explanation released with the image.
The Space Force's seal was unveiled by President Donald Trump in a tweet in January; in May, the president hosted Air Force Secretary Barbara Barrett, Chief of Space Operations Gen. John "Jay" Raymond, and Chief Master Sgt. Roger Towberman, senior enlisted adviser to the Space Force, during a ceremony to present the flag at the White House.
Each image also has Polaris, or the North star, which officials have said signifies the Space Force's "core value, our guiding light."
The delta will also have a place within the organization's structure.
Last month, the sixth military branch said it will have only three echelons of command: field commands, deltas and squadrons. By comparison, in the Air Force, the service headquarters has subordinate major commands, which are composed, in descending order, of a numbered air force, wing, group, squadron and flight.
Pending Space Force decisions include uniform updates, insignia and a rank structure. Officials are also deciding what to call its members.
-- Oriana Pawlyk can be reached at oriana.pawlyk@military.com. Follow her on Twitter at @Oriana0214.
Related: Space Admiral? House Lawmakers Want Navy Ranks for Space Force