The Air Force's top general said he doesn't dwell on losing out on the chairmanship of the Joint Chiefs of Staff, after President Donald Trump picked Army Gen. Mark Milley over him.
"The right thing happened, right? Which is, the president had two individuals he was able to interview, and he got to select the one that he wanted," outgoing Air Force Chief of Staff Gen. David Goldfein said in an interview with Military.com on Wednesday.
Read Next: In Error, Tricare Tells 600K Beneficiaries They've Had COVID-19
Goldfein was one of the generals Trump considered for the job in 2018. Since then, it has been reported that then-Defense Secretary Jim Mattis preferred Goldfein for the role. But as the president became aggravated with Mattis, especially his steadfast commitment to keep troops in Syria, their relationship soured, with the SecDef ultimately resigning later that year. As a result, Goldfein was eclipsed by the "more brash" Milley, according to The New York Times.
Without discussing details surrounding the decision, Goldfein said there are no hard feelings.
"At this level, it's not personal, it's professional, and I take no -- you know, I've never looked back on that."
He continued, "The president has the absolute right and responsibility to pick the principal military adviser that he wants. And he picked the right guy."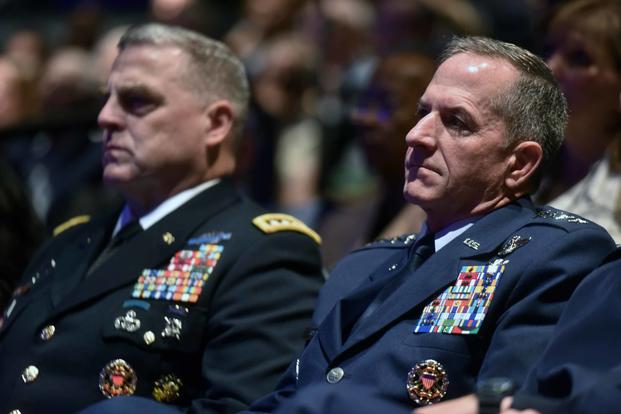 Reflecting on his own legacy, the general said it is important to look to the people he's leaving behind, those whom he's mentored and raised to think about the future of the Air Force -- and the military -- in a collective way.
Over his tenure, Goldfein has pushed to make the Air Force both more competitive and collaborative. Much like Mattis, he has stressed the importance of partnerships with allies and joint services, as well as the imperative to develop a more streamlined approach to carrying out the military's global operations -- or as Goldfein likes to put it, "to build a network" and look at operations from a networked approach.
"I'm really proud of where we are as an Air Force right now in terms of our joint leader development," he said.
He's even more proud of "having a hand" in selecting the next leader of the Air Force, Gen. Charles "CQ" Brown. With his Senate confirmation vote last month, Brown made history as the first African American officer to serve as the top uniformed officer of any of the military branches.
"Here's a guy who's fought and led in combat in three different combatant commands," Goldfein said of Brown, who is the outgoing chief of the Pacific Air Forces.
Brown will also be the first black officer to sit on the Joint Chiefs of Staff since Army Gen. Colin Powell, now retired, served as chairman between 1989 and 1993.
Brown "has been a deputy combatant commander. He's just coming out of the most important region in the globe ... so when the Air Force and the joint force gets to meet CQ and his wife Sharene, they're going to see very clearly why he was chosen," Goldfein said.
Brown will lead a service in transition. The military has begun charting a course to take on new, future threats, reconfiguring its missions amid the coronavirus pandemic, as well as addressing racial disparities across the force.
"If there was one officer in the entire United States Air Force that I would pick to carry those issues forward [who] understands them, it's CQ Brown," Goldfein said.
The chief is scheduled to retire Aug. 6.
-- Oriana Pawlyk can be reached at oriana.pawlyk@military.com. Follow her on Twitter at @Oriana0214.
Related: From Old Pilots to New Planes, Air Force Chief Talks 'New Ways of Doing Business'