The maker of robotic targets that can move realistically, shout and even charge the shooter is now pitching a retrofitted version of his invention as a disinfection system that can kill the coronavirus in enclosed spaces with ultraviolet light.
Ralph Petroff, president of the North America branch of Marathon Targets, said his sturdy, four-wheeled autonomous robots could turn the job of disinfecting a barracks space or mess hall from a dayslong affair involving HAZMAT suits into the work of a few hours -- with no human involvement needed.
"If you need them for target practice, you use them for target practice; if you need them for corona-killing, you use them for corona-killing," he told Military.com.
Petroff said the company acquired UV disinfecting panels earlier this month, and his team had them installed on the robot platform in a matter of hours. Multiple military installations have expressed interest in seeing the capability demonstrated, he said, although he asked that the bases not be named because matters were predecisional.
Related: These Marines Are Becoming Crack Shots Thanks to Robotic Targets
According to product specifications provided by Marathon, the robot is capable of radiating roughly 110 watts via a vertical UV mount reminiscent of a fluorescent light fixture. It takes just over a minute to disinfect a surface with the robot from two feet away, according to the information, and six minutes, 30 seconds to disinfect from five feet away.
While the science isn't complete yet on how much UV power it takes to kill the novel coronavirus, Petroff said industry was currently employing double the wattage known to kill other coronavirus variants to ensure effectiveness.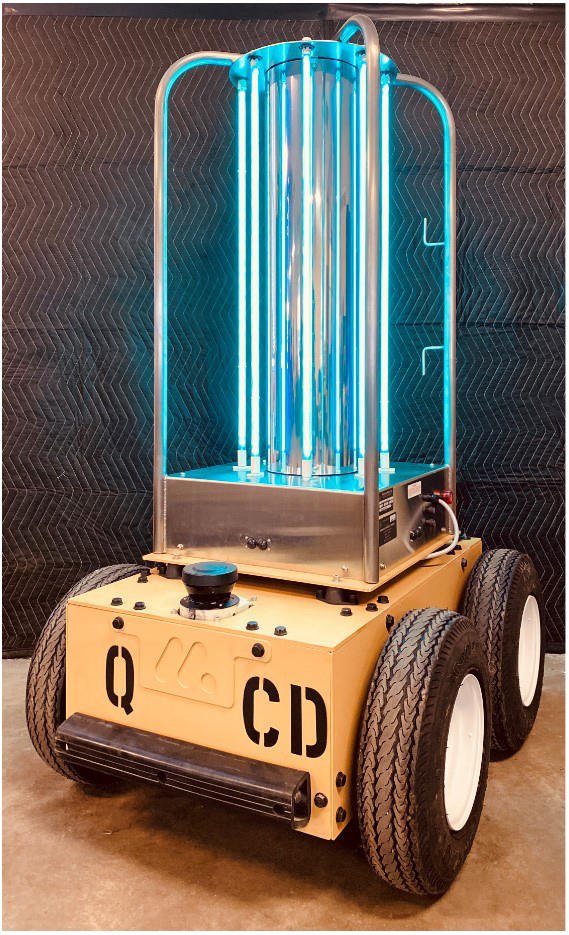 The market for UV disinfection had long been small, Petroff said, because it was so manually intensive. He believes his robotic mounts can change that.
"The UV part is the easy part," he said. "Trying to get an autonomous robot to walk around without bumping into things and knowing where it is at all times is the hard part. We mastered that a long time ago."
Petroff says Marathon's robot targets have the potential to revolutionize military marksmanship by helping shooters train with a system that moves and reacts like a human, rather than with a static bulls-eye. The 2nd Marine Division, out of Camp Lejeune, North Carolina, has already integrated them into training, leasing 16 of the systems in 2019 for $2.1 million. Chief Warrant Officer 5 Joshua Smith, the division gunner, told Military.com last year that the unit planned to collect additional training data and potentially build a case for acquiring the robots more broadly across the force.
Petroff said he's now just waiting for word from any of the installations and units he's been communicating with that they're ready to employ the robots as a service.
"We can certainly clean up after hours at a mess hall or a gymnasium," he said. "My hope is, if we get more proficient at this, we could do multiple cleanings a day."
-- Hope Hodge Seck can be reached at hope.seck@military.com. Follow her on Twitter at @HopeSeck.
Read More: US Pilots' Close Calls with Russian Aircraft Likely to Continue, Experts Say