At 2nd Marine Division in North Carolina, troops who have spent their careers shooting at static bull's-eyes on paper are being forced to adapt to a new kind of target -- one that can charge at them, move in unexpected directions, respond when engaged and even shout at them in a foreign language.
The division is the first operational unit in the military to employ autonomous Marathon targets: humanoid figures on four-wheeled platforms that can be programmed to operate in concert, and are fast and unpredictable enough to rock the most experienced marksmen back on their heels.
The targets have been a subject of experimentation within the Marine Corps for several years. The Marine Corps Warfighting Lab, out of Quantico, Virginia, had taken point on experimentation with the systems, and in 2018 then-Commandant Gen. Robert Neller commissioned a study on how the targets could improve Marines' skills and training quality.
But officials at 2nd Marine Division were not content to wait until a service-wide decision was made on how to use the robots. When Marine Corps budgets became constrained at the end of last fiscal year due to storm repair and other costs, Chief Warrant Officer 5 Joshua Smith, division gunner for 2nd Marine Division, said he stepped in to save the experimentation effort.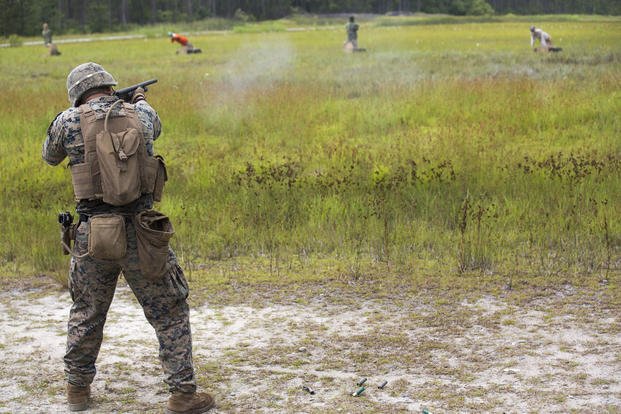 "When I first approached [2nd Marine Division Commanding Gen. Maj. Gen. David Furness] and told him the Marine Corps could not fiscally afford to keep these targets for the next year, he immediately responded, 'Find a way to get the money; I want these targets for the division,'" Smith told Military.com.
The division ended up leasing 16 targets for a total cost of $2.1 million.
That may sound steep compared to traditional static targets, but Smith notes having targets that move means he can modernize or alter any range cheaply in the space of an hour. The Marine Corps, Smith said, recently abandoned a plan to convert all its rifle ranges from yards to meters -- an effort that would allow Marines to operate more easily with other services and other nations' militaries -- because of the towering cost, estimated at $1 million per berm.
"How do you do that on the cheap? You move the target," he said. "You don't move the berm."
Smith said he's now finding range configuration limited only by his own imagination. And the same, he said, is true for employment of the targets, which not only test marksmanship skills through evasive, human-like maneuvering, but also make a convincing enemy force that can leave troops dry-mouthed when they charge a shooter at 10 miles per hour.
He said the Marine Corps-commissioned study found the targets could increase individual marksmanship effectiveness on a moving target dramatically over the course of just one day.
"A Marine went anywhere from a 20-30% hit rate on a moving target to 80-90%," Smith said. "Imagine, if I can do reps and sets like that all the time, how I could increase lethality at the individual level."
A primary objective for Smith this year is the collection of more data: usage rates and statistics demonstrating increases in lethality across 2nd Marine Division.
"We're trying to show that these are a valuable target to us," he said.
They're already wildly popular, with wait lists for division units to use them. Smith said units preparing to deploy get priority; others get in line. He has brought out the targets for unit events such as the 2nd MarDiv squad competition in June and July, where a group of targets simulated an enemy patrol. A Marine Corps squad ambushed the simulated enemy with an M18 claymore mine, then fired on the robots when they scattered in a realistic human response to the attack.
"When we first leased them, it was sort of little-known that we had these targets. When I got Marines in front of them, that's when the usage rates went up," Smith said. " ... Marines are asking why are these not on every range."
Among his future plans is a live-fire range in which the targets work their way inside an infantry unit's perimeter, putting human troops on the defensive.
Having 16 of the humanoid targets means a rifle squad can be matched or even outnumbered by a yelling, advancing simulated enemy.
"As we get out of the [Iraq/Afghanistan] conflicts, what that was, we always outnumbered our enemy," Smith said. "Now, as the [Defense Department] starts to look at peer-versus-peer, we try to give that to the Marines now. A rifle squad is fighting a rifle squad. A fire team is fighting a fire team."
It's not just the ground-pounders who can benefit from the targets, though. Smith said amphibious assault vehicle crewmen have fired on the targets using their guns, and tanks have been able to train their 7.62mm coaxial machine guns on them.
"Some of the stuff we would like to see in the future is the ability to incorporate some of our higher-caliber munitions," he said. "Right now, we're up to 7.62 and some of the smaller fragmentation [rounds]. We would love to incorporate mortars. ... Those are some of the things we have been looking at."
Smith said he's also thinking about how to rig the targets to "shoot back" at human troops, possibly by incorporating the Instrumented Tactical Engagement Simulation System, or ITESS, essentially a high-tech version of laser tag.
Marine Corps-wide, Smith said he'd like to see eight to 16 of the targets fielded to each infantry battalion. But whether or not the service springs for the technology, he's confident his Marines will be able to keep training with them.
"This is going to be up to [Headquarters Marine Corps] for them to find the budget," he said. "Within 2nd Marine Division, we're going top watch this very closely and see what the institution does. If it doesn't go the way we would like it to go, I will tell you with confidence that Gen. Furness will give me guidance to find said money and keep these targets within the division."
-- Hope Hodge Seck can be reached at hope.seck@military.com. Follow her on Twitter at @HopeSeck.