An A-10 Thunderbolt II made a belly landing at Moody Air Force Base, Georgia, after its pilot declared an in-flight emergency Tuesday during a routine training flight, according to the Air Force.
The A-10C, assigned to the 75th Fighter Squadron at the base, touched down "without its landing gear extended," officials with the 23rd Wing said in a news release.
Photos of the mishap surfaced on the unofficial, but popular Air Force Facebook page Amn/Nco/Snco, showing the A-10 close-air support aircraft resting on its underside with its canopy missing on the flight line as airmen and emergency crews responded to the incident.
The pilot, who was the only person aboard the single-seat jet, "was not injured and evaluated by flight surgeons before release," officials said. A spokesperson for the 23rd could not provide additional details, but said base leaders have launched an investigation into the accident.
Related: Bye-Bye to BRRRRT: Air Force Wants to Retire 44 A-10 Warthogs
The A-10 is known for its iconic Gatling gun, which is designed to shred tanks, and its tough titanium armor, which is designed to take hits and keep flying.
The Air Force has 281 A-10s in its inventory (two A-10s were destroyed in a collision in 2017), but has repeatedly stressed it can maintain roughly six of its nine A-10 combat squadrons through 2032.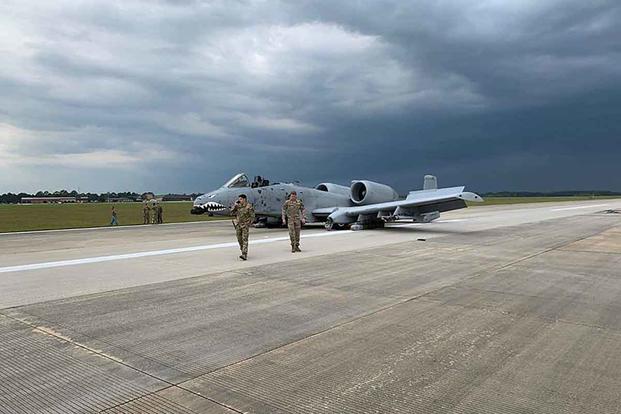 During the unveiling of the Air Force's fiscal 2021 budget request, service officials announced they have proposed shelving 44 of the Cold War-era ground attack aircraft in order to modernize a combat-capable fleet across seven squadrons.
Air Force Maj. Gen. John Pletcher, deputy assistant secretary for budget at the Air Force's Office of the Assistant Secretary for Financial Management and the Comptroller at the Pentagon, told reporters in February that the retirement will affect "the oldest and least-ready aircraft."
-- Oriana Pawlyk can be reached at oriana.pawlyk@military.com. Follow her on Twitter at @oriana0214.
Read More: As Army Calls on Medics to Return to Service, Congress Considers New Skills Reserve