Late in the evening on Jan. 2, as Americans contemplated a return to work after the New Year holiday, shocking news began to ricochet across the internet: The United States had conducted a deadly drone strike on Iranian Gen. Qasem Soleimani, one of that country's most esteemed military officers. Suddenly, the U.S. appeared to be on a war footing with a sovereign nation, one with nuclear aspirations.
As whispers of a possible World War III gained viral speed, something unexpected happened: The nation's attention turned to a small federal institution that has been little more than a historical footnote since the end of the Vietnam War. Google search traffic for "the draft" reached its highest levels since at least 2004; the U.S. Selective Service System's website, which officials say was undergoing maintenance at the time, slowed nearly to a halt as panicked visitors flooded in. In the days that followed, the U.S. Army was forced to issue an announcement combating a malicious hoax. No, officials said: We will not conscript you and order you off to basic training via text message.
But while the hysteria over rumors of a return to a military draft was short-lived, it came as a congressional commission wrapped up a multi-year study that may have major implications for the future of selective service. On March 25, the National Commission on National Military and Public Service will release its findings, with 164 specific recommendations. The 11-member commission may propose, among other things, including women in selective service registration for the first time in U.S. history; otherwise expanding or altering the registered population; or even doing away with SSS altogether.
Some argue that the selective service is a relic from the age of trench warfare, saying the sophisticated and highly technological nature of future fights means the nation will never again have to flood the military ranks with ground-pounders who deploy en masse. Others say the nation is now closer than ever to the sort of existential security threat that could make mass mobilization our best hope of national survival. What most experts agree on, however, is this: If the draft ever does make a comeback, it should not and will not look the same as it did five decades ago.
Here are five ways the draft could change to meet the challenges of modern warfare.
1. Draft Industry
Until the novel coronavirus pandemic brought much of American life to a halt in early March, little attention was paid to the Defense Production Act of 1950, a law that gives the president broad powers to direct private industry to change operations in order to meet pressing national needs. It is, in essence, a mobilization of corporations, rather than a mobilization of private citizens. President Donald Trump announced March 18 he was invoking the DPA "in case we need it" as the nation contends with critical shortages of testing supplies, masks and other in-demand medical equipment.
Historically, DPA has not served an exclusively military function; it was used by the Federal Emergency Management Agency in 2017 to give priority status to contracts for housing, food, water and utilities restoration to hurricane-razed Puerto Rico.
But on a battlefield that has grown increasingly technological and complex, it's likely that the U.S. government would move aggressively to leverage American industry and ingenuity to answer a true crisis in national security, said Dr. Jason Dempsey, an adjunct senior fellow of the Military, Veterans, and Society Program at the Center for a New American Security.
"The early movers and the most valuable people in a future war aren't going to be conscripted, per se, but they're going to sell their companies and their services to the government," Dempsey told Military.com in an interview.
He referred to the way the government seized coal mines, railroads and even a department store in World War II, and nationalized steel mills during the Korean War. The precedent exists, and so does the continuing potential to use it.
"A bunch of conscripts standing around in uniform doesn't help with cyberattacks," Dempsey said. "It's not going to be the government enlisting unskilled labor. It's going to be a government takeover in banking security and cyber companies."
However, these industries don't function like steel mills, and globalization is a game-changer. Dempsey questions whether the nation would find the political will to initiate such a takeover today, and how technology companies, many of which do big business with America's global competitors, might react to being ordered to change tasking priorities and cooperate with the federal government for the sake of national defense.
"Is Google an American company or a transnational company?" he asked. "What does a company like Google do? You might not see a willingness to take a side."
2. Draft Big Brains
The U.S. Selective Service maintains basic records on its registry population: men between the ages of 18 and 25. While SSS Director Donald Benton told Military.com that the service estimates about 92% of those required by law to register do so, the records they keep on these young men are surprisingly sparse. Under Benton, SSS first moved to collect email addresses from registrants in 2017; it also failed to collect phone numbers until recently. If the nation ever determined it needed to mobilize individuals with a particular capability and skill set beyond what the Reserves could provide, the selective service would have no way to assist. And, as the system currently operates, Benton noted, it might not make sense to collect skills and education information -- particularly since most registrants are 18-year-olds, freshly graduated from high school.
"There's been some talk in [the national commission] ... in fact, that was one of their charges is, 'What about a conscription for skills, cyber, health care, things of this nature?' OK. However, you need to have some proof," he said. "'I like to play video games; that makes me a cyber expert.' Right? There has to be some veracity to the data."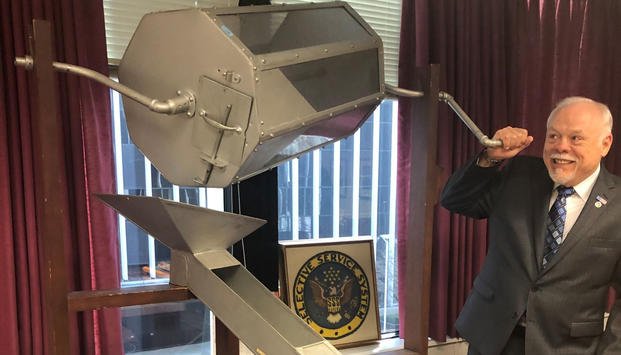 A better idea, said Dr. Jacquelyn Schneider, a Hoover Fellow at Stanford's Hoover Institute and a non-resident fellow at the Naval War College, might be a new kind of strategic reserve: a roster of experts and specialists who have very few traditional military obligations, but stand ready to be mobilized in case of urgent national need.
"You're looking for those exquisite skills that give the U.S. a technological edge," she told Military.com. "[Americans are registering with the Selective Service] at 18 years old. So how do we know, 10 years later, that they have a Ph.D. in artificial intelligence?"
Earlier this month, the Cyberspace Solarium Commission, a brain trust established by Congress in the 2019 National Defense Authorization Act, released a wide-ranging report including a proposal for the establishment of a Military Cyber Reserve -- one that would give the Defense Department unique access to highly skilled individuals who might not otherwise be inclined to don the uniform.
Schneider, herself a former active-duty Air Force officer and current reservist, noted that the lion's share of military drilling time is spent keeping up on readiness requirements and mandatory training on topics like suicide prevention.
"Right now, our Reserve looks a lot more like active-duty lite," she said. "Reserves have increasingly been a stop-gap to allow the active duty to be more healthy. It's a more flexible option than active duty, but it's a really hard sell to get people who are really high talent in their current careers."
Like the "purple-haired" cyber auxiliary envisioned by former Marine Corps Commandant Gen. Robert Neller, this group would likely be exempted from conventional military fitness, grooming and training requirements, but nonetheless be able to serve in a military role -- with a minimum of training and familiarization -- under the right circumstances.
But this concept would also require buy-in -- and the same challenges that dog recruiters striving to make mission in a population with perhaps less direct knowledge of and connection to the military than any in American history would come into play.
"The higher the stake in the conflict, the more people you would have to opt into something like that," Schneider said. "It's harder to recruit people for things the U.S. public, in general, doesn't value."
3. Draft Women
The National Commission on National Military and Public Service owes its existence to the heated national and congressional debate over whether women should be required to register for the Selective Service System. Despite the fact that the system has made no demands on its registrants in nearly 50 years, the issue is a deeply emotional one, stoking fears for some that young women -- who were not even permitted to serve in ground combat jobs five years ago -- will be mobilized against their will to fight and die on the front lines.
In 2016, two Republican congressmen, Duncan Hunter of California and Ryan Zinke of Montana, introduced the Draft Our Daughters Act as a provocative measure, to force debate on the issue. Unexpectedly for them, the bill passed as part of the 2017 defense policy package. Under the oversight of then-Senate Armed Services Committee Chairman John McCain of Arizona, however, the measure was converted from a policy to execute to a commission that would further study the issue and related topics.
During hearings held in April 2019, arguments on both sides of the issue were passionate and diverse. Those against including women in selective service raised issues including the role of mothers in society to the greater tendency of women to become injured when performing infantry tasks.
"Women, in the prime years for bearing and raising children, should not be consigned by the state away from hearth and home should they choose to work there," Dr. Mark Coppenger, of Southern Baptist Theological Seminary, said in testimony to the commission. "And this applies to all forms of compulsory public service, not just military duty."
Jude Eden, a female Marine Corps veteran who deployed to Fallujah, Iraq, criticized the universal draft as fundamentally unfair to women.
"In warfare, women don't have an equal opportunity to survive," she said.
But from a purely numerical perspective, including all Americans in the draft system makes sense to many. In 2016, the then-heads of each military service testified to Congress that they supported including women. And, as some point out, in an era when most young Americans don't meet basic qualifications to serve, reducing the draftable population by half may leave the nation vulnerable.
Of the 32 million American youths between the ages of 17 and 24 at a given time, only 4.5 million meet the most basic military service qualifications and are considered highly academically qualified, meaning an A or B student, said Dr. Joe Heck, chairman of the National Commission, told Military.com. If the current male-only draft registration system hit 100% of required participation, Benton said, it would have about 2.3 million annual registrants. And that's before processing for a broad range of exemptions and deferrals.
For Katherine Kusminksi, an associate political scientist at Rand Corp., that's what the question comes down to.
"If what it is is access to talent, in some ways it's recognizing that you get more talent in a larger pool," she told Military.com.
Schneider noted that including women in selective service did not necessarily need to mean sending them to the front lines; in fact, that notion in some ways belongs to a bygone era of warfighting.
"We don't have this huge front line of troops that we've seen in the past," she said. "Instead, you've got this huge logistics arm and enablement arm. You can punt the question of whether women should be on the front lines of combat, and instead use women in useful ways all throughout the military."
4. Draft Everyone, But Not Just for the Military
Of all the arguments regarding national service, the one that appears to have gathered the broadest consensus is that the yawning civilian-military divide is troubling and bad for the nation. Some of the best minds in the national security field have waxed eloquent on the need for all Americans to feel a personal stake in the nation and the causes for which it sends troops to fight and die. A recurring proposal is for a form of universal national service that would become ubiquitous, like jury duty, but also offer Americans flexibility on how they might choose to serve, whether in the military or elsewhere.
In a March 12 essay on Project Syndicate, former Marine Corps commandant Charles Krulak argued for a mandatory two-year paid national service program that would prioritize service at the state and local level, offer benefits such as subsidized mortgages and low-interest business loans, and draw on the experience and wisdom of retirees from service professions to serve as "mentor-instructors" to young people in the program.
"The federal government should launch a block-grant program for each state to decide where an army of young men and women could best address its communities' most urgent social needs," Krulak wrote.
Eliot Ackerman, a veteran Marine Corps special operations officer and acclaimed novelist, wrote in an electrifying piece for Time in October 2019 that a return to mandatory service could serve, finally, to end the nation's "forever wars" by bringing home to all Americans the real cost of fighting them. Ackerman's proposal was radical; it would specifically send inductees -- a percentage of the population drawn from families in the nation's top income-tax bracket -- into combat-arms roles to experience the fight at the tip of the spear.
While it's difficult to envision that specific proposition, which invites comparisons to the fictional series "The Hunger Games," becoming national policy, the National Commission's recommendations will include proposals for more pathways to service and broader participation.
"We have what we believe is a very bold vision and comprehensive plan to grow the number of service opportunities, in partnership with states and in partnership with the private sector," said Heck, the commission's chairman.
A brigadier general in the U.S. Army Reserve and former Republican congressman from Nevada, Heck said he and the other members of the commission were troubled by the lack of connection between civilians and the military and national service in general. Military service, he said, has almost become a "family business," with children following parents into the armed forces, and draws disproportionately from certain regions of the country, such as the southeastern United States, while urban areas go underrepresented.
The commission, he said, was heartened during visits to middle schools and high schools to learn that many students were open to the concept of serving, but felt they lacked a pathway.
"We'll lay out, in our report, what I call a cradle-to-grave pathway to service," Heck said. He added the report will include recommendations to offer more robust civic education for students -- a discipline that has become increasingly displaced by new priorities, such as science, technology, engineering and mathematics (STEM) disciplines.
Dempsey, the CNAS fellow and a former Army infantry officer, cautioned that the structure of a new national service pathway would determine its success, and suggested it would necessarily involve a new government hiring program.
"We're trying to reinvigorate a sense of national and collective engagement," he said. "We should be talking about bringing back the [Works Progress Administration] ... everybody talks about public service in the outline. But when you talk about details, everybody shuts down."
The WPA, established in 1935 under the New Deal, offered road-building, public art and infrastructure jobs to millions of Americans left jobless in the Great Depression.
In a later conversation after precautionary measures due to coronavirus caused the stock market to plunge and unemployment claims to soar, Dempsey said the crisis might provide an on-ramp to precisely such a program, with the net benefit of seeing more Americans invested in serving their nation.
"Every gig worker in America right now who has lost part-time jobs from Uber and gig work, part of the government stimulus should be hiring all of them, and putting them to work to support hospitals and food banks," Dempsey said.
5. Abolish the Selective Service System
Since the Selective Service System was reactivated in 1980 following a five-year period of dormancy, it has come closest to being abolished at the hands of Rep. Peter DeFazio, an Oregon Democrat. In the 1990s, he twice led successful efforts in the House to defund the agency, only to see funding restored in the Senate.
Decades later, he remains passionate on the issue; he last introduced legislation in December 2019 to repeal the draft system.
"It's a waste of money, it's unnecessary, we have an all-volunteer military that is superior," DeFazio told Military.com. "There's no conceivable scenario" in which the U.S. would bring back the draft.
He referred to a 2018 Rand report from Bernard Rostker, former director of the SSS from 1979 to 1981. In the report, Rostker notes that the only time a proposal arose to reinstate the draft -- amid the wars in Iraq and Afghanistan in 2004 -- it was resoundingly defeated, 402 to 2. Since the current SSS mandate requires that the first inductees report to entry-level training 193 days after a mobilization order is signed, Rostker also suggests that having ongoing draft registration is unnecessary, and that post-mobilization registration might be just as effective if the nation needed to return to conscription in a crisis.
Rostker also took issue with the argument that having to register for the draft served as a useful reminder of Americans' patriotic duty, since the registration process today is typically bundled into other paperwork, such as driver's license applications.
"Today, for most young men, the most affirmative act of registering for the draft is to open a letter containing notification that they have been registered and giving them their Selective Service number," he wrote. "This is hardly the link with the military envisioned by most who put forth this argument."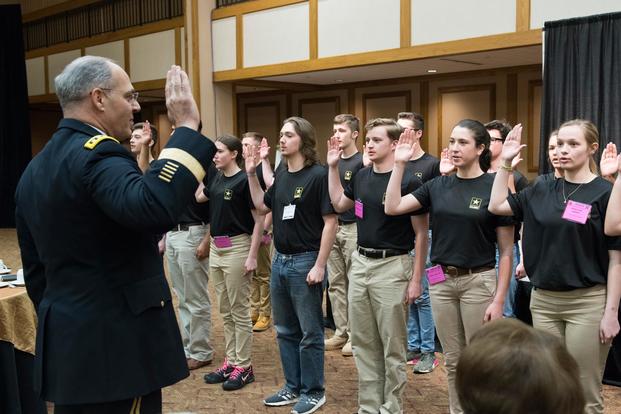 Dempsey argued that a small reminder is better than none.
"As ineffective and as small and weird as it is -- if that's all we've got, let's at least not throw that one away," he said of the Selective Service registration process. "It's a reminder that, 'Hey guys, this is still a collective endeavor. There's always the possibility the nation-state might have to mobilize for its survival, and you're part of it."
Benton, the SSS director, told Military.com that the annual budget of the service is just $27 million, a slim increase over its 1980s-era operating budget. For that sum, he said, the service registers some 2 million Americans per year, holds drills, and stands ready to activate 43 area offices all over the United States if a mobilization order is ever again approved by Congress and signed by the president.
"Not everybody has a crystal ball like Congressman DeFazio," Benton said. "We don't know what the future holds. And it would be irresponsible for us to assume that a crisis will never again occur. For half the cost of an Apache helicopter, we keep this nation safe."
Editor's Note: This story has been updated to clarify the description of young Americans meeting qualifications for service.
-- Hope Hodge Seck can be reached at hope.seck@military.com. Follow her on Twitter at @HopeSeck.