A top animal rights group wants Marines to trade the reptiles and other animals they're eating during an annual jungle training exercise for plants and other vegan survival options.
People for the Ethical Treatment of Animals sent a letter to the Marine Corps' top general this week pleading with him to ban the crude killing of animals during the annual Cobra Gold exercise in Thailand. This year's exercise, which includes lessons on jungle survival, will wrap up Friday.
Photos of past iterations show Marines drinking snake blood, eating scorpions and killing chickens during the training. Commandant Gen. David Berger's office did not immediately respond to questions about whether the service will ban those practices.
"The photos showing giddy Marines swallowing scorpions and guzzling cobra blood are more reminiscent of a frat party gone wrong than a military drill," PETA Vice President Shalin Gala said in a statement.
Related: Marines Guzzle Snake Blood Once Again in Gnarliest Training Exercise
A post on PETA's website titled "Training or Animal Abuse? U.S. Marines Behead Cobras, Drink Their Blood," adds, "No one needed to die for U.S. and Thai forces to strengthen their alliance."
Cobra Gold is in its 39th iteration, making it the longest-running international military exercise in the world, Michael Heath, the deputy chief of mission at the U.S. Embassy in Thailand, said during this year's opening ceremony.
This year's Cobra Gold includes a cyber exercise, amphibious-assault training, a humanitarian-relief drill and a live-fire event.
And yes, Marines were photographed drinking blood of a king cobra snake on Monday -- the day before PETA's letter to the commandant. But photos also show the members of 1st Battalion, 5th Marines, drinking water from plants, eating coconuts and other fruit, and watching a Royal Thai Marine dig into a pineapple with his teeth -- tough skin and all -- to stay hydrated.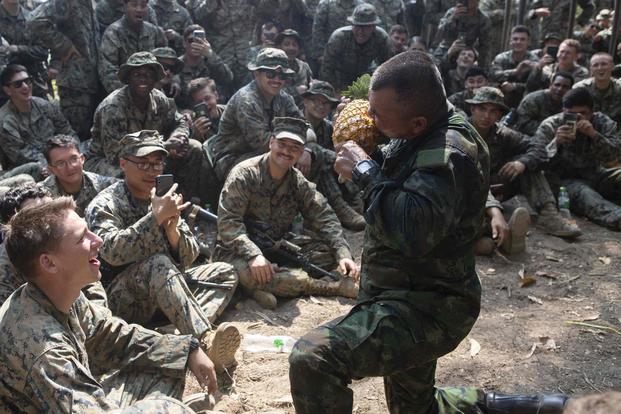 Those options are more in line with what PETA says Marines should be eating during jungle training.
"Clearly, there are precedents for troops to learn food procurement survival skills without having to use live animals in abhorrent training drills," Gala wrote in her letter to Berger. "... As the Daily Mail notes, 'There are also vegan options too with the jungle being rich in fruit and other lush, edible vegetation.'"
PETA noted that the U.S. military had ended other training involving animals after the organization urged leaders to stop.
In 2011, for example, the Marine Corps Mountain Warfare Training Center stopped using live animals in its survival training courses following discussions with PETA, the letter states. The Army also canceled a survival-skills training course at Dugway Proving Ground after PETA asked then-Defense Secretary Les Aspin to intervene in the 1990s.
-- Gina Harkins can be reached at gina.harkins@military.com. Follow her on Twitter @ginaaharkins.
Read more: Birdcalls and Night Movements: Soldiers in Pacific Train to Fight in Jungle