As the field of candidates challenging President Donald Trump in the 2020 election narrows, two military veterans are still in the race: Tulsi Gabbard, a major in the Army National Guard; and Pete Buttiegieg, a former intelligence officer in the U.S. Navy Reserve.
Both are running as Democrats in a field that includes six other Democratic contenders -- Joe Biden, Mike Bloomberg, Amy Klobuchar, Bernie Sanders, Tom Steyer and Elizabeth Warren -- and one Republican challenger: Bill Weld.
In the pivotal Feb. 11 New Hampshire primary, Buttiegieg maintained his status as a top contender, coming in second with 24.4% of the Democratic vote; while Gabbard brought up the rear with 3.3% of the vote.
Here's what you need to know about these veteran candidates and their priorities.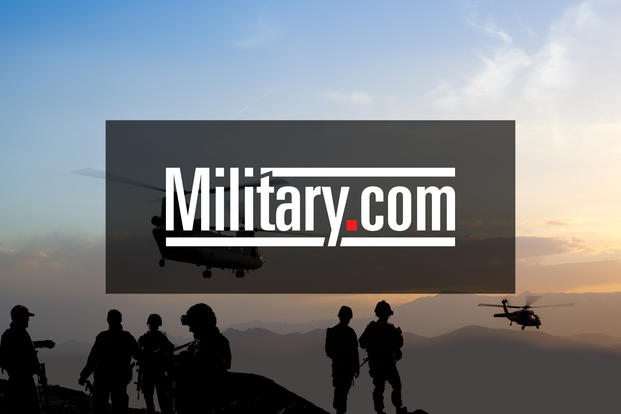 Pete Buttiegieg
Service branch: U.S. Navy Reserve
Years served: 2009-2017; he resigned his commission as a lieutenant.
Military specialty: Naval intelligence officer; he entered the Navy through its direct-commissioning program, which allows civilians with specific skills or expertise to join the officer ranks without going through traditional entry-level training or a service academy.
Deployments and awards: He deployed to Afghanistan in 2014, notably taking a leave of absence from his role as mayor of South Bend, Indiana, to do so. While in Afghanistan he supported the Afghan Threat Finance Cell counterterror effort in Kabul. His awards include the Joint Service Commendation Medal and Joint Meritorious Unit Award.
Biography: Buttiegieg was born in South Bend, Indiana on Jan. 19, 1982. He graduated from Harvard University and then attended Oxford University as a Rhodes Scholar. He worked as a consultant for McKinsey & Company in Chicago from 2007-2010, eventually departing the job to focus on his political career. After an unsuccessful bid for Indiana state treasurer in 2010, he was elected mayor of South Bend in Nov. 2011. He served in that position until Jan. 1, 2020.
Notable positions on veterans' issues: He supports expanding access to benefits for veterans with "bad-paper" discharges; creating a White House coordinator position to oversee the effort to create a single electronic health record for veterans; ensuring guaranteed access to suicide and mental health care prevention services; and improving availability of services for rural vets. He opposes privatization of health care services offered by the Department of Veterans Affairs.
Notable positions on foreign policy issues: He believes leaving the Iran nuclear deal was a mistake; wants to bring home U.S. troops from Afghanistan, but under the conditions of a peace agreement; supports a two-state solution for Israel and Palestine that "that achieves legitimate Palestinian aspirations and meets Israel's security needs;" and wants the U.S. to stop supporting the Saudi-led campaign in Yemen.
Notable positions on military issues: He wants to get rid of the military ban on transgender service; shift prosecution of sexual assault from commanders to independent prosecutors; require commanders to make regular reports on racism within the military ranks; and pause student loan repayment requirements for military spouses on permanent change-of-station orders.
Recent news: Vox reported this month that Buttiegieg is "becoming more guarded" on his foreign policy views, declining to answer related questions he has previously addressed in speeches and questionnaires. The campaign has described this as an effort to avoid loss of nuance on questions Buttiegieg has addressed at length; critics have said they're concerned by his unwillingness to engage.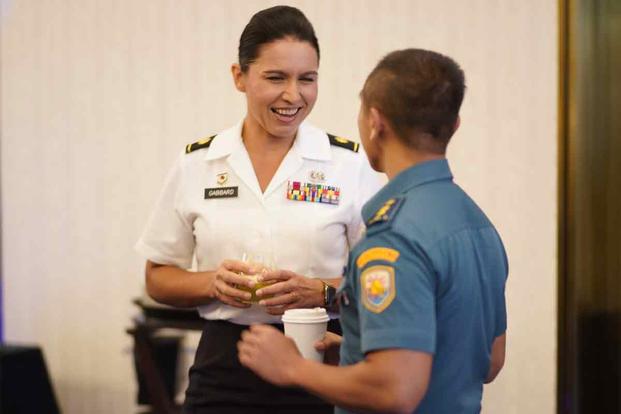 Tulsi Gabbard
Service branch: Hawaii Army National Guard
Years served: 2003-present; she holds the rank of major.
Military specialty: She began in the National Guard as an enlisted medical specialist. She earned an officer commission in 2007 and joined the Military Police Corps.
Deployments and awards: Gabbard deployed in 2004, serving 12 months in Iraq with Medical Company, 29th Support Battalion, 29th Infantry Brigade Combat Team at Balad Air Base, north of Baghdad. She deployed again to Kuwait from 2008-2009, helping to train the Kuwait National Guard in counterterrorism efforts and serving as a military police platoon leader. Her awards include the Combat Medical Badge, Meritorious Service Medal, Army Commendation Medal with one Oak Leaf Cluster for subsequent award and the Army Achievement Medal with one Oak Leaf Cluster.
Biography: Gabbard was born on April 12, 1981 in American Samoa. In 2002, at age 21, she became the youngest member ever elected to represent her district in the Hawaii House of Representatives, serving in the seat until 2004. She completed the Accelerated Officer Candidate School at the Alabama Military Academy in 2007, becoming her class's distinguished honor graduate. She then earned a Bachelor of Science degree from Hawaii Pacific University in 2009. She served as a member of the Honolulu City Council from 2011-2012, then was elected to represent Hawaii's 2nd district in the U.S. House of Representatives in 2013. She has also served as vice chair of the Democratic National Committee.
Notable positions on veterans' issues: Gabbard has supported legislation to end gender disparity in care at the VA; to provide mental health assessments and mental health care to veterans with other-than-honorable discharges; and to require the VA to reimburse non-VA health care providers to that veterans get faster access to care. She has said she opposed VA privatization but thinks community care options are a good solution for veterans in rural areas. She's the founder and co-chair of the Post-9/11 Veterans Caucus and a member of the Congressional Burn Pit Caucus.
Notable positions on foreign policy issues: Gabbard's foreign policy viewpoints have drawn outsize attention and stirred controversy. She traveled to Syria in 2017 to meet with dictator Bashar al-Assad, accused of using chemical weapons on his own people. She opposes Assad's overthrow and has also said in an interview that Assad is not an enemy of the United States because Syria does not post a direct threat to the U.S. An anti-interventionist, she has opposed Trump publicly on Iran, calling for a return to a joint nuclear agreement. On Afghanistan, Gabbard says she would bring all U.S. troops home before the end of her first year in office.
Notable positions on military issues: Gabbard supported the Military Justice Improvement Act, which would remove oversight of sexual assault cases from the chain of command. She supports tight regulation of military burn pits and health care for those sickened by burn pit exposure.
Recent news: Gabbard, who suspended her campaign in August 2019 for two weeks to drill, has taken some criticism for leaning too heavily on her military service as a recommender for the office of president. She recently got attention for defending Trump's decision to dismiss Army Lt. Col. Alexander Vindman from his position in the White House following Vindman's testimony against Trump during impeachment hearings.
-- Hope Hodge Seck can be reached at hope.seck@military.com. Follow her on Twitter at @HopeSeck.
Read More: Army Kills Laser-Guided Rocket, Cuts Bradley Buy in 'Night Court' Session