It's nearing 11 p.m. at a U.S. military border outpost in Eastern Europe, and something has appeared to disrupt the late-evening quiet: a radar blip. A signature that might have been dismissed as a flock of birds in past years now commands more attention and concern at the outset. Whatever is on the radar now is clearly getting closer at a steady, insistent speed.
Then, the mass splits into three groups. Each is on a mission of destruction.
This scenario is one U.S. troops may well face in a world where drone technology is ever-increasingly cheap, accessible and conducive to weaponization. Drones can operate in packs or swarms, talk to each other, carry weapons payloads and even resist conventional jamming technologies.
With the Defense Department's recognition of reliable and comprehensive counter-drone technology as a joint urgent operational need, or JUON, the market has become flooded with a smorgasbord of purported solutions, from jammer guns that drop hostile unmanned aerial systems out of the air like wood ducks to "force fields" that repel aerial intruders.
Related: Finding New Ways to Fight Enemy Drones a 'Top Priority' for the Pentagon
At the defense industrial giant Raytheon, program managers say the company's family of solutions covers the range of operational needs and can help the military -- and civilian government agencies -- detect a hostile drone threat early, identify it with precision and then choose the right means to destroy or neutralize it, based on its imminence and the surrounding environment. Raytheon hosted reporters this week at its offices near the Pentagon for a tabletop wargame to demonstrate counter-drone capabilities.
Evan Hunt, Raytheon's business lead for High-Energy Lasers and Counter-UAS, compared the Defense Department's struggle to get ahead of the drone threat with its battle to defeat the cheaply made, hard-to-detect and devastating improvised explosive devices of the wars in Iraq and Afghanistan.
"Drones are kind of like flying IEDs," he said.
Raytheon's flagship drone detection technology is already out in the fight. The Ku band radio frequency system multi-mission simultaneous radar, or KuRFS, which can provide users with a high-resolution operational picture showing individual drones, reached initial operational capability in June and is already being employed by the Army. It's paired with the tube-launched Coyote kamikaze drone to become the Howler, a detect-track-destroy team.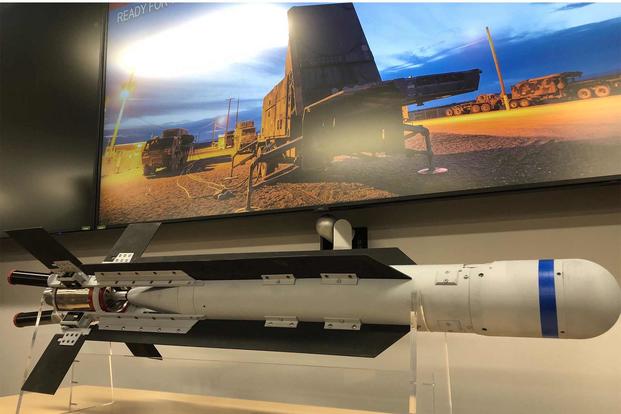 "So you're at this military base, you have a KuRFS radar, best-in-class radar system that can detect even that radar blip well beyond 10 kilometers," Hunt said. "It can actually also inform you if it's a bird, or not a bird."
In the case of the border outpost scenario, Raytheon program managers recommended deploying the KuRFS to size up the threat and provide a proportionate and timely response. The conditions they presented were enough to give the most senior commander heartburn: one contingent of hostile drones the size of small aircraft headed toward the base, weapons payloads visible on the radar; another group of slightly smaller UAS veered off toward a hydroelectric power plant with a scheduled shift change minutes away; and a third group of systems, smaller still, turned toward a town full of sleeping civilians.
Despite high tensions with the neighboring country in the fictional scenario, the night would not end without an explosion. Hunt recommended firing Raytheon's conventional National Advanced Surface-to-Air Missile System, or NASAMS, to shoot down the large drones advancing toward the military post with hostile intent.
For the second group, bearing down on the power plant, he proposed Raytheon's Phaser high-powered microwave, to fire a burst of energy and drop them en masse. The final element with the smallest systems, headed toward the town, he said, could be individually targeted with the High Energy Laser Weapons System, or HELWS, which can mount on a Polaris MRZR all-terrain vehicle and drop drones with its concentrated beams.
Raytheon has already contracted with the Air Force to produce its HELWS with 10-kilowatt lasers for evaluation and testing; it's competing with contractor Northrop Grumman to develop a vehicle-mounted 50-kilowatt laser system for the Army.
The high-powered microwave system is also set to be evaluated by troops: The Air Force has contracted for a deployed system to be tested at an undisclosed overseas location.
Meanwhile, Raytheon is also planning for the upcoming debut of the Coyote Block 2, featuring improved sensors and a turbine engine, making it four times faster than its predecessor, said Pete Mangelsdorf, the company's director of Coyote and Rapid Development Programs.
Like the Coyote, hostile drone technology is getting faster, and also smarter and more resilient. While Raytheon touts its integrated air defense solution as the most competitive in a crowded market of counter-drone tech, the scenarios its program managers described drove home the compressed timeline facing those deciding how to counter hostile UAS attacks.
And even with futuristic jammers and phasers on offer, the best option in many cases may still be a kinetic one.
"There is no easy answer," said James McGovern, vice president of Mission Systems and Sensors for Raytheon. "And no golden solution."
-- Hope Hodge Seck can be reached at hope.seck@military.com. Follow her on Twitter at @HopeSeck.
Read more: 34 Troops Now Diagnosed with Concussion, TBI Symptoms Following Iran Attack, DoD Says