LAS VEGAS -- Sig Sauer is marketing its new P320 XFive Legion at SHOT Show 2020 as one of the lightest recoiling 9mm pistols in the gun industry.
"The first thing people notice about this gun, when they pick it up and feel it, is the weight," Phil Strader, pistol product manager for Sig Sauer, said when describing the 43.5-ounce pistol.
"This is the first time a tungsten poly blend grip module ... has ever been used in production, and what that gives you is extremely heavy weight with polymer flex, which gives you one of the softest recoiling pistols on the market."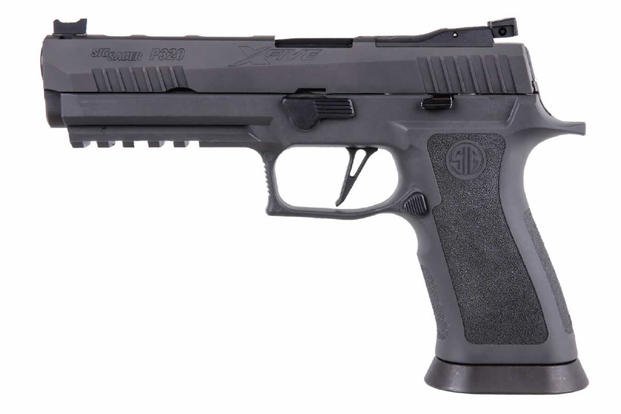 Sig introduced the XFive about six months ago as the latest addition to the Legion series, a line of handguns that are engineered for the most serious shooters.
Related: SHOT Show 2020 Coverage
Another unique feature about the XFive is the guide-rod system, Strader said.
"The recoil system on this pistol is a steel guide rod with a 1911-style spring," he said, explaining the pistol comes with two springs with different tension weights for different types of ammo. "This gun comes with a 14-pound spring out of the box for standard ammo, and we also put a 12-pound spring in there if you shoot match-elite ammo. It makes it more customizable."
The XFive also features a reengineered trigger for a lighter trigger pull.
"We changed the trigger; it uses the same flat-faced trigger as all of our X-series guns, but we have lightened the trigger pull to about 4.5 pounds and skeletonized it for a cool look," Strader said.
RELATED VIDEO:
The XFive has Dawson Precision fiber optic adjustable sights and a removable rear-sight plate for mounting an optional red-dot optic, he added.
Sig's new pistol is not compact. It measures 8.5 inches long, 5.8 inches high and features a five-inch barrel.
All gunmakers maintain that their guns are the best, but Sig's sales pitch for the XFive may be accurate. I shot it at Sig's range day on Sunday and never missed a target.
"If you have never shot an XFive Legion, you need to because nothing shoots like an XFive Legion," Strader said.
The XFive comes in Legion gray and retails for $899.
-- Matthew Cox can be reached at matthew.cox@military.com.
Read more: US Special Operators Could Use This New Suppressor That Relies on WWI Technology