LAS VEGAS -- LWRC International demonstrated its long-awaited .45-caliber carbine Monday at the range day portion of SHOT Show 2020.
The semi-automatic SMG 45 Pistol Caliber Carbine (PCC) has AR-style controls and handling in a compact, submachine gun-sized package.
LWRCI first displayed this potent PCC two years ago at SHOT, but the company only began selling a re-engineered model last June, according to Matt Jacques, senior weapons specialist for LRWCI.
"It was initially a requirement for a customer; that kind of fizzled out a little bit, and we ... decided about a year and a half ago to reinvigorate it," he said.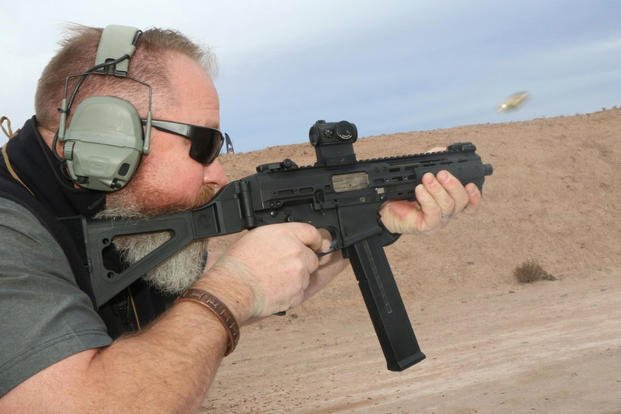 The new model has been re-engineered to be "better than what we had anticipated a couple of years ago," Jacques said.
Related: Military.com's SHOT Show 2020 Coverage
"They started shipping back in June; we are building several hundred a month ... so the demand is definitely there," he added.
The SMG 45 has an ambidextrous bolt catch, bolt release and fire control, as well as a paddle-style magazine release at the rear of the magazine port.
It has a compact shoulder brace that folds down on the right side of the receiver, but it's still considered a pistol, Jacques said. Unloaded, it weighs 5.9 pounds and measures 15.25 inches folded and about 20 inches long extended. The barrel measures 8.5 inches.
A Picatinny rail runs along the top of the SMG 45 for mounting the included Magpul MBUS Pro front and rear sights, as well as an optional red-dot optic. It also features attachment points for mounting sections of rail on the sides and underneath the weapon.
The SMG 45 features LWRCI's short recoil/delayed blowback operating system, which makes felt recoil extremely light.
"Everybody loves shooting .45 ACP, especially suppressed," Jacques said. "You throw a suppressor on here, and it's super quiet. It's a great gun to shoot."
LWRCI's new pistol caliber carbine comes with two 25-round magazines and retails for $2,995.
-- Matthew Cox can be reached at matthew.cox@military.com.