LAS VEGAS, Nevada -- Sig Sauer gave a live-fire tour of its new .338 Norma Magnum machine gun -- a lightweight weapon that U.S. Special Operation Command recently selected for evaluation.
The Sig MG 338 general-purpose machine gun weighs just over 21 pounds and fires at a rate of 600 rounds per minute, delivering potent .338 Norma Magnum rounds out to ranges of 1,500 meters. The Army and Marine Corps-issue M240 machine gun in 7.62 x 51mm NATO can weigh up to 27 pounds, and has an effective range out to approximately 800 meters.
"Our impetus is we wanted to provide one machine gun that could do both jobs," Sig Sauer's Jason St. John said Sunday at Sig's pre-SHOT Show 2020 range day.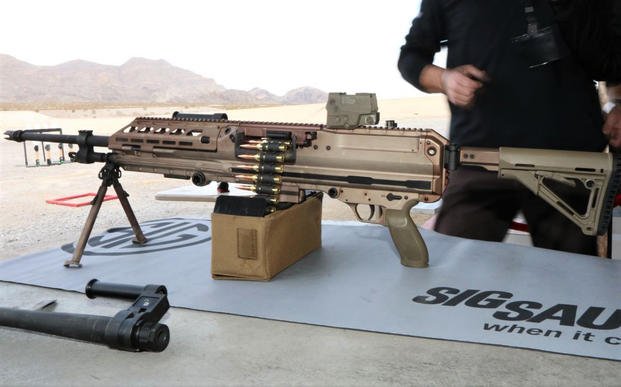 "So, the .338 Norma Magnum, when you compare it to 7.62mm -- 7.62 has an effective range of 800-plus meters and .338 Norma Magnum is going to have 1,500-plus meters. So you have twice the distance and a system that is about four pounds lighter than what we currently have."
The new machine gun has come a long way from the prototype that Sig unveiled at SHOT Show last year. Earlier this month, Sig delivered 10 MG 338 machine guns, .338 Norma Magnum ammunition and its proprietary suppressors to U.S. Special Operations Command for evaluation, St. John said.
Related: Sig Sauer Live-Fires its Hard-Hitting New Ultra-Light Machine Gun
The MG 338 features a short-stroke gas piston system and a proprietary recoil mitigation system which radically reduces the felt recoil of the larger .338 round, St. John said.
It features a collapsible AR-style buttstock that folds and locks into position for more compact transport.
The MG 338 also comes with an AR-style pistol grip and selector switch which can be set to full-automatic and semi-automatic.
"This machine gun has the capability to shoot in full-auto and semi-auto; the primary purpose for that is if you wanted to have 800, 1,200 and 1,500-meter ... more accurate fire, you could fire one shot at a time," St. John said.
The MG 338 features ambidextrous controls as well as a switchable feed tray and charging handle that can be alternated to either side depending on operator preference.
Instead of a traditional flip-up design, the feed-tray cover flips open to the side, so it doesn't interfere with optics and other accessories mounted in front of the feed tray.
"I can also load this whether the feed tray is open or the feed tray is closed," St. John said.
The belted ammunition features a clip-on "spoon" designed to make it easier to push the belt into the feed tray when the cover is closed.
St. John demonstrated by pushing two rounds into the weapon -- "I go one click, two clicks and I am loaded ... it's a one-hand operation," he said.
"I can also load it traditionally, setting the rounds on the feed tray and close the feed tray cover."
A box-style, 50-round magazine mounts to the underside of the weapon by pushing the special adapter up into the magazine well until it clicks.
The MG 338 also features a free-floating barrel with a quick-release latch to change barrels to control overheating.
Many of the features of the MG 338 were designed into the automatic rifle prototype that Sig submitted as part of its entry into the Army's Next Generation Squad Weapon competition.
"There is a lot of shared technology; this machine gun was first built three years ago, and we used lessons learned and design features from this one into our Next Gen Squad Weapon," St. John said.
-- Matthew Cox can be reached at matthew.cox@military.com.
Read More: Bullpup or Belt-Fed? Prototypes for Army's Next-Gen Squad Weapons Finally Revealed