LAS VEGAS -- Sig Sauer demonstrated its potent new lightweight machine gun Sunday, a weapon that Sig officials say is very similar to the light MG the firm is developing to participate in the U.S. Army effort to replace the M249 squad automatic weapon.
At a special, pre-SHOT Show 2019 live-fire demo, Sig Sauer fired its new 20-pound machine gun chambered for .338 Norma Magnum.
"This is the lightest, most powerful [man-portable] machine gun on the face of the earth," Colin Murphy, an instructor with Sig Sauer Academy and former member of Army's 3rd Special Forces Group, told an audience at the Sig Sauer range day.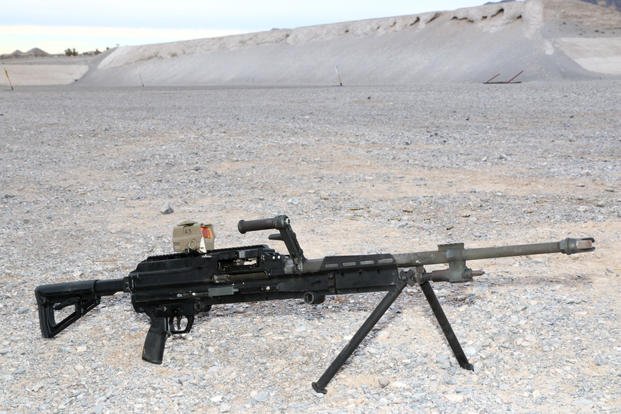 The belt-fed machine gun has a rate of fire of 600 rounds per minute and a maximum effective range of 2,000 meters.
"It's an incredible capability," Murphy said describing how the modular design allows the operator to change out the barrel and receiver and shoot 7.62x51mm NATO if necessary.
It has a collapsible buttstock and weighs 20 pounds, so it's significantly lighter than the 27-pound M240B machine gun in 7.62mm with "less felt recoil," Murphy said.
Sig officials said the firm will is working on a similar MG prototype, chambered in 6.8mm for the Army's prototype opportunity notice for the service's Next Generation Squad Weapon program.
"We will not be submitting this, but we are working on the prototype opportunity notice for the U.S. Army," Paul Snyder, product manager for crew served belt-fed machine guns at Sig, told Military.com.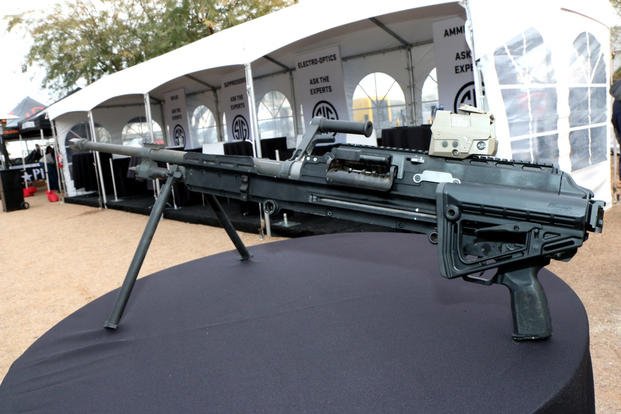 The .338 MG demonstrated today is "similar, very similar" to the NGSW automatic-rifle prototype Sig will submit to the Army.
Part of the NGSW effort also calls for interested companies to submit a 6.8mm carbine version that could eventually replace the M4/M4A1 carbine family. Both the AR and carbine prototypes for the NGSW effort will have to be able to produce a muzzle velocity of 3,000 feet per second.
-- Matthew Cox can be reached at matthew.cox@military.com.