Lockheed Martin Corp. says it delivered 134 F-35 Joint Strike Fighters worldwide in 2019, surpassing its goal of 131.
The milestone marks a "47% increase from 2018 and nearly a 200% production increase from 2016," the company said in a news release Monday. "Next year, Lockheed Martin plans to deliver 141 F-35s and is prepared to increase production volume year-over-year to hit peak production in 2023."
Lockheed's deliveries included 81 F-35s for the U.S., 30 for international partners and 23 for Foreign Military Sales (FMS) customers.
"This achievement is a testament to the readiness of the full F-35 enterprise to ramp to full-rate production, and we continue to focus on improving on-time deliveries across the entire weapons system," said Greg Ulmer, Lockheed Martin vice president and general manager of the F-35 program.
Related: Lawmakers Urge DoD to Expand F-35 Foreign Military Sales
Ulmer said the company's activity is part of the overall goal to "increase production rates, improve efficiencies and reduce costs."
The 134th aircraft delivered was a Short Takeoff and Vertical Landing (STOVL) model for the Marine Corps.
The company said the production rate allowed the price of the F-35A variant -- the exportable version flown by the U.S. Air Force -- to drop to $77.9 million per plane.
The Pentagon has put pressure on Lockheed to reduce costs where it can, officials have said, trying to get the cost reduced to at least $80 million per jet for years.
There has been some incentive for Lockheed to boost its overall performance goals, since the U.S. military, particularly the Air Force, is looking to buy new variants of the F-15 Eagle -- the F-15EX -- for the first time in more than 20 years.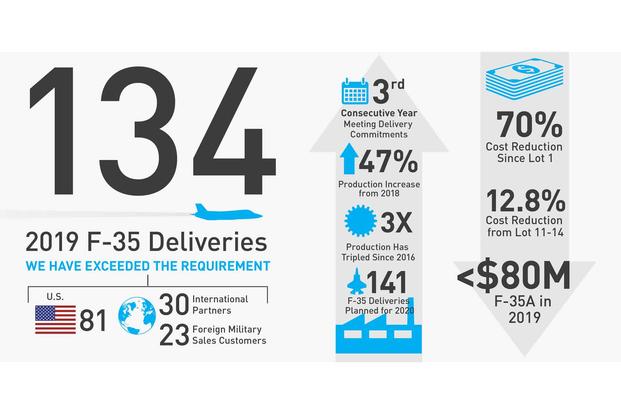 But 2019 hasn't been without upset for the F-35 program.
For example, the Pentagon lost one of its F-35 NATO partner nations this year. The Defense Department in July officially booted Turkey from participating in the program because of its purchase of Russian-made S-400 surface-to-air-missile systems.
As a result, the Pentagon said it will cost $500 million to $600 million to find new suppliers for F-35 parts currently produced by Turkey as that country "unwinds" from the program by March 2020.
DoD officials also announced that they will not clear the F-35 for full-rate production this year, after setbacks during a critical testing phase.
The Office of Secretary of Defense (OSD) may not sign off on the F-35 full-rate production milestone -- a sign of confidence in the program to produce more fighter jets -- until as late as January 2021 because of a latest testing lapse in what's known as the Joint Simulation Environment (JSE), Military.com previously reported.
The JSE projects variables such as weather, geography and range, allowing test pilots to prove the aircraft's "full capabilities against the full range of required threats and scenarios," according to a 2015 Director, Operational Test & Evaluation (DOT&E) report.
Despite the unfinished test, some versions of the F-35 have made their combat debut. Ellen Lord, under secretary of defense for acquisition and sustainment, recently said the full-rate decision will be made in the fall of 2020.
Production halted for two weeks in November after developers discovered a "co-mingling" of different types of fasteners used on the aircraft, Lord told reporters during a briefing Dec. 10.
That issue has since been resolved, with the Pentagon resuming deliveries Nov. 27, she said, as reported by Air Force Magazine.
Despite ongoing issues, the Pentagon in October finalized a $34 billion agreement with Lockheed for the next three batches of F-35s, firming up its largest stealth fighter jet deal to date.
DoD officials on Oct. 29 said the delivery groups, known as Low Rate Initial Production (LRIP) lots 12, 13 and 14, include the delivery of 478 F-35 aircraft -- with 149, 160 and 169 jets per batch -- for the U.S. military services and international customers.
-- Oriana Pawlyk can be reached at oriana.pawlyk@military.com. Follow her on Twitter at @Oriana0214.
Read more: 100 Marines from Crisis Response Unit Sent to Secure US Embassy in Iraq