JOINT BASE MCGUIRE-DIX-LAKEHURST -- Deploy. Keep watch. Usher in aircraft. Move locations. Repeat. All while remaining calm, collected and ready for any turmoil that might arise on a remote airfield, or beyond tactical boundaries.
It sounds like the job usually performed by the top-echelon airmen who make it through special operations or Security Forces training, protecting troops moving equipment in and out of austere locations.
Instead, it's what's taught at the Expeditionary Operations School at Joint Base McGuire-Dix-Lakehurst, New Jersey, where the focus is prepping small-scale squads with fundamental survival drills to teach them to keep watch, react nimbly or lay as low as the operation requires.
"We need to be able to set up an operation that allows us to attack targets, turn airplanes and then be able to pick up all of our stuff and move to another spot before the enemy can kind of zoom in on where we're living and working," said Ken Arteaga, deputy director of the school.
Even as the decades-long wars in the Middle East continue, the Air Force is preparing for a potential fight with Russia or China.
For the last two decades, the service has focused on making airmen very technically specialized in their daily jobs. Now, the Air Force wants to develop troops that are ready for anything -- anywhere in the world.
Related: Air Force Want to Make its Moves More Stealthy by Hiding in Plain Sight
Members of the school spoke with Military.com on a recent trip accompanying Air Force Chief of Staff Gen. David Goldfein to the base.
Thousands of airmen go through the school, part of Air Mobility Command's Expeditionary Center, each year. The training includes rapid contingency response, or CR, which includes opening, defending and commanding an airfield or delivering anything from troops to humanitarian assistance -- and operating in hostile security environments.
Only a small fraction of the group makes it through to become certified in specialized expeditionary security training, such as the "Phoenix Raven" program. Last year, 173 troops -- including active-duty airmen, soldiers, sailors, and National Guard and Reserve members, as well as NATO partners -- earned the highly coveted "Ravens" designation.
Sometimes, airmen don't know exactly what kind of situation is unfolding when they touch down.
"We get them in the mindset of, 'Hey, we know you're a mechanic, but now it's time ... to do everything [else],'" said Lt. Col. Nathan Bump, commander of the 421st Combat Training Squadron.
"That's where the adaptability of the school first comes in and the agility of the CR mindset. Tell us what your requirement is and the emergent threat requirement, and we can adjust those scenarios pretty much on the fly based on operational relevancy that we need to attack," he said.
After a walk through the schoolhouse, Goldfein saw its value. "What happens here is essential to preparing us for the next fight," he said.
Less Focus on Specialization
Airmen should not have a reason to sit idle while others load up the cargo hold to move out, officials said.
"There's been an expectation over the last 20 years that we teach people exactly what it is they're supposed to do and do no more, no less," Arteaga said.
Tech Sgt. Daniel Martinez, a noncommissioned officer in charge of tactics for the 321st Contingency Response Squadron, is a mechanic. He typically works on C-17 Globemaster III transport aircraft.
"So when I got here, they were like, 'Oh well, you have to go to combat training school and you have to learn how to defend yourself, learn how to prepare your cargo to move it out within 12 to 24 hours, and you have to know all the different regulations, policies, instructions to do so.
"It was a challenge," Martinez said.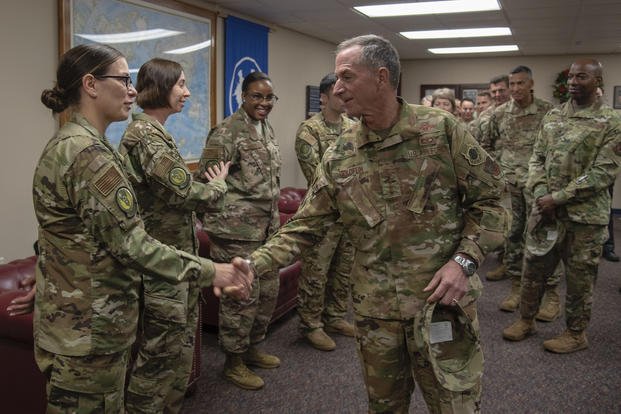 Many Air Force skill sets are put to the test during the training: Some airmen even prep to sit alert for 12-hour stretches should the need arise to begin preparations for hurricane response or another catastrophe.
"I think the idea is that sort of like get comfortable being uncomfortable with multiple different [Air Force Specialty Codes] working together," Bump said.
In addition to a mobility forces intelligence formal training unit, the school offers language, regional and cultural training at its 'Air Advisor Academy' to help establish a rapport with partners operating beside U.S. forces.
Students learn that words have power.
Airmen in the Phoenix Raven program, for example, become well versed in "verbal judo," a communication practice used to de-escalate a situation without using lethal force.
These airmen, who protect aircraft in remote locations, may not always be able to take their weapons off aircraft because of local laws. Instead, they talk with antagonists but, if that doesn't work, they use maneuvers to take away their weapons, including hand-to-hand combat.
Some of the other training programs could use more of that mindset, officials said.
Arteaga recalled watching a contingency response training exercise a few years back in which teams, acting as the enemy, were able to breach the perimeters set up by the CR force.
"I thought, 'We're [supposed to be] a quick reaction force, and if this force doesn't take its own security seriously and it doesn't protect its own perimeter, then in the future they're going to be in trouble,'" he said. "So we're learning from the AFSOC [Air Force Special Operations Command] guys, and they're learning from us."
Learning Force Protection
As the schoolhouse updates its doctrine, the CR community "can't really even fathom a time when they didn't practice all these force-protection type skills," Arteaga said.
From deploying to a complicated region like Syria to reopening Prince Sultan Air Base in Saudi Arabia in June, new approaches are developed or observed.
Younger troops come in with new ideas they learned from a deployment.
"It's everything from shoot, move, communicate-type skills, whether we're asking them to live fire, use weapons and tactics, it's to do things more like a defender would do," Bump said. "Or if you come under attack, if that were to happen, then you need to be able to operate as a team and tactically move with a weapon."
The officials described airmen leaving their regular duties in the back of their minds in order to become more multifunctional.
"It's the elephant in the room: We've gotten very businesslike," Arteaga said. "Air Force people need be military people, and not necessarily functional experts."
-- Oriana Pawlyk can be reached at oriana.pawlyk@military.com. Follow her on Twitter at @Oriana0214.
Read more: Improved Uniforms Coming Soon for Female Security Forces Airmen