Sgt. John Peck had already been blown up once before deploying to Afghanistan in 2010.
The mortarman fought hard to get the Marine Corps to send him back to the war zone after his vehicle hit an improvised explosive device in Iraq's Al Anbar province in 2007. The blast left him with a traumatic brain injury that erased 21 years' worth of memories.
He didn't recognize family members, friends or even himself. He had to relearn who he was, including how to be a Marine.
"It took a lot of work, a lot of pleading with doctors," Peck said. "I had to either learn from my fellow Marines by watching them or by reading [Marine Corps Institute courses]."
Peck finally got the OK to deploy again with 3rd Battalion, 1st Marines. He was in Afghanistan's Helmand province for only a few weeks when another blast hit.
That one took his arms and legs. He details the long plight that followed in a book he co-authored this year, "Rebuilding Sergeant Peck: How I Put Body and Soul Back Together After Afghanistan."
As the Marine struggled to heal from the physical trauma his body suffered downrange, he caught a flesh-eating illness. It destroyed what remained of his left leg and bicep, along with part of his abdominal muscle.
It was a devastating time, Peck said. His body would never be the same; his marriage was falling apart. The Marine began contemplating suicide, he said, thinking about ways to throw himself down a flight of stairs.
"At that point, I was kind of grasping at straws, just trying to find a reason to live," he said.
As he looked outside the window at Walter Reed National Military Medical Center during his recovery, Peck recalled seeing another wounded warrior sitting outside. He watched as the man stood up and began walking toward the road.
"It looked like he was going to go play in traffic," Peck said. "Then this little girl comes up, grabs one hand and his wife or girlfriend comes and grabs his other hand. I actually thought to myself, 'If this guy can find love, why can't I?'"
That's when Peck's attitude began to shift. He continued his recovery at Walter Reed until 2012. He received a new smart home tailored for him that allowed him to get around better.
Finding prosthetics to be uncomfortable, Peck began researching other options. He learned about a new arm-transplant surgery, and got in touch with a team of medical professionals in Boston who had performed the procedure. Peck advocated for himself, and the team agreed to put him on a wait list.
In August 2016, Peck got the call that a man's arms had been donated. It was a tough surgery, but he has gained his sense of independence back.
He also started a new career as a motivational speaker.
Retired Sergeant Major of the Marine Corps Carlton Kent urges every Marine to learn Peck's story — especially as the military grapples with high rates of suicide, on active duty and after troops leave the service.
"He is truly the epitome of resiliency," Kent said. "His story can help others going through difficulties."
'I Don't Want to Die Here'
Peck and his team were tasked with patrolling a rural village in Afghanistan's Helmand province on May 24, 2010.
They arrived at the final compound of the day. Peck said something immediately felt off.
"We knock on the gate. Nobody answered," he said. "Nobody was around. There were no kids; there was nothing. Something was very suspicious."
Peck was the first one in. He swept each room with a metal detector before other Marines followed him in. When they found a battery and some wires -- telltale signs of someone making the homemade IEDs that were maiming and killing troops in Afghanistan and Iraq -- they began a more thorough search.
They didn't spot anything inside the house, so Peck headed outside to sweep the yard. Just as he turned around to say something to his sergeant, he remembers being flung through the air.
"Sand and rocks and everything hit me," he said.
A corpsman and one of his friends sprinted toward him, despite the threat of more explosive devices. They were applying tourniquets. Peck recalls telling them to stop, that they were too tight.
His lieutenant arrived on scene.
"I make him check for my family jewels," Peck said. "Then I started saying what I thought was in my head, 'I don't want to go out here. I don't want to die here.' I was saying it out loud."
His corpsman started an IV, which Peck said had to be done through the bone marrow.
"If corpsmen use those, it's bad. It's like, 'Say goodbye' bad," Peck said.
He blacked out a few times, but remembers feeling the rotor wash from the helicopter that arrived to evacuate him.
Rebuilding Sgt. Peck
Peck's right arm was amputated above the elbow, his left at the mid-forearm. His right leg was amputated above the knee and his left below.
But he faced another major hurdle when a flesh-eating fungus began eating away parts of his remaining limbs. Doctors had to remove the rest of Peck's leg, all the way up to the hip. His left arm was amputated past his bicep.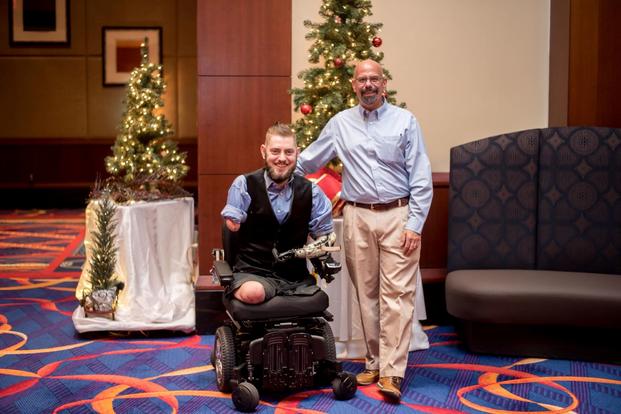 He and his wife divorced. And after two years at Walter Reed, he moved into a new home and started a new life.
Ten years after that first blast hit in Iraq, Peck was back on the operating-room table at Brigham and Women's Hospital. As soon as he saw they were seeking arm transplant patients, he said he knew he needed to be one of them.
"I contacted them and like blew up their voicemails," he said.
He credits his "Marine mentality" with giving him the drive to push for new opportunities -- a trait he suspects made him a good candidate for the groundbreaking surgery.
"What I have right now isn't good enough," Peck said. "I always want to be able to do more."
Within months of receiving his new arms, Peck was able to wiggle his fingers. He remarried that year to a woman he calls his "biggest motivator."
The transplant has changed his life. He's able to drive again, can write and shower. But he still faces challenges.
Some are small, such as struggling to button a shirt. Others are tougher to address.
Peck, a big Gordon Ramsay fan, said he "went to a very dark spot" because he didn't think he could fulfill his dream of becoming a chef.
His wife pushed him to reset, he said. She suggested he start using a rocker knife at home, where he's now cooking more again. And he said she pressed him to consider other rewarding career options.
"She's like, 'Why don't you do something else that you love?'" Peck said. "That's when she mentioned doing the keynote speaking."
He had already shared his story in front of a crowd, and he knows putting himself out there has helped others. One Marine vet-turned-cop who'd been paralyzed on the job said he was about to give up until he read the sergeant's story.
Peck has now launched a new website with the hope of reaching a lot more people through motivational speaking and keynote addresses.
"I want to make a career out of it because I realize that it helps people," he said. "That's what I look forward to."
-- Gina Harkins can be reached at gina.harkins@military.com. Follow her on Twitter @ginaaharkins.
Read more: 15 Years After the Iraq War's Deadliest Battle, Marines Fight to Save Their Comrades