ISIS leader Abu Bakr al-Baghdadi possibly fired at U.S. troops before exploding a suicide vest to kill himself and two children in the daring raid by U.S. Special Operations troops on his compound in Syria Saturday, the top U.S. commander for the region said Wednesday.
Baghdadi "may have fired from his hole in his last moments" before killing himself, but the accounts he has received thus far were inconclusive, Marine Gen. Kenneth McKenzie, head of U.S. Central Command, said in a Pentagon briefing.
"I just can't confirm that one way or the other," McKenzie said.
He did not confirm the account of the raid given at length from the White House Sunday by President Donald Trump, in which Trump said Baghdadi was "screaming, crying and whimpering" as he fled down a tunnel and "died like a coward."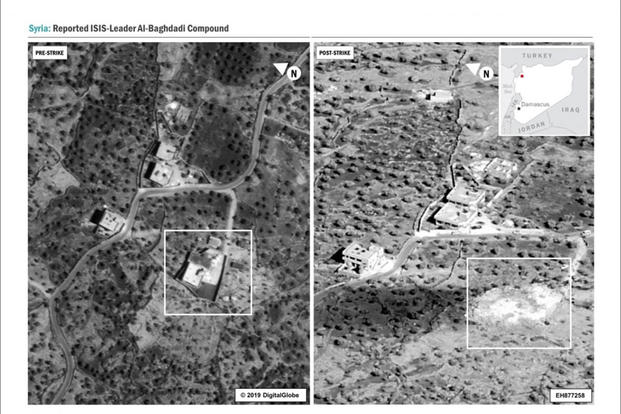 Trump also said there were three children with Baghdadi who also were killed in the blast. McKenzie said U.S. forces now know for certain that there were two children with Baghdadi "under the age of 12."
At the briefing, McKenzie also referred to brief videos from the raid showing U.S. forces from the air killing two enemy fighters who fired on the approaching helicopter-borne assault teams.
The video also showed U.S. troops moving on the compound where Baghadi was hiding in northwestern Syria's Idlib province in what McKenzie said was an initial attempt to get those inside to surrender.
Related: Here's Video of the Special Operators Closing In on ISIS Leader Baghdadi's Compound
Another video taken at the conclusion of the raid showed U.S. airstrikes destroying the compound after the assault force had withdrawn.
He said the compound "looks pretty much like a parking lot with large potholes now," following the airstrikes.
U.S. Airstrike Takes Out Hostiles After Syria Raid
Earlier, Pentagon officials said U.S. aircraft directed heavy weaponry at the Baghdadi compound, including multiple AGM-158B Joint Air-to-Surface Standoff Missiles, according to Air Force Magazine.
In his briefing, McKenzie corrected several details that had emerged from earlier versions of the raid. He said the assault had been staged from a base in Syria, and not from the Al Asad airbase in Iraq's Anbar province.
He also corrected the initial account of how the U.S. service canine credited with chasing Baghdadi into the tunnel came to be slightly injured.
The dog was thought to have been injured in the collapse of the tunnel. But McKenzie said the dog's injuries resulted from coming in contact with live electrical wires. He said the dog was recovering and had returned to duty.
In a brief question-and-answer session, McKenzie avoided comment on who might be eligible for the $25 million reward for information leading to the capture or death of Baghdadi. "I have no visibility on that," he said.
The elusive Baghdadi, the self-declared "caliph" of the Islamic State responsible for countless beheadings in the ruthless campaign that brought his fighters to the gates of Baghdad, was found hiding in an improbable site in Idlib province where other terror groups opposed to ISIS hold sway.
McKenzie said "some of the early intelligence" on Baghdadi's whereabouts" that proved "very helpful to us" came from the U.S.-partnered and Kurdish-led Syrian Democratic Forces.
The SDF lost more than 11,000 killed in the drive to oust ISIS from its strongholds in Syria, according to U.S. officials, but SDF leaders have now sought to make deals with Russia and the regime of Syrian President Bashar al-Assad to avoid attack by the invading Turkish military in northeastern Syria.
McKenzie said he gave final approval for the mission against Baghdadi at about 9 a.m. Saturday from CENTCOM headquarters near Tampa, Florida, after receiving authorization from Trump.
Although Baghdadi may have fired back in a final show of bravado, he then "crawled into a hole with two small children and blew himself up," McKenzie said. "I'm not able to confirm anything else about his last seconds."
McKenzie denied that the operation was begun in haste because of Trump's order to withdraw U.S. troops from Syria.
"Absolutely not. We chose the time based on a variety of factors -- weather, certainty, lunar data, a variety of things like that," McKenzie said. The order to withdraw from northeastern Syria "was not a limiting factor" on the planning or conduct of the raid, he said.
In identifying Baghdadi, the assault force followed procedures similar to those used by Navy SEAL Team Six in the raid into Pakistan in 2011 that killed al-Qaida leader Osama Bin Laden, whose remains were buried at sea within 24 hours according to Islamic law.
"Following collection of samples for formal DNA analysis, Baghdadi's remains were buried at sea," McKenzie said, noting that this would prevent the site of his death from becoming a "shrine."
The U.S. had earlier samples of Baghdadi's DNA from his time in the U.S. prison camp at Camp Bucca in Iraq before his release in 2009, McKenzie said.
Once the two enemy fighters who fired on the helicopters were eliminated, the assault force approached the compound on the "assumption" that there would be "multiple children" inside. The raiders called out in Arabic, urging surrender, McKenzie said.
"Some came out," including 11 children, who were briefly detained, McKenzie said. Other people inside refused to come out and were perceived as a threat, he said. Five were killed -- four women and one man -- as the assault force made the breach of the compound walls, McKenzie said.
Two men captured by the raiders were taken away as prisoners as the U.S. teams withdrew by helicopter, he said, and vital intelligence material was also gathered up at the scene.
Before the assault teams left, enemy fighters that McKenzie believed came from terror groups other than ISIS attempted to attack the compound area. He estimated that 10-15 were killed before the attack broke off.
The air cover for the helicopters was provided by "4th and 5th generation" aircraft, McKenzie said, but he was not more specific.
According to U.S. officials, a new group of F-15E Strike Eagles recently arrived at Al Dhafra Air Base in the United Arab Emirates on Oct. 18. Additional F-15Es, F-35A Lightning II aircraft, KC-10 Extenders, E-3 Sentrys, and RQ-4 Global Hawks are also stationed at the base, according to Air Force Times.
In his final comments, McKenzie warned that Baghdadi's death did not signal the end to the terror threat from ISIS.
"We expect they will try some sort of retribution attack," McKenzie said. "We don't see a bloodless future."
-- Oriana Pawlyk contributed to this report.
-- Richard Sisk can be reached at Richard.Sisk@Military.com