The Elizabeth Dole Foundation previewed an interactive map of military caregivers' locations Tuesday, hoping the data would show individual needs that must be addressed.
Created by the information technology consulting firm Booz Allen Hamilton, the interactive program was created to pull information on the ratio of veterans to caregivers and data from agencies including the Census Bureau, Environmental Protection Agency and the Centers for Disease Control and Prevention.
"So the purpose of this project isn't to try to perfectly capture all military veteran caregivers," said Steve Schwab, CEO of the Elizabeth Dole Foundation, "but instead we wanted to leverage publicly available data to better understand the challenges to caregivers in all communities nationwide."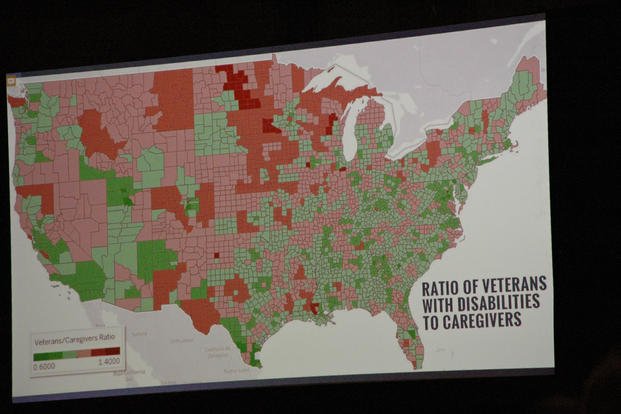 Schwab said the foundation has been quantifying and tracking the journey of caregivers since 2014. With this latest project, he said it will be able to find issues particular to military caregivers.
For example, Schwab said they found military caregivers had higher rates of anxiety and depression than others.
"The issues they are facing are much more acute than the civilian caregivers," he said.
The foundation revealed the tool to a ballroom full of military caregivers and representative groups while courting other organizations such as the Department of Veterans Affairs to join and bring their own data.
"Today was the commercial," Schwab said after the presentation, adding that the more data they have, the easier it will be to help caregivers.
Blues, reds and shades of purple on the map show where veterans and caregivers live, revealing disparities. Users can compare how localities line up with state data on air quality, education, employment and mental health, among other factors.
-- Dorothy Mills-Gregg can be reached at dorothy.mills-gregg@monster.com.