The Marine Corps will soon field a new nursing undershirt and will add adjustable tabs to maternity shirts and tunics that allowing women to adjust the fit of their uniforms throughout a pregnancy.
Those uniform changes, which were announced during the recent Defense Advisory Committee on Women in the Services committee meeting, are expected to go into effect this fiscal year, which began on Oct. 1.
The Marine Corps' utility uniform currently has tabs to adjust the fit of the maternity blouse, said Capt. Joe Butterfield, a Marine spokesman at the Pentagon. The service is now looking at how to add them to a service uniform shirt, too, he said.
The changes, first reported by Marine Corps Times on Wednesday, were based on feedback the uniform board received when surveying women on the new female dress coat, which resembles the male version. That coat has been issued to recruits at boot camp since last summer.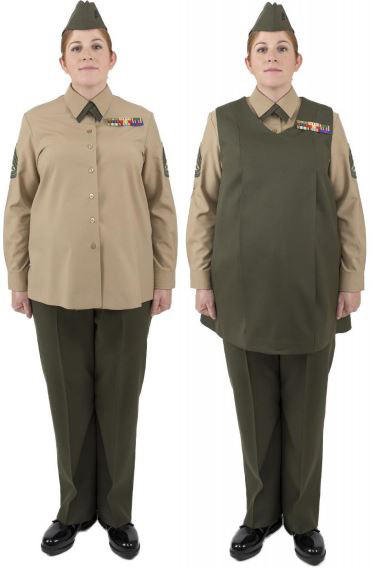 The Marine Corps is also considering new long- and short-sleeve maternity shirts, according to slides that were shown during the meeting. The service is awaiting feedback on new shirts developed by the Air Force, which were designed to be stretchier, more stain-resistant and less transparent.
Last year, pregnant airmen at Wright-Patterson Air Force Base in Ohio were asked to test the new maternity shirts. The goal was to get dozens of women at different stages in their pregnancies give feedback on the shirt's fit, officials said at the time. Their feedback would directly affect tweaks to the garment.
All of the services currently use the same maternity uniform patterns in their own fabrics and colors.
Sailors and airmen are already authorized to wear specially designed nursing T-shirts with certain uniforms. Female soldiers who are nursing can wear tan or sand-colored T-shirts with their utility uniforms.
Related: Air Force OKs Breastfeeding T-Shirt for New Moms
As all of the services fight to recruit and retain women, leaders and lawmakers are paying attention to policies and issues that affect them.
Air Force Chief of Staff Gen. David Goldfein said women have long suffered "in silence on many of the uniforms that don't fit." They often end up spending more money than men altering their uniforms to get them right, which Goldfein called "unsatisfactory."
And earlier this year, Rep. Julia Brownley, a California Democrat and member of the House Veterans Affairs Committee, introduced a bill that would require the government to study whether female troops pay more for their uniforms than men.
-- Gina Harkins can be reached at gina.harkins@military.com. Follow her on Twitter @ginaaharkins.
Read more: Marines' New Top Officer Wants to Give New Moms a Full Year Off