The Defense Department has a new tool to help military health care providers tackle one of the most complex challenges facing patients: pain.
The DoD has launched a new pain rating scale that bears the familiar 0-10 numbers, smiley and frowny faces and green, amber and red stoplight colors meant to signal a patient's acute or chronic pain.
But the new Defense and Veterans Pain Rating Scale now includes more detailed descriptions designed to prompt patients to consider how the pain is affecting their daily functions, including activities, sleep and mood.
Gone are descriptors ranging from "mild pain" to "worst pain," replaced with "hardly notice pain" to the "THIS IS AS BAD AS IT COULD BE, NOTHING ELSE MATTERS" type of pain.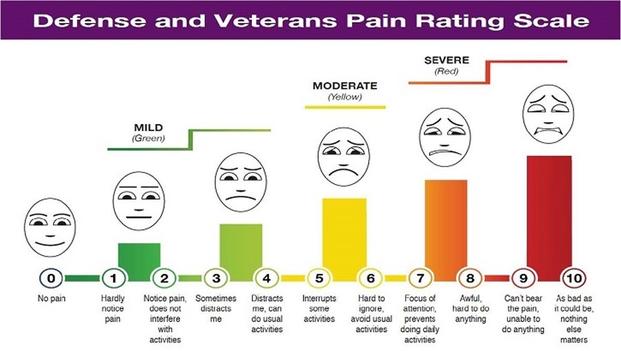 Retired Army Col. Trip Buckenmaier, with the Uniformed Services University of the Health Sciences in Bethesda, Maryland, said the new scale will help physicians focus on the effects of pain in their patients' day-to-day lives.
"This is a cultural change that we're bringing, not only to our patients but also to ourselves as clinicians," Buckenmaier said in a release. "The goal of pain management isn't exactly getting pain down to zero but optimizing both physical and emotional function."
Until 2001, pain was largely treated as a symptom -- something doctors considered and tried to ameliorate if the pain was severe enough. But that year, the Joint Commission, a nonprofit organization that accredits and certifies hospitals and health care programs, introduced new pain management standards that required providers to ask every patient about their pain level, leading medical personnel to call pain the "fifth vital sign."
While launched with the best of intentions, the new emphasis on pain management has been blamed for the surge in opioid prescriptions and subsequent epidemic that has killed thousands of Americans.
Buckenmaier said that, while opioids can be helpful for those in severe pain, they also could "keep a patient on a couch rather than living a full life."
"This is what our patients are telling us," he said. "When they became dependent on these medications and their daily functions are actually disturbed, they came back and told us we need to do something different."
The new rating scale will help doctors to better assess pain and make recommendations for controlling it, said Buckenmaier, who is a trained acupuncturist and proponent of alternative therapies, including massage, yoga and biofeedback.
"It's not to replace opioids; it would be a mistake to think so. I would hate to deploy to the modern battlefield without these tools in my toolkit," he said.
-- Patricia Kime can be reached at Patricia.Kime@Military.com. Follow her on Twitter at @patriciakime.