The Navy and Marine Corps are full of innovative thinkers, but the services aren't set up to easily share ideas to help solve problems, a top leader said this week.
That's why the Navy Department has stood up five new hubs called "tech bridges" outside major installations and commands. The goal is to better connect service members to academic experts, business leaders and others who can help solve their problems.
It's part of the new NavalX initiative, which James Geurts, assistant Navy secretary for research, development and acquisition, announced earlier this year. Sailors and Marines working out of the NavalX co-working space in Alexandria, Virginia -- a modern, industrial workspace with lots of exposed beams, Edison-style light bulbs and cold brew coffee -- typically dress in civilian clothes and don't address each other by rank.
Related: The Navy's Newest Recruiting Strategy: YouTube Influencers
"We want people to be able to come in here, forget about rank, forget about your organization or your boss you're scared of or the work that you normally do," said David Schiff, a former Navy officer and the NavalX deputy director. "I want you to come in here and think about how we could do things a little bit differently."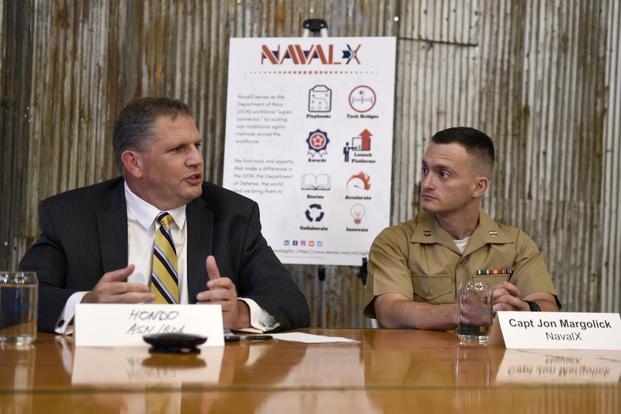 NavalX is also working to get personnel within some of the Navy and Marine Corps' innovation offices communicating more. Sometimes, people are trying to address the same problem without realizing someone had already come up with a solution.
"My sense was that, while we had great innovation going on in pockets of the Navy, we were not as well-connected as we could be," Geurts said. "... The fastest way to get anything is just to take it from somebody who's already done it."
Here's how Geurts and others at NavalX hope the new tech bridges make sailors' and Marines' lives easier.
The bridges. Geurts on Tuesday announced the location of the first five new NavalX tech bridges: Newport, Rhode Island; Keyport, Washington; San Diego; Orlando, Florida; and Crane, Indiana.
The tech bridges in Orlando and Crane are up and running. The others are expected to be operational within six months. All of them are near major Navy and Marine Corps commands.
The Naval Surface Warfare Center, which focuses on getting innovative equipment out to sailors in the fleet, has divisions in Crane and Keyport, for example. And San Diego has a huge Navy and Marine Corps population.
"They are all very interested in connecting through this NavalX network," Geurts said. "... [But] each of these have their own unique flavor, focus, areas of emphasis and ways of operating."
The locations for the first tech bridges were also selected because the commands already have good working relationships with those outside their installations' gates, he said.
How it works. Officials at NavalX and its tech bridges won't be showing up to Navy and Marine commands to tell them how they should fix their problems, said Marine Capt. Jon Margolick, a NavalX member at its headquarters.
Instead, he said they can help show small businesses how to more easily do business with the Navy Department or connect warfighters with developers, so they can talk about what they need in a piece of equipment before a prototype is finalized.
Troops are all too familiar with the "bright-idea fairy" showing up and telling them to change everything they're doing without handing out additional resources, Margolick said.
"Instead, what if you show up and say, 'What do you need?'" he said. "... We show up and ask, 'What is it that would help things to go a little faster around here? How can we help you to accomplish the mission that you already have and you already know is important?'"
The structure. Geurts wants all of this done with few uniformed personnel assigned to NavalX and without the group having its own big budget line.
There are just a few troops assigned to NavalX headquarters, and it'll be the same at each of the tech bridges, he said.
Cmdr. Sam Gray, who works at the NavalX headquarters, said some of the tech bridges already have outreach officers working on or near the installations. Others will be staffed with Navy and Marine Corps personnel who have worked on innovation efforts as part of their job or in their spare time.
What they've done. In the roughly six months since NavalX was stood up, it has hosted summits and workshops to help teach warfighters new skills such as welding or 3D printing.
NavalX also stood up a Center for Adaptive Warfighting at Camp Johnson in North Carolina after hearing from Marines who were interested in more quickly identifying and carrying out missions.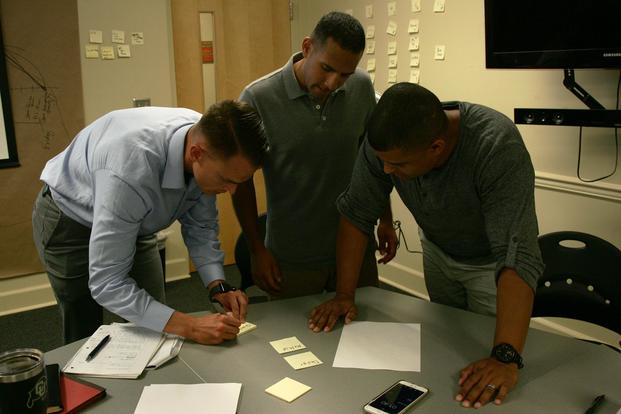 "It's a collaboration between NavalX, the 2nd Marine Logistics Group, the [II Marine Expeditionary Force] Information Group, and a Marine Corp Combat Service Support School, which was the first to come to us and say, 'We're looking to put something like this together. What tools may be used for that?'" Margolick said.
They've trained hundreds of Marines in new techniques, he said, including a human-centered design curriculum and lessons on Lean Startup, business concepts that involve talking to warfighters to develop processes that work for them, and teaching quicker, faster decision-making.
"The Marines were the first to raise their hands ... which is pretty on-brand for us, if you're asking me personally," Margolick said. "But it's available to everybody now, and we've already had interest from [Naval Air Forces] and some others. And we're looking for opportunities to deploy it across the Navy."
-- Gina Harkins can be reached at gina.harkins@military.com. Follow her on Twitter @ginaaharkins.
Read more: 10 Things You Didn't Know About Jim Mattis from His New Memoir 'Call Sign Chaos'