A detachment of U.S. airmen recently returned to the South American country of Guyana for the first time in a decade in an effort to shore up relationships amid growing tensions in neighboring Venezuela.
The four-month long New Horizons humanitarian outreach program, led by the Air Force, was meant to be a stepping-stone toward a prolonged relationship with the Guyana defense force. Air Force officials hope the service's relationship with the Guyanese military remains strong, especially as Russia and China continue to encroach into southern hemisphere and political unrest in Venezuela shows no signs of subsiding.
"Guyana is going to become a larger player in this region, both economically and politically in the future, so it's important that we are closely tied with them," Maj. Gen. Andrew Croft, 12th Air Force (Air Forces Southern) commander, said in an interview.
"What we leave is an enduring, physical presence in addition to the partnerships that we build," he added, citing medical facilities and schools built in 1997 that are still used today.
Related content:
Roughly 600 service members participated in the project to construct community centers and a women's shelter in Guyana, on South America's northern coast.
Air Force and Army personnel, who worked in areas near port cities such as Port Mourant, New Amsterdam and Georgetown and in the countryside near Linden, also conducted several medical outreach and veterinary events that brought in 13,446 patients, according to officials who participated in the exercise.
That presence reminds local communities and government that the U.S. will be there, not only to help its citizens in future rotations, but also for emergency response.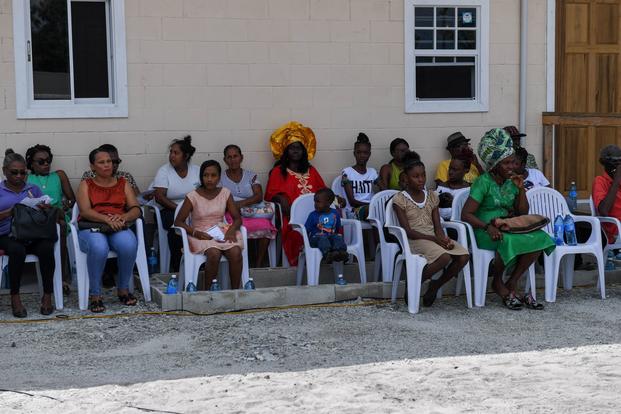 Guyana, third-smallest country on the continent, sits just east of Venezuela, which has endured political turmoil and economic hardship since 2010. Millions of Venezuelan refugees have migrated to neighboring countries since the onset of the crisis.
U.S. medical personnel treated some Venezuelans during the Medical Readiness Training Exercise (MEDRETE) event tied to the program, officials said.
"Guyana sits is in a strategic location on the north edge of South America and on the Caribbean," Croft said during a telephone interview from Guyana last week. "That's what makes it important. Also, as political change happens in the nation and they become more aligned with us, it's important for us to make those personal relationships not only through the embassy, but also through the military and the Guyana defense force, which is currently about 3,000 strong with the intent to nearly double it in the upcoming years."
The exercise, under U.S. Southern Command, concluded Aug. 22.
Intermediate exercises can act as an "insurance policy" against other conflicts, Croft said.
"It builds a foundation for the future so that we're not stuck in a situation that we're in the Middle East, where we're actually doing full-up combat operations," he said. "The more we can help them build rule of law, education and services functions, the more we can then help them build the foundation of a workforce."
China and Russia have made inroads in South America. For example, local citizens were operating off of a Huawei network to communicate. While the U.S. brings in its own communications, "You wonder about where all that data goes," Croft said.
The officials also noticed that the local bauxite mines, used to make aluminum, may soon be under new management as both Russia and China weigh investments or expand on operations already underway within the country's mining industry.
"Other folks will step into the breach if there is one or they'll fill a gap. So if we don't actively encourage U.S. commerce and U.S. interests, [it will] not only [happen] here, but in the other nations in this region," Croft said.
He added that his command often sees competing areas of interest. Partners of Air Forces Southern and SOUTHCOM would benefit from annual rotations, but the service "just doesn't have the bandwidth or the capacity to do that level of effort" for every participating country simultaneously, he said.
Next year, the exercise will move to Honduras. Officials have already started planning it.
During the exercise, local conditions were sometimes a challenge. For example, supply delivery to remote areas wasn't always smooth, and equipment broke "over and over and over again," added Air Force Col. Kenneth Bratland, 346th Air Expeditionary Group commander. Bratland said the rainy season, which typically concludes in the early summer months, went long this year, posing a setback for quick construction.
"Fighting the weather and the rain and the water everywhere has been a physical challenge," he said.
The exercise cost roughly $8 million, according to Croft.
The program utilized local goods and supplies where it could, such as concrete, gravel, cinder blocks and roofing material, Bratland said, adding that the Guyana defense force's persistence made it work.
"We were extremely impressed the GDF's commitment to doing this," he said.
The two commanders have faith that the commitment will last.
"Those are the reasons why it's important that we still remain focused on this region, which, oh by the way, is closest to our shores as well. And you see the effects of things like illegal migration right now," Croft said.
Guyana's military force is looking to add personnel for efforts such as protecting oil fields, monitoring illegal fishing, counter-drug trafficking and border crossings, he said.
"If you don't pay attention to [these things], it becomes a military problem rapidly," Croft said.
-- Oriana Pawlyk can be reached at oriana.pawlyk@military.com. Follow her on Twitter at @Oriana0214.