When he's on the job, Bartolomeo "Benny" Ficeto, aka "Benny the Bagger," just hates to stop working -- he won't even go on his appointed break -- but the World War II veteran had to take a timeout Tuesday for his 98th birthday party.
The Stop & Shop off Highway 1 in Edison, New Jersey, presented Ficeto with a birthday cake. He was also serenaded by a USO Show Troupe.
Managers at Stop & Shop, the northeastern supermarket chain, for years have been trying to get Ficeto to take his 15-minute break on the four-hour shifts he works, but he won't do it. He's on his feet for the whole shift, saying, "Why would I take a break when I only get to work four hours?"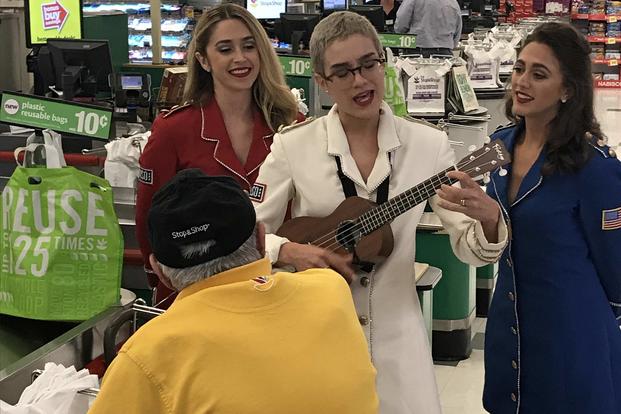 Ficeto began bagging part-time at a Stop & Shop in Bloomfield, New Jersey, in 2011 and has continued at the Edison site. He attributes his longevity on the job to the strong work ethic instilled by his family in Belleville, New Jersey, where he was born the seventh of eight children in 1921.
"I was raised in a family where you were taught to respect hard work and to respect people. When you do that, people will respect you too, and you will always have a job to do," Ficeto told the 1262 Banner, a publication of United Food and Commercial Workers Local Union 1262, shortly after he began working at Stop & Shop.
"I like the people I work with, and I like the customers and helping them out. It's what keeps me young. You have to keep active," he told the publication.
Benny served in what was then the Army Air Corps during World War II as a gunner aboard a B-25 Mitchell medium bomber on missions over North Africa and Italy. He left the service in 1945 and worked a variety of jobs before retiring at age 67 after 20 years as a supervisor with the L'Oreal cosmetics firm.
Since retiring, Ficeto has kept busy volunteering with veterans organizations and doing two shifts a week at the Stop & Shop.
His co-workers marvel at his efficiency.
"He's one of the fastest baggers you've ever seen," Charlotte Harriott told the 1262 Banner. "Customers will hop on his line when they see he's there."
-- Richard Sisk can be reached at Richard.Sisk@Military.com.