If you miss living on a military installation but want a bit of an upgrade to that old barracks room, this might be your chance.
A 12,018-square-foot mansion for sale on Bainbridge Island in Washington state was once the hub for a vital World War II mission. Now, the four-bedroom home with five full bathrooms is on the market for $9.75 million.
"Building 39 was built by the U.S. Navy in 1941 as the radio receiving and control building of the Bainbridge Naval Radio Station, whose purpose was to intercept Japanese diplomatic and military radio messages before and during World War II," Shawn O'Neill, who has lived in the house for 16 years, told the Puget Sound Business Journal.
While an old operational command center might not evoke a homey vibe, O'Neill describes the property as "a touch of Tuscany imported to the Northwest." The master suite alone is more than 1,000 square feet, according to the listing with Realogics Sotheby's International Realty.
There's an indoor pool and a five-car garage on the 10-acre property. Considered to be one of the most historic properties on the West Coast, "Building 39" has been transformed into a timeless island estate, the listing states.
"While retaining its historic appeal, classic design and modern amenities fill the estate, creating an unprecedented level of luxury," it adds.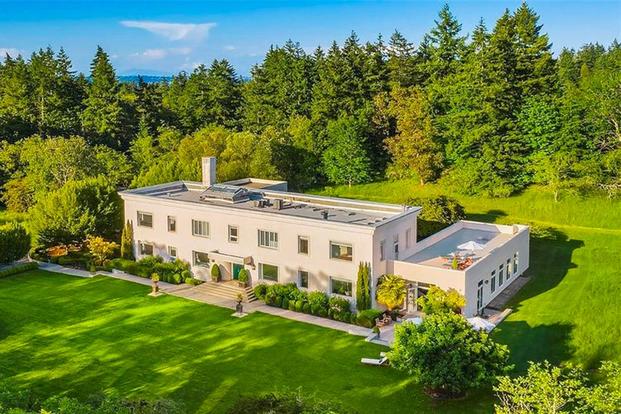 According to a document on early naval radio communications in Washington, Oregon and Alaska from U.S. Naval Communications, Naval Radio, Bainbridge Island in Washington was taken over from an abandoned Army site in 1938. Its intended mission: to serve as a receiving station, intercept station and high-frequency direction-finder station.
Cmdr. B. C. Purrington became the officer in charge there in 1940, according to the document.
A video tour of the home shows the decades-old military facility now features crystal chandeliers, a library, a theater room, and a modern, sleek kitchen. To move into the Navy building, the perfect buyer just needs to sail in with their checkbook, as Realtor.com, which also featured images of the home, put it.
-- Gina Harkins can be reached at gina.harkins@military.com. Follow her on Twitter @ginaaharkins.