The Blue Angels team has its first F-35B pilot, but he won't be flying the Joint Strike Fighter jet in any upcoming air shows.
Marine Maj. Frank Zastoupil is one of eight officers recently selected to join the Blue Angels 2020 demonstration team. Zastoupil, who's currently assigned to the "Warlords" of the South Carolina-based Marine Fighter Attack Training Squadron 501, will be one of the F/A-18 demonstration pilots, Navy officials announced Monday.
"This is the first [pilot] we've had that's been permanently attached to an F-35 squadron," Chief Petty Officer Chad Pritt, the Blue Angels' public affairs chief, told Military.com.
Navy Lt. Julius Bratton, a Hornet pilot with the "Gladiators" of Strike Fighter Squadron 106, was also selected to join the F/A-18 demonstration team.
The team will get two new C-130 "Fat Albert" pilots: Marine Capts. William Huckeba, a Hercules pilot currently assigned to Officer Candidate School in Quantico, Virginia, and Rick Rose, who flies the Hercules with the "Sumos" of Marine Aerial Refueler Transport Squadron 152.
Navy Lt. Brian Abe, who's currently assigned to Strike Fighter Squadron 83, will be the Blue Angels' new maintenance officer, and Navy Lt. j.g. Chelsea Dietlin, who's assigned to Navy Public Affairs Support Element -- East, will be the team's new spokeswoman.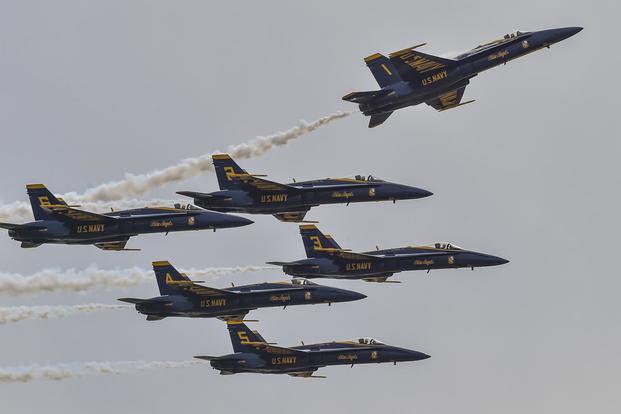 "We had a phenomenal group of applicants this year," Capt. Eric Doyle, the Blue Angels' commanding officer and flight leader, said in a news release announcing the additions. "The 2020 Blue Angels are lucky to have these talented individuals join them to represent the Navy and Marine Corps in the team's 74th show season."
Cmdr. Brian Kesselring, who led the "Sunliners" of Strike Fighter Squadron 81, will be the team's next CO and flight leader. Navy Cmdr. Todd Royles, the executive officer of Training Squadron 86's Squadron Augment Unit, will be the team's next XO.
It won't be the first time Zastoupil also performed in air shows. Earlier this year, the pilot flew the F-35B in the 2019 Beaufort Air Show in South Carolina. In a Marine Corps video, Zastoupil said he'd never flown in a plane until he was a junior in high school, but he "just fell in love with being in the air."
"Then what did I want to do? I wanted to fly jets for the Marine Corps," he said. "What's cooler than flying jets for the Marine Corps, right? You get to fly from ships, you get to come back and land. ... You get to fly the most technologically advanced aircraft in the world."
Zastoupil and the rest of the new Blue Angels members are set to kick off their training in mid-November.
-- Gina Harkins can be reached at gina.harkins@military.com. Follow her on Twitter @ginaaharkins.