Commands across the Navy are getting creative in response to a policy change earlier this year that allows for unit-specific customization on the service's new working uniform.
According to the update, published in March, commands and units have the option of wearing an embroidered shoulder patch on the Navy Working Uniform Type II and III, the service's camouflage utilities.
The design of the patch must be approved by the relevant unit commanding officer, and it may be worn in lieu of the traditional left "Don't Tread on Me" shoulder patch in non-tactical environments only, according to the regulation.
Early patch designs, rolled out publicly by a few commands in recent weeks, use symbols to highlight history and mission focus.
On May 29, the carrier George Washington rolled out its NWU patch design in a news release. The patch, which features 13 six-pointed black stars on the camouflage field, bookended by the slogan "First in War ... First in Peace," is a salute to Gen. George Washington's headquarters flag, also called the "Commander-in-Chief Standard," according to the release.
The Washington is currently in dry dock for maintenance at Newport News, Virginia, and will be homeported in Japan after its multi-year maintenance availability is complete.
"Revolutionary Americans adopted various symbols to represent the new republic that they created after the Declaration of Independence," Dr. Scott Stephenson, president and chief executive officer for the Museum of the American Revolution, said in a released statement. "Washington's Standard includes a blue field with thirteen white stars representing a new constellation, which Congress adopted in 1777 as a component of the now familiar 'Star-Spangled Banner.'"
Washington's flag, believed to be the earliest of the 13-starred American flags, was recommended as a patch design by a Navy chief who knew his history, according to the release.
Chief Electronics Technician Joseph Knight, who works in combat systems on the carrier, "suggested that having a command flag would be a symbol that the crew would be able to rally around," Capt. Daryl Cardone, the Washington's executive officer, said in a statement. " ... He suggested that we design a command flag, and utilize that design as our command patch. ... He then sent me a copy of the Commander-in-Chief's flag, and [the] leadership team loved it. We added the 'First in War, First in Peace' quote from [George Washington's] eulogy, and that was that."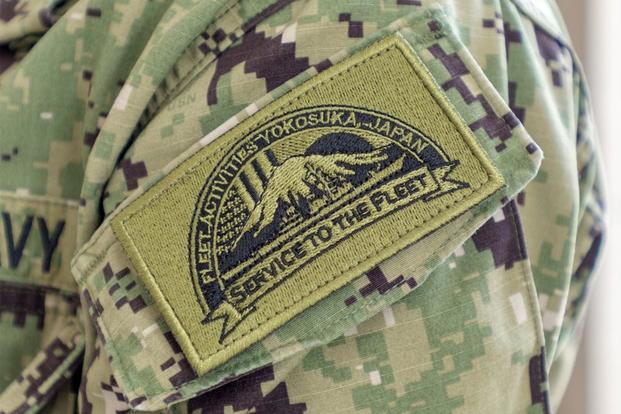 Another command, U.S. Fleet Activities Yokosuka, Japan, also used an enlisted sailor's idea to create a uniform patch. The busy design, rolled out June 11, depicts an Arleigh Burke-class guided missile destroyer sailing in front of Japan's Mount Fuji. The vista is set against a background of U.S. and Japanese flags, and underscored by the words "Service to the Fleet."
That design proposal came from Public Affairs Specialist Garrett Zopfi, according to a news release.
"When approached with designing the command patch, my instinct was to reference the enduring legacy of friendship and partnership in Yokosuka that started with Capt. Benny Decker, one of the earliest commanders of the base, and continues today," Zopfi said in a statement. "I endeavored to make the patch look like it always existed in CFAY history but with the benefit of new design and fabrication technology to innovate."
The Yokosuka command provides support to U.S. 7th Fleet Forces and encompasses 71 tenant commands with some 27,000 military and civilian personnel.
Unit patches are not an entirely new practice for the Navy; naval flight squadrons have long featured unit-designed patches in a variety of nonstandard shapes and colors on their flight suits.
Meanwhile, the Army and Air Force allow patches -- with strict color and design guidelines -- on their Occupational Camouflage Uniforms, or OCPs.
According to Navy guidelines released in March, authorized Navy command/unit shoulder patches must be rectangles, 2 1/4 inches by 4 inches, with "subdued" colors matching the NWU color scheme.
"Command/unit logo shoulder patches are considered optional personal purchase items and are not mandatory for wear or possession," the guidelines state.
A Navy spokesman, Lt. Samuel Boyle, said the service is not tracking how many units and commands have released their own patch designs.
-- Hope Hodge Seck can be reached at hope.seck@military.com. Follow her on Twitter at @HopeSeck.