It's been more than a quarter of a century since the debut of the 1994 classic "Forrest Gump," but the film seems even more popular now than when it topped the box office and swept the Hollywood awards shows. "Forrest Gump"movie won a slew of Oscars, including Best Picture, and gave us the beloved character of Vietnam veteran Lt. Dan Taylor.
Lt. Dan also changed actor Gary Sinise's life. His performance as a wounded warrior connected him to real-life veterans, and Sinise has become one of the highest-profile supporters of military and veteran causes. His rock combo The Lt. Dan Band has entertained troops around the world, and the Gary Sinise Foundation provides valuable services to men and women all over the country.
Sinise tells his life story in his 2019 memoir "Grateful American," including some fascinating details about making "Forrest Gump." Here are five of the best:
1. Sinise read Lewis Puller Jr.'s "Fortunate Son" to prepare for the role.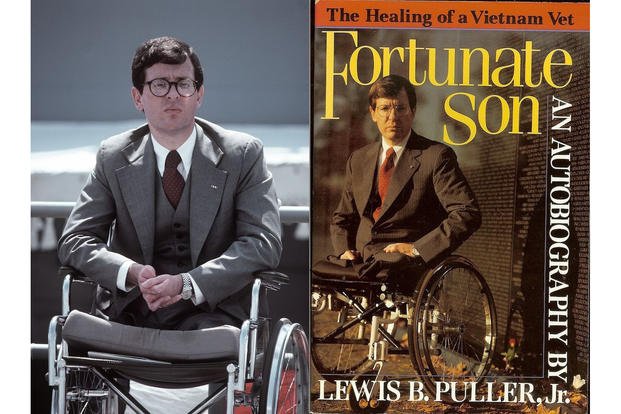 You think being a Marine is tough? Imagine going to boot camp when your name is Lewis Puller Jr. Then imagine the challenges you face after being severely injured by a booby trap bomb during your service in Vietnam.
Even though Puller lost both legs, his left hand and nearly all the fingers on his right hand, he was able to serve as a lawyer for the Department of Veterans Affairs and share his experiences in a Pulitzer Prize-winning memoir in 1992.
Puller faced many of the demons that afflict Lt. Dan, and Sinise used the book as research for his performance. Unfortunately, Chesty's son wasn't able to survive his own challenges and took his life in May 1994, less than two months before the movie opened.
Related: The Man Behind 'Lt. Dan' Is All Patriotism, No Politics
2. The New York City traffic scene is a tribute to "Midnight Cowboy."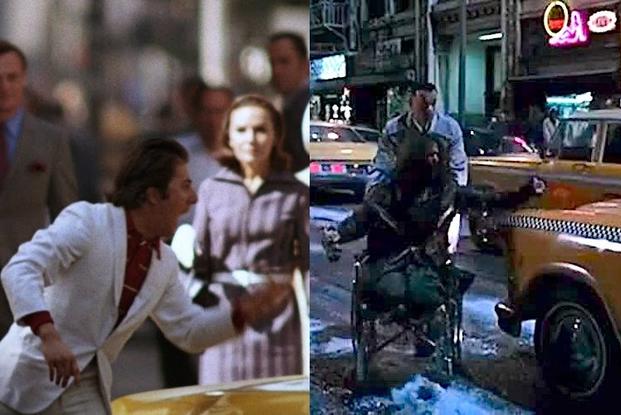 When Forrest and Lt. Dan are crossing a street in NYC, they almost get hit by a cab. Dan bangs on the hood and yells, "Hey, are you blind?! I'm walking here! I'm walking here!"
That line is Gary's direct tribute to Dustin Hoffman's character Ratso Rizzo in the 1970 movie "Midnight Cowboy," which won the Oscar for Best Picture. Director Bob Zemeckis loved the idea and later added the earlier film's song "Everybody's Talkin'" to the scene to drive home the joke.
3. Lt. Dan's rosary bead dog tags belonged to an actual Vietnam veteran.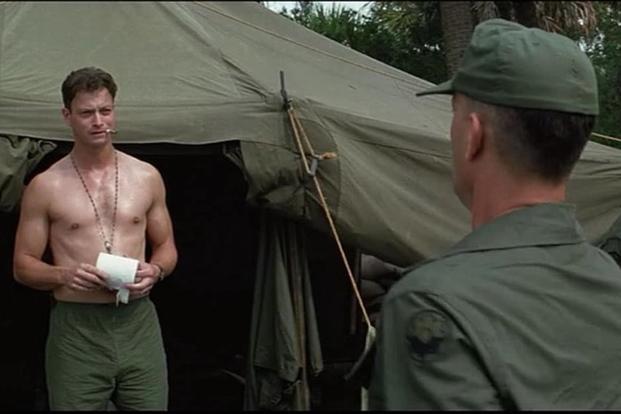 Sinise's brother-in-law Jack Treese served as a combat medic in Vietnam. Treese wasn't Catholic, but he made his own rosary for his dog tags because he thought he could use all the help he could get.
The movie's costume designer issued Sinise a set of dog tags, but he swapped those out for Treese's real set.
Related: 'Forrest Gump' Celebrates its 25th Anniversary With a Return to Theaters
4. Sinise wore blue stockings for the scenes after Lt. Dan loses his legs.
Since "Forrest Gump" was made back in the days before computer special effects dominated the movie business, Sinise wore special blue screen stockings for his legless scenes. In post-production, the special effects crew were able to drop out the blue image and then had to paint in the backgrounds, frame by frame.
Related: A Visit with Gary Sinise: Memorial Day, Lt. Dan and Why He's a Grateful American
5. Military adviser Dale Dye was a tough taskmaster.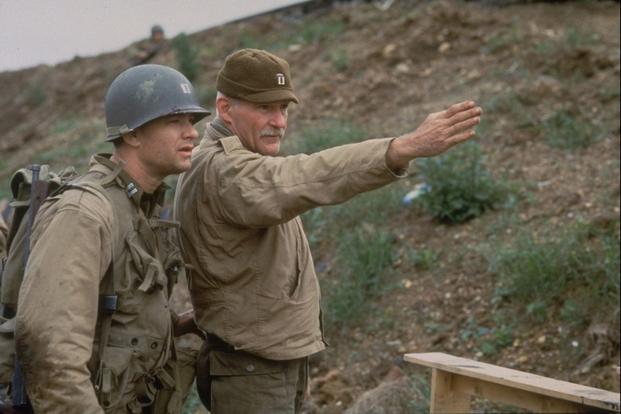 Marine veteran Dale Dye served as a captain in the Vietnam war and went to Hollywood after he retired from the military in the 1980s. He's acted in dozens of movies, but he's really proven invaluable as a military technical adviser on movies and shows such as "Platoon," "Saving Private Ryan," "Band of Brothers," "The Pacific" and Tom Hanks' upcoming WWII movie "Greyhound."
Dye worked with the cast of "Forrest Gump," and Sinise describes a four-day orientation in the muggy swamps of South Carolina. Dye designed the final exercise so that the actors' mission would not go as planned and they'd be lost in the woods. Once the actors finally located their attack point, Captain Dye and his Warriors Inc. crew were lying in wait. Sinise says the actors "got the snot knocked out of us."
After Lt. Dan gets blown up in the movie, Forrest ends up dragging him out of the battle by the scruff of his neck while Dan fires his .45 at the following enemy. During filming, Sinise's gun jammed and ruined the take. Captain Dye got in Gary's face, blaming him for the malfunction. Sinise barked back, and a "hullabaloo" ensued. But Sinise insists that "however it looked, we held no hard feelings between us."