Four Medals of Honor. Thirty Service Crosses. Twenty-three Silver Stars. After a three-year review of medals for military heroism in conflicts following Sept. 11, 2001, the Pentagon has upgraded 57 awards for valor -- and so far, sailors are the biggest beneficiaries.
Officials told Military.com that the review, which was launched in 2016 and will formally conclude on Dec. 31, assessed roughly 1,400 awards in all, presented by the four Defense Department services. Some four Army awards have yet to be announced -- officials would not characterize these awards, however, and whether, as some suspect, more Medals of Honor could be forthcoming.
The Upgrades
By service, the Navy approved a total of 19 upgrades, including one Medal of Honor, nine Navy Crosses and nine Silver Stars.
The Army closely followed, with 18 upgraded awards, including two Medals of Honor and 16 Distinguished Service Crosses.
The Marine Corps did not award any Medal of Honor upgrades, but did present three Navy Crosses and nine Silver Stars, for a total of 12 award upgrades.
And the Air Force presented the fewest upgrades, with a total of eight awarded. But along with two Air Force Crosses and five Silver Star upgrades, it did present a long-anticipated Medal of Honor to fallen Tech. Sgt. John Chapman, marking the first Air Force Medal of Honor since Vietnam.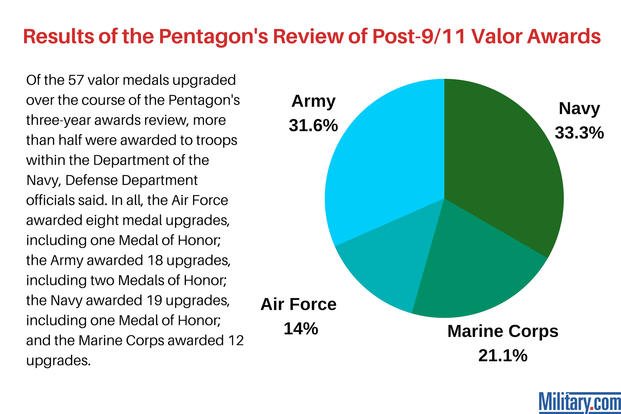 The others awarded the Medal of Honor in the review include former Senior Chief Petty Officer Britt Slabinski, a former member of SEAL Team 6 who received the award in May 2018; former Army Sgt. Ronald Shurer, who received the medal in October 2018; and Army Staff Sgt. Travis Atkins, who was posthumously awarded the medal last month.
Patricia Mulcahy, the Pentagon's director of Officer and Enlisted Personnel Management, told Military.com that the upgrade review, which was overseen by three successive defense secretaries, came about as a result of a concerning trend: from 2001-2010, just seven troops were awarded the Medal of Honor for heroism in Iraq and Afghanistan, all posthumously. And in the five years that followed, 10 more were approved -- all for living troops.
"Those data points caused the SecDef to say, 'let's review all of our valor awards and make sure that we have appropriately recognized our members.' That was the genesis of this," she said.
It's difficult to complete a full analysis of the awards that were upgraded, as some are tied to secretive and classified actions and were not publicly announced. Officials said the awards were not sorted by conflict, either -- although of the Medals of Honor that have been presented, three were for actions in Afghanistan and one for Iraq.
Significant Increase in Awards
But even though the number of upgrades was relatively small -- just 4% of all awards reviewed were upgraded -- it still means a significant increase in the most prestigious valor awards presented for post-9/11 conflicts.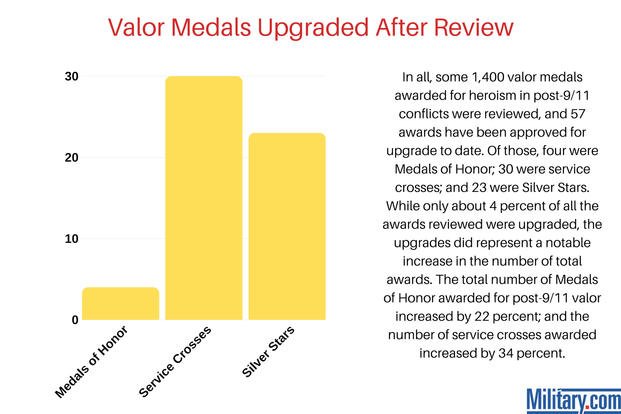 The four upgraded Medals of Honor -- in addition to the 18 that had already been presented -- mean a 22% increase in awards, Mulcahy said.
And the 30 upgraded service crosses, added to the 87 previously presented, make up a 34% increase, she said.
The services conducted their awards reviews individually, with only awards up for upgrade to the Medal of Honor receiving Pentagon-level scrutiny.
And officials said they're not interested in parsing trends between services when it comes to the upgrade decisions that were made. Nor, they said, did the review alter or lessen the high standards that exist for the approval of valor awards.
"Each service has a little bit of a different culture when it comes to awards," Doug Johnson, assistant director for Military Decorations and Awards Policy at the Pentagon, said. "We don't try to change that -- the service culture is very important."
And while the 57 awards do represent the righting of some important oversights, officials are by and large satisfied that no systemic failures persist in the process.
"The services got it right most of the time," Johnson said.
More Medals of Honor?
When the ongoing valor review is discussed, certain names quickly surface as candidates for the Medal of Honor. Perhaps foremost among those is fallen Army Sgt. 1st Class Alwyn Crendall Cashe, who sacrificed his life to pull six soldiers from a burning vehicle in Iraq in 2005. Cashe received a posthumous Silver Star, but many believe it wasn't enough.
Douglas Sterner, a foremost military awards expert who compiled a first-of-its-kind database of valor medals, wrote to then-Army Secretary John McHugh in 2011 requesting a service-wide awards review similar to that launched by the Pentagon in 2016. The letter singled out Cashe as an example of recent heroism that had been overlooked.
"I believe the extremely low numbers of Medals of Honor in the current war, citing specifically the case of Alwyn Cashe who stands as a vivid example of the problem in the awards system today, a ... review should be conducted," Sterner wrote.
Sterner told Military.com Friday that he remained hopeful Cashe was among the handful of Army awards that had not yet been announced.
"It's the most perfect example of a Medal of Honor I've ever seen," Sterner said. "If the review is done and Alwyn Cashe hasn't been awarded the Medal of Honor, I won't be a happy camper."
To date, there has also not been a living Medal of Honor recipient from the war in Iraq, with some speculating that an award of this nature remains to be presented.
Certainly, however, there are some heroes proposed as candidates for the Medal of Honor who did not receive an upgrade in the review process.
Marine Cpl. Jonathan Yale and Lance Cpl. Jordan Haerter, who were publicly lauded by then-Marine Lt. Gen. John Kelly for stopping a 2008 truck bomb in Ramadi at the cost of their lives, will not receive upgrades to their Navy Crosses in the review. Air Force Master Sgt. Robert Gutierrez, who battled heroically as a joint terminal attack controller in Afghanistan in 2009, won't get an upgrade to his Air Force Cross.
But on the whole, Sterner said, he's pleased with the process and its outcome.
"They did exactly what I was hoping for," he said. "Just because i have a different opinion from the board [in some cases] on who should have got it, it's nothing to whine and gripe about."
-- Hope Hodge Seck can be reached at hope.seck@military.com. Follow her on Twitter at @HopeSeck.