An Army infantryman who gave his life to shield other soldiers from an insurgent strapped with a bomb will receive the Medal of Honor on March 27, the White House announced Tuesday.
Staff Sgt. Travis W. Atkins, an infantryman belonging to 2nd Brigade Combat Team, 10th Mountain Division, out of Fort Drum, New York, was killed June 1, 2007, while deployed to Iraq.
Atkins was previously awarded the Distinguished Service Cross, the Army's second-highest award for valor. This award represents an upgrade.
Related:
According to his earlier medal citation, Atkins had been conducting route security in the town of Abu Sarnak, Iraq, when he apprehended a group of suspected insurgents and began to search them. One of the insurgents resisted, charging Atkins, who grappled with him in hand-to-hand combat.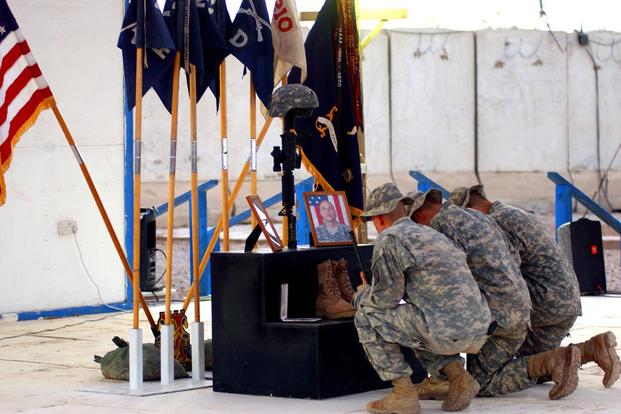 "As Staff Sergeant Atkins attempted to subdue the man, he realized the insurgent was attempting to trigger a suicide vest which he wore under his clothing," the citation states. "Despite Staff Sergeant Atkins' efforts, the insurgent finally succeeded in reaching his vest. Staff Sergeant Atkins selflessly tackled the suicide bomber, pinning him to the ground and shielding his Soldiers from the imminent explosion."
While Atkins was fatally wounded in the blast, he saved the lives of three other soldiers, according to his citation.
Atkins, 31 at the time of his death, was a native of Bozeman, Montana. He enlisted Nov. 9, 2000, deploying to Iraq in 2003 and leaving the Army following the deployment as a sergeant. He would re-enlist in 2005 after attending the University of Montana. He deployed to Iraq again in August 2006 and was promoted to staff sergeant May 1, 2007, during his final deployment.
He is survived by his son Trevor Oliver and his parents John and Elaine Atkins, according to officials. Those family members will be in attendance at the White House Medal of Honor ceremony, officials said.
-- Hope Hodge Seck can be reached at hope.seck@military.com. Follow her on Twitter at @HopeSeck.