A three-star general and career infantry officer who has spent decades leading troops through some of his service's most important strategic operations has been nominated to serve as the next commandant of the Marine Corps, according to a public congressional notice posted Tuesday.
Lt. Gen. David Berger has been nominated to receive a fourth star and serve as the service's 38th commandant. Berger currently heads up Marine Corps Combat Development Command in Quantico, Virginia, which develops warfighting doctrine. The current commandant of the Marine Corps, Gen. Robert Neller, will come to the end of his four-year term this fall.
Before his current posting, Berger oversaw all West Coast-based Marines as head of I Marine Expeditionary Force. He then led tens of thousands of leathernecks across the Asia-Pacific region as commander of Marine Corps Forces Pacific. Berger held those assignments as the Marine Corps reemphasized its amphibious roots in the region amid growing tensions with China.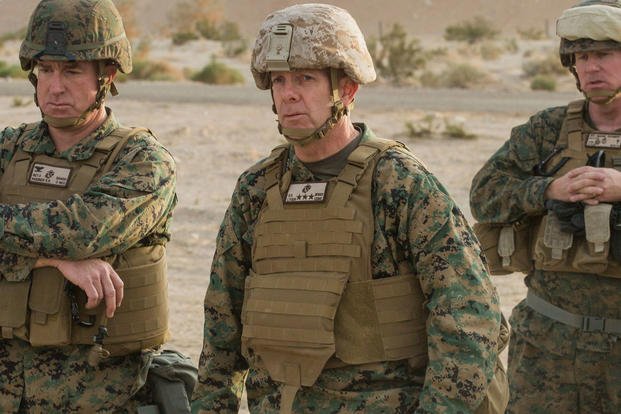 Berger has also commanded Marine Corps Air Ground Combat Center Twentynine Palms, California, where all units complete intensive training that prepares them for combat deployments.
While overseeing I MEF in California, Berger worked closely with the Marine Corps' top enlisted leader, Sgt. Maj. Ronald Green. When Green was named the 18th Sgt. Maj. of the Marine Corps, Berger told Military.com's Hope Hodge Seck that he respected Green's candor when he felt the general was about to make a mistake.
"He will not hesitate to close the door and tell me frankly when he thinks I'm headed down the wrong path," Berger said at the time. "Always professional, always with the goal of helping me make the very best decisions possible for this command and for the Marine Corps."
Berger earned his commission in 1981 after graduating from Tulane University in New Orleans, where he studied engineering. He served as a company commander in Desert Storm; a regimental combat team commander in Fallujah, Iraq; and a division commander in Afghanistan.
He has long pushed for empowering small-unit leaders and is vocal about cyber and other high-tech threats Marines are likely to face in future operations.
In an October interview with Military.com, Berger talked about his priorities at Marine Corps Combat Development Command, and how he wanted to get new gear into Marines' hands faster. With technology change fast and threats from Russia and China on the rise, Berger said he wanted to see Marines testing prototypes that were 65 or 70 percent right, telling him what needed to change, and then getting it into the field quickly.
He also detailed plans for new force-on-force-level training to better prepare Marines to take on near-peer enemies. Marines need to understand how future adversaries might use rockets, drones, planes and more, he said.
"We need to teach Marine leaders how to think on their feet," Berger said. "We're going to see a lot more of that graduate- or varsity-level thinking leader, and I need them figuring out how they can outthink me."
Back in the Pacific, Berger oversaw key changes as the Marine Corps shifted its focus from operations in Iraq and Afghanistan to Asia. The size of Marine Rotational Force-Darwin in Australia expanded under his leadership, and the Marines moved MV-22B Osprey tiltrotor aircraft, capable of carrying troops and gear long distances, into the theater.
He also oversaw the first operational deployments of the F-35B joint strike fighter jets, with the 31st and 13th Marine expeditionary units.
Throughout his career, Berger also served in several instructor roles, including at Marine Aviation Weapons and Tactics Squadron One, where aviators train for combat missions, and III Marine Expeditionary Force Special Operations Training Group.
Berger studied international public policy at Johns Hopkins University School of Advanced International Studies and has another master's degree in military studies. He has attended Army Infantry Officer Advanced Course, Marine Corps Command and Staff College, and Marine Corps School of Advanced Warfighting.
He has also graduated from Army Ranger School, Navy Dive School and Marine Corps Amphibious Reconnaissance School.
-- Gina Harkins can be reached at gina.harkins@military.com. Follow her on Twitter @ginaaharkins.