Marines stationed at the service's oldest post in Washington, D.C. are being hailed as heroes Wednesday night after sprinting to the aid of senior citizens when their housing complex caught fire.
The fire broke out Wednesday afternoon at the Arthur Capper Senior Apartments, a public housing complex on 5th Street Southeast, about one-third of a mile from Marine Barracks Washington. Flames and smoke were visible from the street as the fire raged.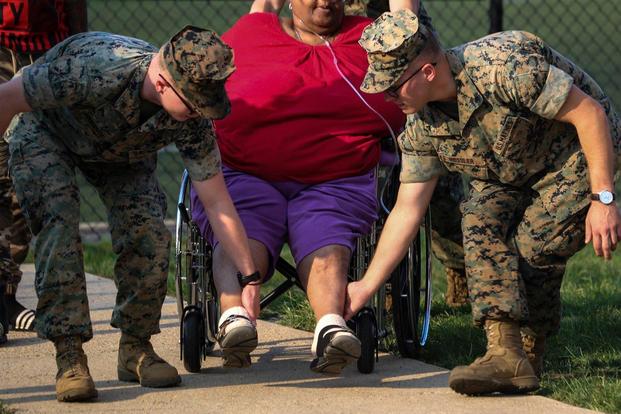 A widely-tweeted video showed about a dozen Marines from the barracks in a dead sprint as they made for the burning building.
A spokesman for Marine Barracks Washington, Gunnery Sgt. John Jackson, told MIlitary.com that the Marines were not ordered to respond, but acted on their own initiative.
The first troops from the barracks reached the building soon after the fire was reported, around 3:30 p.m. Several dozen actually entered the building to evacuate residents, bringing "a few dozen or more" senior citizens outside to safety, Jackson said.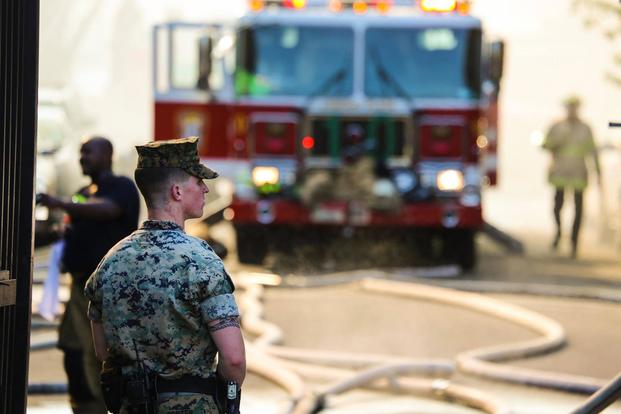 As of 8:30 Wednesday night, Jackson said Marines remained on scene to assist and to provide firefighters with any access they required at Marine Barracks Washington. In addition to the first volunteers, Jackson said the post ultimately sent over wheelchairs and other support equipment, as well as Navy corpsmen who assisted with health checks on fire victims.
Some victims were evacuated to the Marine Barracks Washington annex, "where they were checked and treated for any injuries and sheltered until their loved ones arrived," according to a post on the official barracks Facebook page.
Related: 'Military Training Kicked In:' Marine Saves Woman in Vegas Shooting
In all, some 100 Marines participated in rescue efforts, including the post's commanding officer, Col. Donald Tomich, Jackson said.
The Marines' actions did not escape notice.
"Bravery at its finest," one area resident tweeted.
Steve Rudin, a meteorologist for ABC7 News, also took to Twitter to praise them.
"Unsung heroes ... selflessness to help those in need," he tweeted.
NBC Washington reported that the fire, which caused a roof to collapse, sent four residents to the hospital, although no fatalities were reported. Jackson said no Marines were injured in the response effort.
"We say that we're America's '911 force,' and oftentimes people think of that as being overseas, but we're Marines," he said. "We respond to danger, no matter where. The Marines saw the fire and reacted accordingly to help our neighbors."
Marine Barracks Washington, also known as 8th and I, is the historic home of Marine Corps commandants and the home station for some of the Corps' most iconic ceremonial units, including the Silent Drill Platoon and the "President's Own" United States Marine Band.
-- Hope Hodge Seck can be reached at hope.seck@military.com. Follow her on Twitter at @HopeSeck.