The U.S. Air Force posthumously promoted Tech Sgt. John Chapman to master sergeant during a Medal of Honor unveiling ceremony at the Air Force Memorial on Friday, an event which not only reflected not only his sacrifice in Afghanistan, but the legacy Chapman leaves in the special operations community.
On Friday, service officials unveiled Chapman's name on the memorial wall, located near Arlington National Cemetery and the Pentagon. The ceremony followed a series of celebrations this week marking a number of historic moments for the service.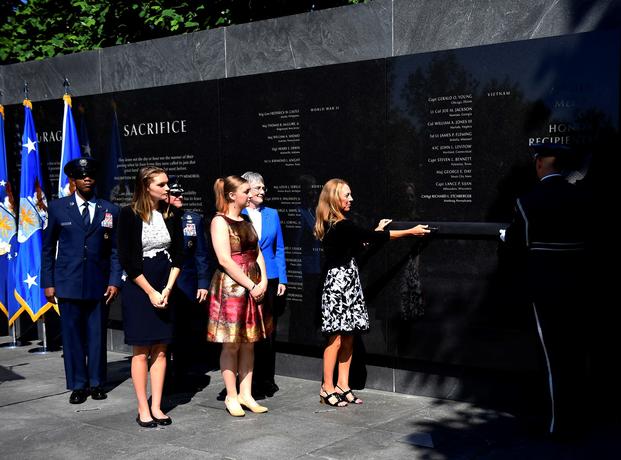 Air Force Secretary Heather Wilson, Chief of Staff Gen David Goldfein, Chief Master Sergeant of the Air Force Kaleth Wright and retired Col. John "Coach" Carney, known as a the father of Air Force special tactics, all spoke at the event to recognize Chapman, his family and his fellow special tactics airmen.
Present for the honor were Valerie Nessel, Chapman's widow, their two daughters Madison and Brianna, Chapman's mother Terry and other family members and friends, along with Pentagon officials and hundreds of Air Force Special Operations Command airmen.
Related content:
"I am standing in front of one of the most bada-- groups ever," Nessel said during her speech.
But Nessel had a stark reminder: U.S. troops continue to fight overseas in America's longest war.
"Continue to tell the stories of all of our fallen and wounded warriors. Never stop saying their names," she said. "The American people need to know the sacrifice, and realize at this very moment as we stand here we are still at war. And our warriors are taking the fight to the enemy in defense of this great nation."
Chapman, a combat controller, led a 2002 charge up the Takur Ghar mountaintop in Afghanistan's Shah-i-Kot Valley to find Petty Officer 1st Class Neil Roberts, a SEAL who was flung out of his helicopter when it crash-landed on the mountain. The special tactics airman fell wounded in his first assault on the enemy, but would regain consciousness and fight on. During a recent 30-month investigation, Air Force and Defense Department officials determined Chapman fought for more than an hour after his team had presumed him dead.
His Air Force Cross award, first posthumously awarded in 2002, was elevated to the Medal of Honor during a ceremony at the White House on Wednesday.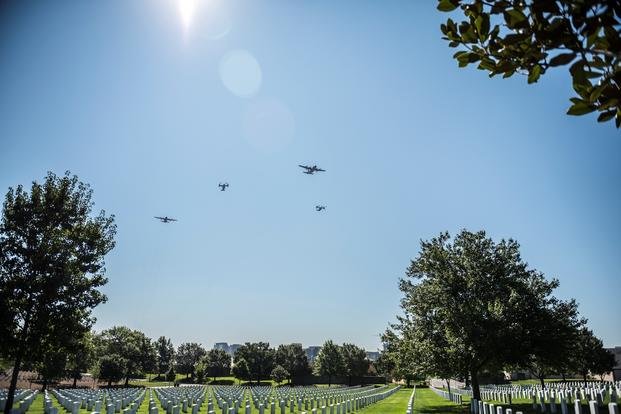 A missing man formation from an AC-130U Spooky gunship, MC-130 Combat Talon II and two CV-22B Ospreys from Hurlburt Field, Florida, flew over the Air Force Memorial during the event. More than 600 special operations airmen took part in a 'memorial pushup' exercise after the ceremony.
"He is the first special tactics airman to receive a Medal of Honor," Wright said during his speech. "Although there have been 60 Medals of Honor presented to airmen for World War I, World War II, Korea and Vietnam, John is only the fourth enlisted airman to receive this recognition."
Since the Battle of Mogadishu in 1993, the Air Force has awarded 11 Air Force Crosses; 78 Silver Stars; 652 Bronze Stars, including 360 with combat valor device; and 132 Purple Hearts, Wright said.
"It's no coincidence that [the Special Operations] community has in recent years accounted for the majority of our Air Force's valor awards," Wright said. "I want to personally say thank you for carrying on [Chapman's] legacy. You may very well be 'quiet professionals,' but your gallantry and your bravery does not fall upon deaf ears."
During the final weeks of special tactics training for battlefield airmen, Air Force Special Operations Command presents the John Chapman award to an airman "for our absolute highest honor, which represents and embodies the American spirit, the human spirit, the willingness to go beyond what's possible" in advanced skill set training, said Chief Master Sergeant Gregory Smith, AFSOC's command Chief Master Sergeant, Hurlburt Field, Florida.
Nessel presents the award to the airman of each graduating class, officials told Military.com.
"Chappy represents the very best in all of us, and we all aspire to live up to his legacy," Smith told reporters after the ceremony.
On Thursday, Chapman was also inducted into the Hall of Heroes located in the main concourse at the Pentagon. The Hall of Heroes holds the names of the more than 3,460 Medal of Honor recipients since the award's inception in 1861.
Officials said Chapman's sacrifice has motivated airmen anywhere in the world to endure the fight, even if the odds can be overwhelming.
"I would like to believe on that fatal day in March of 2002, John heard the voice of the lord ask him, 'Who shall I send? And who shall go for us?'" Wright said on Friday.
"I'd like to believe -- you know actually I'm pretty sure -- that John answered for our nation: 'Here am I. Send me,'" he said.
-- Oriana Pawlyk can be reached at oriana.pawlyk@military.com. Follow her on Twitter at @oriana0214.