The Military ID card is an essential part of accessing your benefits, without it you may not be able to get on base, go to the commissary, child care, or get health care.
The Department of Defense issues eligible dependents and other eligible individuals a distinct identification card (ID) authorizing them to receive Uniformed Services benefits and privileges.
Starting in 2020 all new dependent and retiree ID cards are the same color thanks to the Next Generation Uniformed Services Identification Card. The hard plastic card looks more like the Common Access Card (CAC) used by military members. They include sections indicating the holder's status or affiliation and, for retirees, their military service and rank at retirement.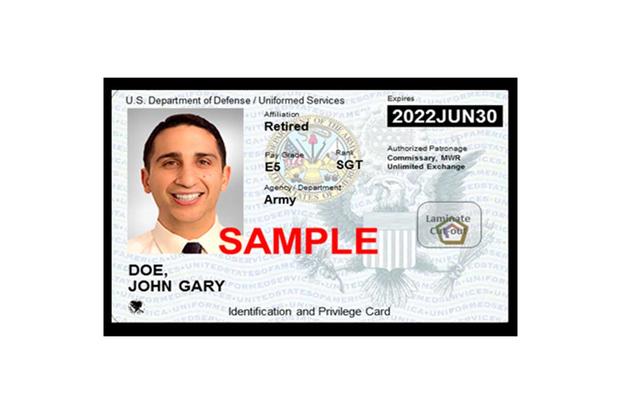 The services the card holder is authorized to access are listed on the front of the card, such as commissary exchange and certain morale, welfare and recreation privileges, as well as expiration date and first and last name. The back of the card includes a barcode that can be scanned and the Dependent ID number.
Are you a new military family member trying to get a new military ID card for the first time? Use this guide.
Permanent ID Cards
Family members and survivors of deceased veterans who are age 65 or older, can get a permanent ID card. However, holders of the old style paper laminate ID cards with an indefinite expiration date must get the card replaced with the new Next Generation Uniformed Services Identification Card by 2026.
Guard and Reserve Dependent ID Cards
In the past, reserve component (RC) family members and other dependents received a DD Form 1173-1, the DoD Guard and Reserve Dependent ID Card (red). Since the rollout of the Next Generation Uniformed Services Identification Card those dependents now instead receive the standard white dependent and retiree card, with their relationship and sponsor affiliation notes as Guard or Reserve.
These cards do not authorize eligibility for medical benefits unless the Guard or Reserve member is enrolled in Tricare Reserve Select. The cards authorize access to the commissary, Exchange, and MWR privileges.
Read next: Want to know more about shopping at the commissary?
The DoD uses a system referred to as the Real Time Automated Personnel Identification System (RAPIDS) to issue ID Cards. Family members and eligible dependents are required to report to a RAPIDS ID Card issuing site in order to be issued the appropriate ID card. Since not all military installations have the ability to use RAPIDS you may need to ask your command or unit administration office for a list of ID Card issuing locations in your area or visit the RAPIDS Site Locator online.
Renew Your ID Card By Mail
Certain dependents such as fully disabled spouses or those with an incapacitated dependent might be able to renew their ID by mail. To do so, find your nearest ID card office using the RAPIDS locator. Then, give the office a call to learn if they issue IDs by mail and what their specific requirements are.
Keep Up with the Ins and Outs of Military Life
For the latest military news and tips on military family benefits and more, subscribe to Military.com and have the information you need delivered directly to your inbox.