For many military members looking down the barrel at their Expiration of Term of Service (ETS) date, the education portion of their resume might seem unnervingly sparse.
But that gap may not be a hindrance to securing your first post-military job.
Read: Job Hunters Should Do this Critical Thing Before Applying
Corporations in need of talented people to fill critical roles are taking it upon themselves to train potential hires, giving them all the skills necessary to put them in a job right away.
Companies like Microsoft call the concept "reskilling," and it could be the best way to get veterans into emerging technology jobs.
YouGov, a global, data-driven public opinion company, recently conducted a study funded by Microsoft that found 87% of hiring professionals think corporate-sponsored IT training and reskilling are more valuable than college degrees for veterans who want a career in technology.
This is, of course, dependent on the kind of technology job a veteran is looking to get. But getting a great job in the American technology sector doesn't mean you have to learn Python coding or create the next Facebook in Silicon Valley.
An incredible 70% of human resources professionals say they have a hard time fully staffing positions with good, reliable people. Another 72% say they can't keep people in those jobs for long.
These same professionals are beginning to look to American military veterans for the soft skills they bring to the table, skills that make them more likely to stay in a position and thrive. A recent LinkedIn study found that vets are more likely to stay with a company that hires them -- and more likely to rise up in those firms.
That's loyalty, and it's what businesses want now more than ever. All they need to do is find veterans with the jobs skills they need. And they're willing to train to get those desired people.
Veterans looking for a career in Information Technology, for example, can find a reskilling course at a company like Microsoft, which offers what it calls the Microsoft Software & Systems Academy (MSSA) -- just for vets.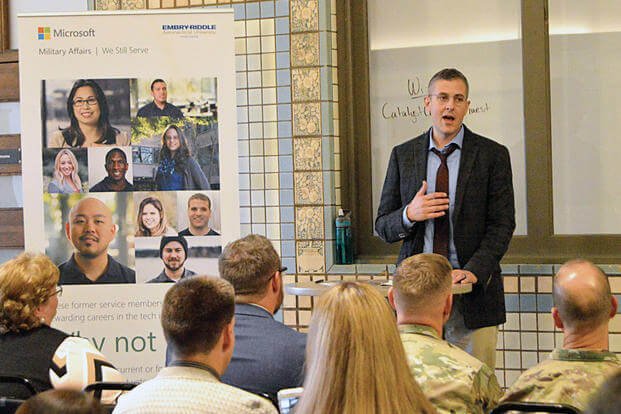 MSSA is an intense 18-week course for jobs in fields such as cloud development, cloud administration, cybersecurity administration, or database and business intelligence administration.
At the end of this course, enrollees will interview for a job at the company.
Companies that give veterans reskilling training have a vested interest in the success of their people. After rolling out its MSSA reskilling program in 2013, Microsoft found that veterans did not disappoint.
Microsoft has the ability to train more than 1,000 people every year, both on base and off, at multiple locations around the country. When it hired its own graduates, 80% of those newly minted IT pros were still at work at Microsoft after two years.
When the tech giant didn't hire its own veteran graduates, it assisted them with resume writing, interview preparation and mentorship -- even before those graduates left the military.
Separating, reskilled veterans were able to find work using Microsoft's 500 partners, bringing a new, highly desired skill set and a military work ethic to the United States' information economy.
The Microsoft MSSA program is currently accepting applications for future class and continuing to provide trainings through virtual instruction for current and future MSSA cohorts until further notice.
-- Blake Stilwell can be reached at blake.stilwell@military.com.
Want to Know More About Veteran Jobs?
Be sure to get the latest news about post-military careers as well as critical info about veteran jobs and all the benefits of service. Subscribe to Military.com and receive customized updates delivered straight to your inbox.