A purse made from old desert camouflage uniforms might make a meaningful reminder of a deployed loved one. A military spouse might enjoy curling up with a pillow made from their service member's old Airman Battle Uniform.
The possibilities are as endless as the uniform combinations.
The military has seen many uniform changes in the past few years. Old acronyms have given way to new ones: BDUs, ABUs and ACUs are all OCPs now. But those TLAs (three-letter acronyms) are probably just sitting in a closet somewhere, taking up space.
Eve Baum wants to use them to make something as special and meaningful for military families as the uniform is to veterans.
Baum met fellow veteran and business owner Thomas Theriault at the Veteran EDGE conference in March 2020. Since then, her business has taken off. Theriault is the founder of Tango Squared, an all-purpose experiential design firm based in Syracuse, New York. Baum is the founder and chief creative behind the Military Apparel Company, a handbags, accessories and gifts business that creates new uses for military gear.
Their meeting was a big win for both.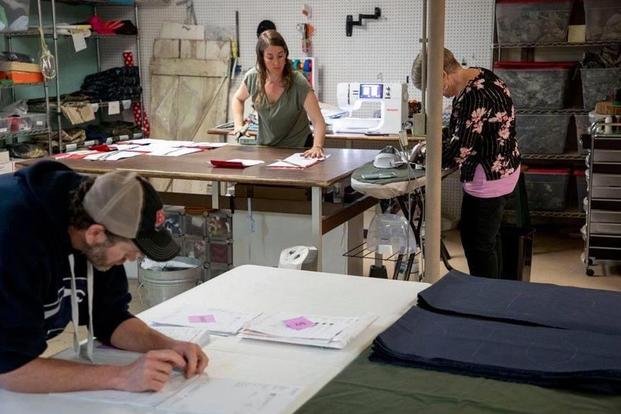 Baum moved to the U.S. from Canada 15 years ago. The granddaughter of a seamstress, she began a build-your-own handbag business from her home as a way to make extra money. One day, a U.S. Army officer approached her with the idea of converting his old uniforms into new accessories as a gift for his mother.
"I got the sewing bug from my grandmother," Baum said. "But I come from a family of entrepreneurs. I started by making simple gifts for people for Mother's Day."
The Army officer loved the result (and so did his mother). Many other people loved the work as well. The Military Apparel Company was born. Soon after, Eve met Sgt. Jeremy Baum and finally completed what she calls "living the American Dream."
People wanted items of their own, coming to Baum for more and more military uniform products. Even the local news wanted to talk to her about her new business.
"Business? What business? I didn't realize it could be a business," she said. "It was just fun. So it kind of started on its own. But I realized they were right -- it was a business! When I got the box of fatigues from [the Army officer], I was like, 'This is such a great idea!'"
If you have old nametapes lying around, Baum might make them into keychains. From an old ACU blouse, she can make a teddy bear. She even offers a garter belt for new brides made from the "blueberry" uniform of Navy days gone by.
"This is what we are about," she states on her website. "Helping the families to cope with the circumstances. We do this by converting the uniforms into meaningful creations, which the families can proudly wear to remind them of the sacrifices."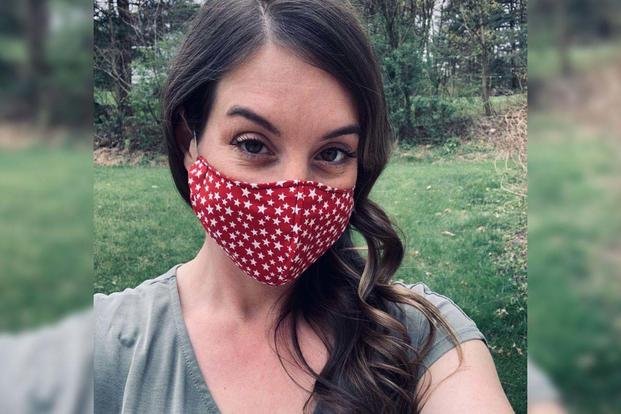 In the wake of the COVID-19 outbreak, Baum began sewing custom-made facemasks with a military theme. Today, they're some of the most popular items for sale. Her meeting with Theriault and Tango Squared transformed her home office into a powerful, professional e-commerce site.
"We do a great product," she said. "But our branding really needed help. We never did an ad in 15 years but, with his help, we rebranded the collection, launched a new website and we've been selling around the clock. I even added 17 people to my team."
That's the power of veterans and military spouses coming together at events put on by the Institute for Veterans and Military Families. The IVMF collects data and designs the best ways to help veterans and military spouses succeed in civilian life. The Veteran EDGE conference is just one way to power collaboration between like-minded entrepreneurs.
"I feel like being a military spouse actually prepared me to never give up," Baum said. "But it opened up my business to more than my regular military crowd, and they love buying from me because I'm a military spouse. It's a different market, but it's really a plus."
-- Blake Stilwell can be reached at blake.stilwell@military.com. He can also be found on Twitter @blakestilwell or on Facebook.
Want to Know More About Veteran Jobs?
Be sure to get the latest news about post-military careers as well as critical info about veteran jobs and all the benefits of service. Subscribe to Military.com and receive customized updates delivered straight to your inbox.