"To be a veteran and an entrepreneur on top of that, that's a really powerful combination," said Thomas Theriault, a Navy veteran and founder of TangoSquared, a Syracuse, New York-based graphic design and business development agency.
Theriault believes so much in his fellow veterans that he's going to invest his own business into any veteran-owned business that needs his services. At no upfront cost.
He founded TangoSquared in 2006 with the idea to build an interesting design firm that would touch on everything from marketing and user experience design to app development and product development.
"We set out to be different," Theriault said. "And when you have all of those different kinds of experiences in a toolbox from which to play, you attract a certain type of company. And for us, that happened to be startups because they have the potential, the enthusiasm and the great idea."
What they don't usually have are the resources or talent to really sell that idea.
But Theriault and TangoSquared love their startup clients. They love the passion, energy and creativity those clients bring. Now, Theriault wants to bring that same creative synergy to veteran startups.
He saw the potential for synergy between what he does and what his fellow veterans are trying to do while on a trip to the annual Veteran EDGE Conference, put on by Syracuse University's Institute for Veterans and Military Families (IVMF).
There, he saw veteran business owners who were into everything from hot sauces to government contracting, from just getting started to pulling down $20 million in government contracts. He was amazed by their creativity and tenacity.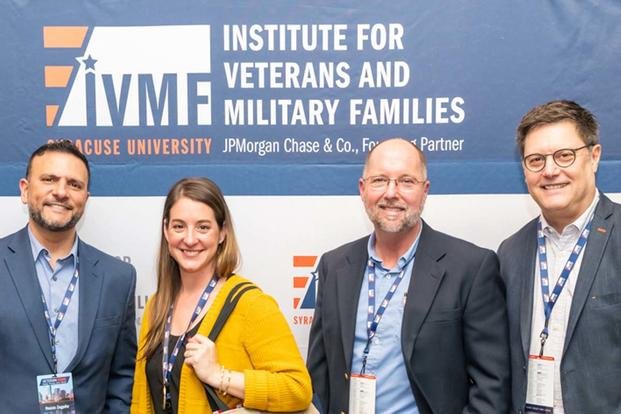 What Theriault, a former Navy radioman, saw most was where he could help out.
"They're purpose-driven, they're focused, they're disciplined, they're responsible, all those things," he said. "They've taken their business based on their own personality and their personal attributes to a certain level. And then they get kind of stuck."
So he decided TangoSquared would launch an initiative. Any veteran-owned business that needs branding, marketing, e-commerce upgrades -- the works -- can come to TangoSquared and get it with no upfront cost.
What TangoSquared Can Do for Vets
Theriault came away from the Veteran EDGE Conference with the realization that veteran-owned businesses are very much like startups in many ways, and startups are his specialty.
InVetIT, customized business services for veteran-owned businesses, was born.
"In some cases, they need help growing their businesses," Theriault said. "In others, it's a complete rebrand of their company, refocusing their messaging, their brand, logo, product packaging, app development, e-commerce functionality, websites and social media presences."
After meeting with TangoSquared, veteran business owners can get just what they need, he said. So far, this has included product redesigns, investor decks software development and even developing the products themselves.
"We are good at helping these businesses vet their products, their markets and finding the best way forward for them," he added.
One Veteran Edge attendee took Theriault and TangoSquared up on its offer before the conference was over. Eve Baum, founder of Military Apparel Company, makes upcycled accessories from old military uniforms.
Her business got an overhaul. In less than a month, Military Apparel Company had a mobile-enabled site, a new logo and a new look, among other upgrades.
The company's site soon received 1.5 million hits from people looking to see what Baum's military uniform face masks look like. Not long after that, Military Apparel Company was getting calls from retailers like Walmart.
"The look makes a difference, you know," Baum said. "We make a great product, but our branding needed help. They were also amazing with ads. We hit it hard with advertising, and the results were incredible."
"The conversion rates were through the roof," Theriault said.
Other companies that have taken TangoSquared up on the offer include Badger Flashlights and Devil Dog Coffee Company, both of which received different, customized support from Theriault and his firm. They redesigned the packaging for Badger Flashlights and helped develop Devil Dog's Coffee.
What's the Catch?
Anyone who served in the military knows there's always a catch -- nothing is free. But TangoSquared wants you to know that it costs nothing to reach out to it and let it determine what could best help a veteran business take off or get to the next level.
The process starts with a meeting to determine what their products and services are, what the revenues look like, what challenges they face, the customer base and other driving business factors -- akin to a feasibility study. Then, TangoSquared determines if it is able to help.
"If we check all those boxes, we will present a proposal to them at no cost to them," Theriault said. "Think of it like 'Shark Tank.' If we can help, we're going to invest our talent, expertise, resources and experience into that founder, that product, that business."
If the business owner signs on with TangoSquared's services, the firm's fee is a simple percentage of revenue generated from the new business.
"If we don't do well, then the product doesn't sell well and then we don't make much money," Theriault said. "So we're taking a huge risk, and we really have to believe in the veteran and their business, their products. And if we do take that risk, then we're going to go all-out to make it a success. And you know, so far, we're batting a thousand."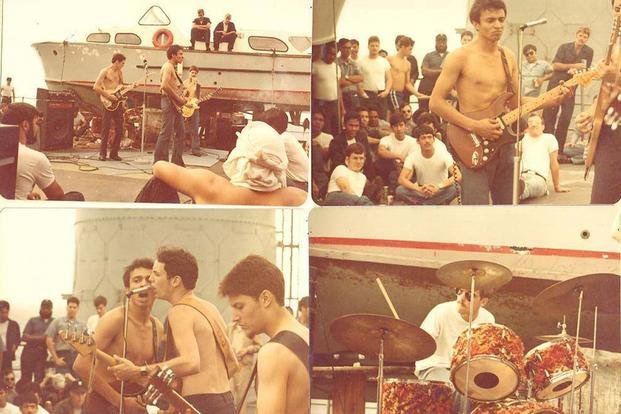 TangoSquared wants to hear from any veteran entrepreneur out there, whether their business idea is on the back of a cocktail napkin, they have a product prototype and nothing else, or they have an established business that needs a boost.
"After being in the military, they've got this drive, this motivation, this stick-to-itiveness to make things happen," Theriault said. "Even if they have no one else to support them or have taken it as far as they can, we want to get involved and partner with them."
To get started with TangoSquared, visit its InVetIT Veteran-Owned Business portal. There, veteran business owners can learn more about its offerings and start the process.
-- Blake Stilwell can be reached at blake.stilwell@military.com. He can also be found on Twitter @blakestilwell or on Facebook.
Want to Know More About Veteran Jobs?
Be sure to get the latest news about post-military careers, as well as critical info about veteran jobs and all the benefits of service. Subscribe to Military.com and receive customized updates delivered straight to your inbox.