Unions are looking to U.S. military veterans to fill their ranks with the skilled tradespeople needed for the future. The Utility Workers Union of America is leading the way with an extensive program that covers the cost of training and puts vets in jobs when their service ends.
Not only can veterans looking for a new skilled trades career outside the military find one after transitioning, there's no risk in getting started. And thanks to the Pentagon's Skillbridge program, which helps troops as they get ready to head back to civilian life, they can get started before they even separate.
The Utility Workers Military Assistance Program (UMAP) is a six-month, pipeline training-to-placement program that teaches veterans to work in the utilities sector. This includes the natural gas, electric, water and nuclear industries, as well as the burgeoning renewable energy industry.
The Utility Workers Union of America, AFL-CIO, or UWUA, represents around 50,000 members employed in the energy, electric, gas, steam, water and related professional, technical and service industries.
"We don't talk about it as jobs because our folks in the utility industry are able to retire with dignity, with pensions and tremendous 401(k) packages," says Rick Passarelli, a Navy veteran and director of veterans affairs for UWUA. "There's tons of growth in these jobs because they're collectively bargained and they can move into a lot of different skill sets."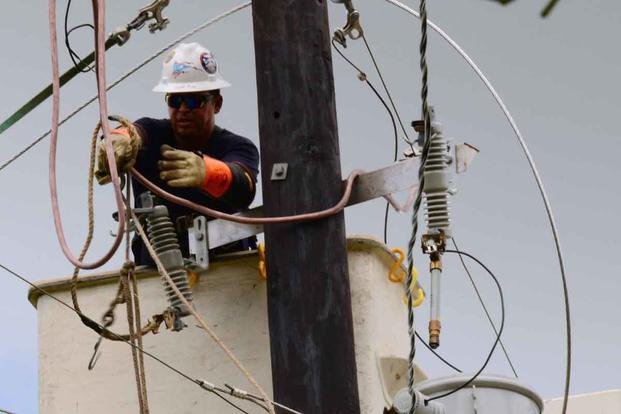 Applicants don't need to have a military specialty related to utility work. The union will take care of training and experience. All are welcome, said Passarelli -- from Air Force admin troops to Marine Corps infantry and everyone in between.
"Sometimes even people with advanced degrees don't find good career paths," Passarelli says. "So they come to the program and find a solid career because utility jobs are extremely stable, and that's something we're very proud of."
Students are given hands-on training onsite at the City Colleges of Chicago in all areas covered by UWUA. The course is intense, condensing five years of on-the-job training with an employer into just six months. Graduates come out of the program with 52 college credit hours (eight hours shy of an associate's degree) and all of the necessary certifications to start working in the field.
Best of all, transitioning service members attend free of charge via permissive TDY, without touching tuition assistance or GI Bill benefits, all while they're serving their last six months in the military.
UWUA is able to do all of this through the Department of Defense Skillbridge program, which creates public and private partnerships to help separating service members find meaningful post-military careers.
"We are able to recruit folks directly from military installations through the Skillbridge program," Passarelli says. "So we can pull in people during the last six months of their service, as they get paid by the government while they learn and then directly exit the military and become an employee at the company."
Applicants to the UMAP program will attend classes in Chicago, but don't need to be local to Illinois. Students come from all over the country to attend. After applying, the union will help guide applicants through the process of attending and will even offer extended services to make life easier while in class.
"The union offers an extensive support service network," says Passarelli. "We can help provide child care, food vouchers, books, computers, mentorship -- anything to help them focus on their studies for the six-month program."
With these services, the union program boasts a 93% retention rate and a 96% graduation rate.
After graduation from the program and separation from the military, UMAP graduates will be placed in jobs with UMAP corporate partners, the largest of which is the Chicago-based Peoples Gas. But just because they're placed in a job there, doesn't mean they have to stay. Aside from the Union's recruiting efforts in Illinois and Michigan, grads can find their own work wherever they can thrive. The certificate earned at UMAP is valid anywhere in the United States.
"The military and, I think in general, people's families, tend to push people toward colleges and universities for a 'good paying job,'" says Passarelli. "But, you know, the good jobs are in skilled trades. Becoming a union brother or sister means good pay, a secure pension or 401(k) and the camaraderie of being a part of it."
Passarelli has been in charge of the UMAP program since its 2012 inception. He served in the U.S. Navy, active and reserve, from 1982 to 1987. He also experienced the rocky nature of separating from the military, so he knows the unique challenges faced by veterans and structures the UMAP program to address them.
"The most rewarding part is when we get testimonials from our graduates who are now employed in the company who say the program saved their life," he says. "They say their life was spiraling out of control due to them not being able to feel whole, have a place that they felt secure or provide for their spouse and family. It's rewarding to hear how the program turns lives around."
To learn more about the Utility Workers Military Assistance Program, visit the UMAP website. To apply for the program, fill out the Power4America website's online application.
-- Blake Stilwell can be reached at blake.stilwell@military.com. He can also be found on Twitter @blakestilwell or on Facebook.
Want to Know More About Veteran Jobs?
Be sure to get the latest news about post-military careers, as well as critical info about veteran jobs and all the benefits of service. Subscribe to Military.com and receive customized updates delivered straight to your inbox.