Active-duty troops, National Guard or military family members who have been contemplating starting a business for their post-military career should check out USO's Operation Jump Start, a two-day virtual event on Sept. 29-30, 2021.
The summit is the perfect place for wannabe or soon-to-be entrepreneurs to get their feet wet in the world of running a small business. USO is bringing together nearly a dozen successful entrepreneurs, CEOs and founders as keynote speakers over the two days while creating a virtual exhibition hall featuring product showcases, venture capital firms and franchisers.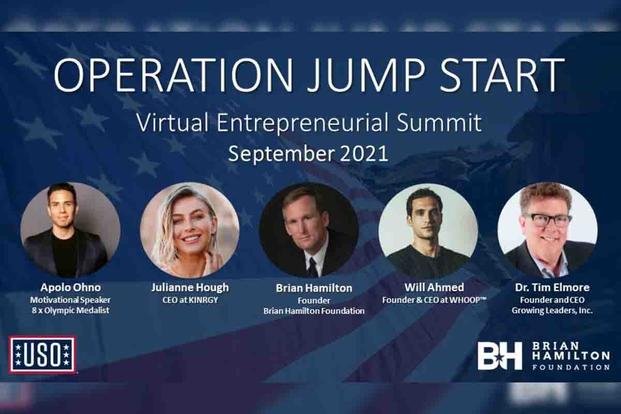 Whether your business idea is a line of products, a service to provide or opening a franchise, there's something for everyone at Operation Jump Start. Even those who don't quite have the business in mind but know entrepreneurship is in the future, can find resources, information and inspiration.
Speakers will discuss the strategies they used to start and grow their businesses while presenters in the virtual exhibition hall will offer the chance to network directly with other veteran entrepreneurs while learning about the details of hiring, running a business and veteran employment.
Operation Jump Start is just one more opportunity USO offers veterans in transition. While the exhibition is a two-day event, USO offers ongoing mentorship programs for service members in transition to civilian life and for spouses who are relocating or leaving for the civilian world.
USO also offers transition assistance to service members through the USO Pathfinder Transition Program. With this free program, veterans create a customized plan of action developed with the help of a USO transition specialist.
While these programs are always ongoing, they are focused on employment, education, benefits and financial readiness. Operation Jump Start is the place for service members to get a leg up on entrepreneurship, learning the ins and outs of running a business.
Interested military members and families can check out the exhibition's schedule or register for the event on the USO Operation Jump Start website. The agenda begins at 8 a.m. ET and runs through 5 p.m. on both days.
Operation Jump Start is free for active duty, guard or reserve members and their families. Veterans and the general public are welcome to attend, but the cost is $25 for vets and $250 for the public.
-- Blake Stilwell can be reached at blake.stilwell@military.com. He can also be found on Twitter @blakestilwell or on Facebook.
Want to Know More About Veteran Jobs?
Be sure to get the latest news about post-military careers as well as critical info about veteran jobs and all the benefits of service. Subscribe to Military.com and receive customized updates delivered straight to your inbox.