The Air Force wasn't Carlos Norris' first choice of military branch. When he was 17, he wanted to join the Navy. But because he was underage and his mother was against it, he couldn't. She wanted him to finish high school first.
That woman is a hero.
If he had joined then with his good friend, the world might be a totally different place, overrun by evil because Chuck Norris -- the one who can kill your imaginary friends -- wouldn't exist.
And two idiotic thieves would have saved a bundle on hospital bills 37 years later.
As the young Norris finished his last year of high school, he focused on joining the police force in Torrance, California. He signed up for the Air Force instead when he learned that becoming an Air Policeman (what we call Security Forces today) would lead to a civilian career in law enforcement. He could live the life of adventure he always wanted while getting experience as a police officer.
He enlisted in 1958 and, like everyone else who joined the Air Force, he was sent to Lackland Air Force Base, Texas, for basic training. It was there that Carlos Norris got a new name: Chuck. The name stuck, but he was still your average basic trainee. The Chuck Norris who put coronavirus in isolation was yet to come.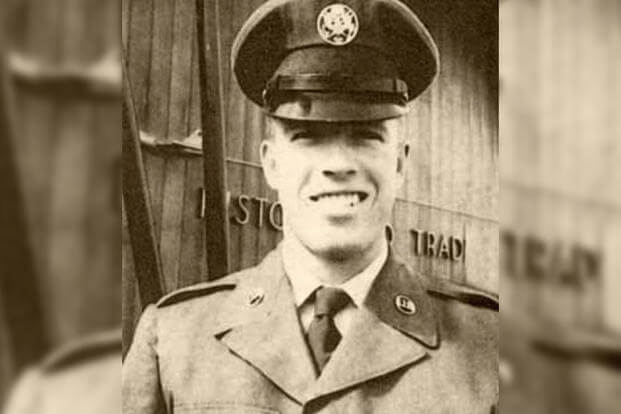 After one year of training in Arizona, he had to leave his new wife behind for a tour in Osan, South Korea. At the time, the Korean War had been over for only six years, and tensions were high. Nervous as he was, his tour in Korea would change his life.
As Norris wrote in "Against All Odds," his autobiography, "True courage is not the absence of fear, but the control of it." It was the first time he'd ever left the U.S., and he would use the time well.
Norris writes that there were three things a serviceman in Korea could do at that time: Booze it up, study or learn a martial art. After sustaining a painful injury trying Judo, Norris discovered tang soo do, the Korean art of empty-hand fighting. Since he knew it would help advance his law enforcement career, he decided he would opt for this strange new art.
Even with a broken clavicle, Norris was dedicated to the grueling training of tang soo do, a beginner in a class full of black belts. Though he went to bed stiff and sore every night, he persisted for the entirety of his long tour.
Within eight years, he would be a martial arts world champion. While still in the military, he would learn other forms of martial arts and, upon leaving, use his GI Bill benefits to take acting classes. He was on his way to becoming the Chuck Norris who puts the "laughter" in "manslaughter."
Two would-be attackers found out firsthand just how terrible being on the receiving end of Chuck Norris can be. One day, Norris was walking down a Dallas street alone. He lived there while filming his TV show, "Walker, Texas Ranger."
On this day in 1994, it was just Norris, who had no reason to think he would need to be on alert for potential thieves. He was a world champion fighter and tang soo do master and, even though it would be a decade or more before "Chuck Norris Facts" proliferated on the internet, everyone knew that the boogeyman checks for Chuck Norris under his bed every night.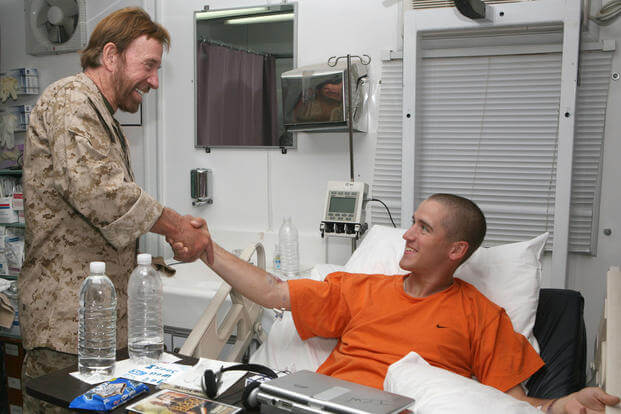 As Norris walked down the street, two men approached him. They were a little bigger than the TV star and began to crowd him. Norris thought they wanted autographs. He smiled as the two men produced knives and demanded his wallet.
Norris had not only mastered tang soo do, he went back and mastered Judo, along with Brazilian Jiu Jitsu, Taekwondo and Karate. He used his skills to create his own style of fighting, called Chun Kuk Do. Even if the attackers didn't know anything about these skills, Norris had been a martial arts master and film star for decades.
You can probably guess what happened next.
By the time the Dallas Police Department rolled up on the scene, they had to save the would-be muggers from Norris, who had broken the men's arms and reduced them to puddles on the sidewalk, according to his autobiography.
-- Blake Stilwell can be reached at blake.stilwell@military.com. He can also be found on Twitter @blakestilwell or on Facebook.
Want to Know More About Veteran Jobs?
Be sure to get the latest news about post-military careers as well as critical info about veteran jobs and all the benefits of service. Subscribe to Military.com and receive customized updates delivered straight to your inbox.