Entrepreneurship is one of the best ways for veterans to transition into civilian life.
Veterans are already accustomed to the lifestyle small-business owners need to get their enterprises up and running: Long hours, hard work and attention to detail are ingrained in the mindset of American vets.
Veterans not only operate 10 percent of U.S. businesses, they generate $41 billion in gross domestic product and employ almost a million Americans, many of them other vets.
The PenFed Foundation operates a kind of vet-owned business accelerator called the Veteran Entrepreneur Investment Program (VEIP), which can even help fund veteran startups. As part of the program, the VEIP conducted a study that determined the best places in America for veterans to start their businesses.
Related: 5 Reasons Why Employers Are Not Hiring Vets
It used four criteria to determine these places: Support for veterans, ability to start a business, economic growth and livability.
Support means that the city and surrounding area have a support system in place to fit veterans' unique needs. The ability to start a business was determined by the city's new business development and its residents' previous entrepreneurial successes. Economic growth was determined by looking at the city's key economic indicators, and "livability" measures the key facilities people seek when looking for a place to live.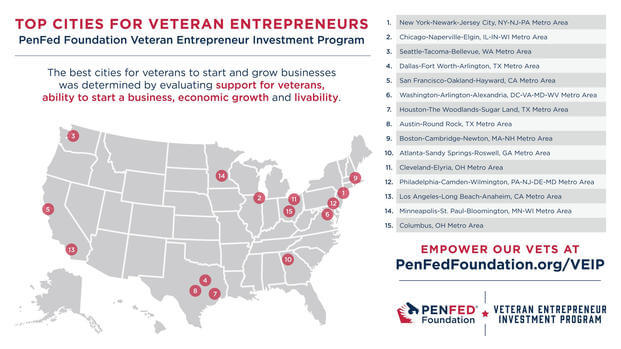 Many of the biggest cities in the United States topped the list, including New York, Houston and Chicago. While that may not come as a surprise, it's important to note that these cities include the outlying areas, including suburbs. The study's Atlanta area stretches all the way to Roswell, Georgia, and the Los Angeles area extends down to Anaheim. So if you're not the big city-living type, have no fear. You can have a startup in Chicago and still live in quiet, nearby Naperville.
Another interesting outcome on the list is the emergence of smaller cities that few people may have previously considered, including a list of the five top "emerging cities for vets." Ohio's major metropolitan areas stand out in this, including Cleveland and Cincinnati. Jacksonville, Florida; Denver, Colorado; and Kansas City, Missouri, top the emerging cities list.
There are struggles facing veteran entrepreneurs. Many separating veterans starting a business for the first time may not have the knowledge or resources necessary to put their best foot forward. Like any other business owner, veterans need capital to get started, and finding those funds may not be as easy as it seems. Luckily, veterans have resources other first-time entrepreneurs may not, including specialized startup accelerators such as the PenFed Foundation's VEIP and a knowledge center like the U.S. Small Business Administration's Office of Veterans Business Development -- not to mention the 20 veteran-friendly cities that topped this list.
To get started with a big idea of your own, check out the PenFed Foundation's Veteran Entrepreneur Investment Program or the SBA's Office of Veterans Business Development. The next Jeff Bezos or Sophia Amoruso could be reading this right now, needing only to take that first step.
-- Blake Stilwell can be reached at blake.stilwell@military.com
Want to Know More About Post-Military Careers?
Be sure to get the latest news about post-military careers as well as critical info about veteran jobs and all the benefits of service. Subscribe to Military.com and receive customized updates delivered straight to your inbox.