Sometimes, you don't need a great idea to own a small business.
Veterans who want to be their own boss but don't have that "great idea" can use someone else's by buying a franchise.
Franchise options include much more than fast food. Liberty Tax Service and CertaPro Painters are franchises, for example.
It seems like there's an option for every military occupation. The next big idea isn't to reinvent the wheel but rather to repair wheels, maybe with a Big O Tires franchise.
More than 630 companies offer special incentives for veterans who want to start a franchise. For more than 30 years, VetFran has been working to turn veterans into franchise owners. According to VetFran, franchisors want vets.
FastSigns is one of those franchisors. It offers a 50% discount on its initial franchise fee to veterans.
"We have lots of other support and tools available [to veteran franchisees]," says FastSigns CEO Catherine Monson. "It's just one way we say thank you for your service and sacrifice."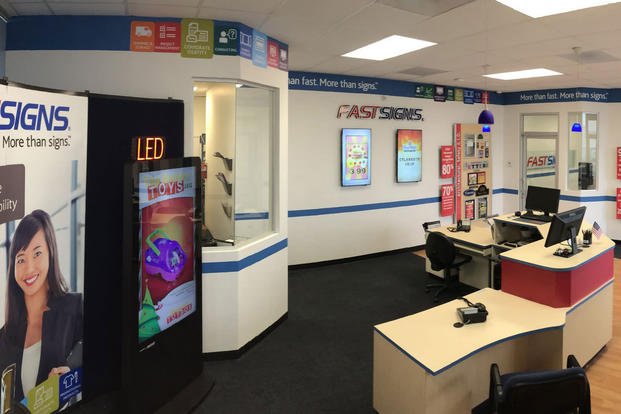 Franchisors of all kinds offer benefits to honorably discharged veterans, so there's no need to worry about being a first-time business owner. Not only will franchisors provide the tools and marketing, but often the training too.
Related: What About a Franchise? 4 Veteran Friendly Options
Maybe your military specialty was civil engineering. If so, a Pillar To Post Home Inspection franchise could be your new career. If fast food is a business that fits your interests and skills, Auntie Anne's Pretzels will cut the cost of its franchise fee by more than a third. Even a combat-arms specialty has training in leadership and management. If that's your interest, Dale Carnegie & Associates offers a 50% discount on its franchise fees.
Other veteran-friendly possibilities include well-known names like 7-Eleven, Gold's Gym and Edible Arrangements. VetFran has a directory filled with companies that want veterans to franchise their business. It's searchable based on location, industry and how hard it is to acquire a franchise.
The International Franchise Association says 6,000 veterans became franchise owners between 2011 and 2014, employing more than 200,000 veterans. Since veterans are 30% more likely to employ their fellow vets, the solution to veteran unemployment might be found in opening a chain of Smoothie Kings.
-- Blake Stilwell can be reached at blake.stilwell@military.com.
Want to Know More About Post-Military Careers?
Be sure to get the latest news about post-military careers as well as critical info about veteran jobs and all the benefits of service. Subscribe to Military.com and receive customized updates delivered straight to your inbox.