America's diplomatic corps is looking for an infusion of talent from the Marine Corps. And the Air Force. And every other branch of the military. Officer or enlisted, Uncle Sam wants YOU (again).
The Department of State might not be the first place veterans think of when considering federal employment. The Foreign Service Officer Test is one of the hardest qualification examinations in civil service, and maybe even the United States. But the State Department believes veterans have a "natural potential" for diplomatic and development ability.
With that belief in mind, it created the Veterans Innovation Partnership (VIP), a yearlong fellowship designed to prepare veterans with at least three years of service and transitioning service members for diplomatic careers. Fully funded by the State Department, the program provides hands-on, on-the-job training in a foreign affairs office.
Best of all, the program exposes veterans to opportunities for employment in the U.S. government's foreign affairs. It could be the first stepping stone in a warrior's transition to diplomat.
But just like the Foreign Service Officer Test, getting into the program is no easy task. The State Department's mission requires the best America has to offer, and the VIP is no exception. The first requirement is having at least a Master's degree in International Business, International Relations/Affairs, Political Science, Public Policy, Public Administration, Global Affairs or a related field. Veterans must apply within two years of finishing their Master's degree, unless they got it while in the military. Then, they have six years to apply for the VIP program.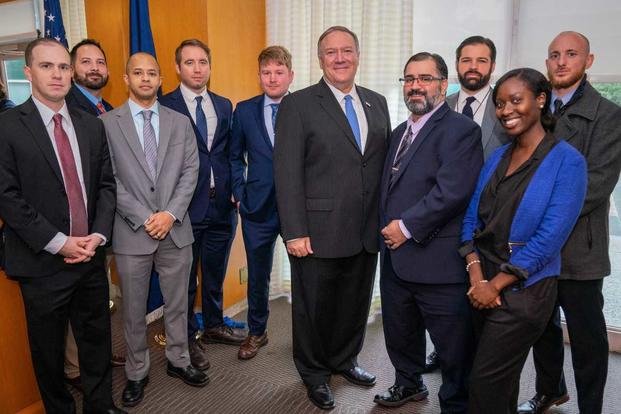 The rigorous demands don't end there. On top of that Master's degree, candidates must have had a grade point average of 3.2 or above on a 4.0 scale. To prove it, they must provide a certified letter of GPA equivalent in English, signed by a senior official in their school's student records office.
Successful candidates will also need to be able to acquire a Secret or Top Secret security clearance (if they don't currently have one).
Reserve and National Guard members are eligible for the State Department program, but they must have at least two years of time in service.
While the program isn't designed to shepherd veterans into automatic or permanent federal jobs, it is an effective way for American military veterans to get their foot in the door to U.S. foreign service and foreign affairs careers in an often misunderstood area of government.
As veterans learn the trades of State Department officials, they will earn a salary while being provided with mentorship opportunities and professional development training. By the end of the program, fellows will have garnered a greater understanding of the State Department and its work while having made valuable contacts in the foreign affairs community.
For more information and to learn how to apply, visit the State Department's VIP Fellowship page.
-- Blake Stilwell can be reached at blake.stilwell@military.com. He can also be found on Twitter @blakestilwell or on Facebook.
Want to Know More About Veteran Jobs?
Be sure to get the latest news about post-military careers, as well as critical info about veteran jobs and all the benefits of service. Subscribe to Military.com and receive customized updates delivered straight to your inbox.