Time and again, studies find that what makes the biggest difference for veterans in successfully transitioning out of the military is a great mentor. For many, that person is a close friend or family member. Others rely on former co-workers from their military days.
But the hard truth is many people may not have someone like that or even know they should have someone like that.
That's where Zero8Hundred comes in to fill the void.
Zero8Hundred is comprised of a cross-section of public, private and military leaders and organizations who came together to help post-9/11 veterans and their families successfully leave the military for civilian life. While getting a job is a crucial factor in that transition, Zero8Hundred officials said they see success as a more holistic journey, which includes finding affordable housing, healing physical and mental injuries, and setting attainable post-military goals.
The only problem is how to address these issues for the approximately 200,000 men and women who leave the military every year.
If you ask officials at Zero8Hundred, they say you need to get all 200,000 a personal mentor to guide them through the process.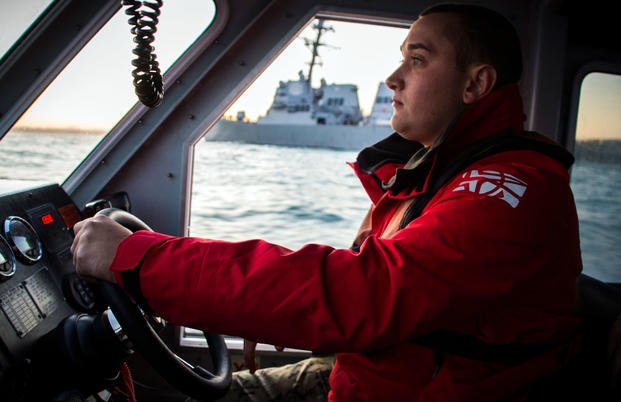 Connecting 200,000 separating service members to 200,000 counselors and mentors sounds like a big mission -- and it is -- but teaming transitioning military personnel with their own transition counselor is just what Zero8Hundred does, officials there said.
Zero8Hundred calls them peer navigators, and those who work with the group have both military experience and education in social work and counseling. And while the organization hasn't yet addressed the needs of all 200,000 people who leave the military, it is in its fifth year and has served more than 4,200 transitioning service members and their spouses.
"To be able to offer this kind of individualized support to our transitioning military service members and their spouses -- simply meeting them wherever they are in the transition journey and walking alongside them -- and assist them in making their next chapter of their life as full-bodied as possible is a true honor for us," says CEO Stephanie Kiesel. "We are grateful to be able to offer them something much more than just a 'thank you for your service.'"
Working from San Diego County, which has the largest concentration of military personnel in the world, as well as the third largest veteran population in the United States and a local area that discharges 20,000 veterans every year, Zero8Hundred brings together more than 100 different community agencies to give those vets the best foot forward it possibly can. What's unique about this organization is that it uses a preventative, early intervention solution to veteran transition.
Zero8Hundred is based on a holistic wellness model focused on five main pillars of service member and veteran needs. Employment and education are a primary focus of the organization, but mental and physical health, along with basic needs and social connections to the local community, make up just a few of the factors Zero8Hundred provides its beneficiaries -- people it calls "Veterans In Progress," or VIPs.
"Veterans In Progress" are those who work with Zero8Hundred while still in the military through a first-of-its-kind program with the U.S. Navy that begins while the service member has nine months left on their contract. It ends 12 months after separation.
Related: Search for Veteran Jobs
"Our efforts for 2020 will be focused on engaging almost 10,000 military spouses in providing them with whatever tools and resources they may need to support their service member spouse's transition, as well as their own," says Kiesel. "These family members have been working tirelessly to support their spouse's ability to succeed in uniform, and now it is our turn to do some of that work for them for a while!"
The evidence seems to be clear. Collaborating with a peer navigator who connects a veteran to his or her basic needs works wonders. Zero8Hundred reports 71 percent of its VIPs were employed after separation, with only 11 percent unemployed and looking for work. A year later, 50 percent of those reported they were still in their first post-military jobs. Those VIPs who worked with a peer navigator reported significantly higher employment rates, as well as success in their personal and financial goals, set before they separated. Moreover, separated veterans reported a 99 percent satisfaction rate with their peer navigators.
This method is so effective, a recent memorandum of understanding between Zero8Hundred and U.S. Navy Region Southwest will put the organization's services in every mandatory on-base transition class through 2028.
"Zero8Hundred is an opportunity to move upstream and address military transition challenges before they become insurmountable," Kiesel says. "Our mission is to be the only transition support program our military families will ever need. Military Transition: Mission Accomplished."
To learn more or get involved with Zero8Hundred, visit the website and enroll. Even if you're not physically close to the organization, it can still provide resources and direction for anyone at this critical stage in their career.
Find the Right Veteran Job
Whether you want to polish your resume, find veteran job fairs in your area or connect with employers looking to hire veterans, Military.com can help. Sign up for a free Military.com membership to have job postings, guides and advice, and more delivered directly to your inbox.