When Frank Manteau joined the Marine Corps in 1995, the "eating crayons" joke didn't exist quite yet. He was used to the more timeless derogatory words, like "jarhead" and "bullet sponges." Neither of them bothered him.
"Anytime someone pushes a joke toward United States Marines, we don't get upset; we don't get offended," Manteau tells Military.com. "We embrace the joke."
It was in the spirit of embracing the joke about Marines being crayon eaters that inspired Manteau to create a real, writable and edible crayon for all Marines -- and anyone else -- to enjoy. He calls them Crayons Ready-to-Eat.
Manteau is not risk averse. After leaving the Marines in 2002, he abruptly moved across the country to San Diego to start a new life. In 2007, he quit his job selling auto parts and cashed in his 401(k) to start a woodworking business, Kamikaze Woodwerks.
One day, he was working on a project for his daughter's high school color guard team. Using crayons to create the design, he put one in his mouth as he switched colors. By then, the crayon eater joke was much more popular, and the fact that he was a Marine Corps veteran with a crayon in his mouth was not lost on him.
"I began to wonder, 'Is there truly an actual, edible crayon?'" he recalls. "So I decided to look into it and began three months of research."
The research paid off. He found a company in Singapore that made chocolate crayons, but they took out the sugar and chocolate to deter children from eating them. Being technically edible, but not worth eating, it wasn't going to fit his idea of creating a real, edible crayon. But it did give him a place to start: chocolate.
"I'm like, 'That's not going to work,'" Manteau says. "But right then and there, I knew it had to be made of chocolate, and I have lots of experience, but I needed help from someone I knew who knew how to make chocolate."
Manteau tapped his friend, Cassandra Gordan, to help develop the chocolate for the crayons. Gordon, who comes from an Army family, fully embraced his idea, and the two began perfecting the size, shape and consistency of the chocolate required.
The two created a melt-resistant formula, one that was sturdy enough to hold without being too firm to eat and, most importantly, still could be used to color. They also used triangle-shaped molds, so the edible crayons would not roll off the table and would be easily distinguishable from regular, inedible wax crayons.
He first debuted the creation at a 2018 Bunker Labs Veterans in Residence event in San Diego. Through his woodworking business, he was commissioned to create some custom work for Raymond Lott, also known as The Marine Rapper. He mentioned Crayons Ready-to-Eat to Lott, who invited him to serve the crayons at the event.
"It was an opportunity to really see that I had an idea with something," says Manteau.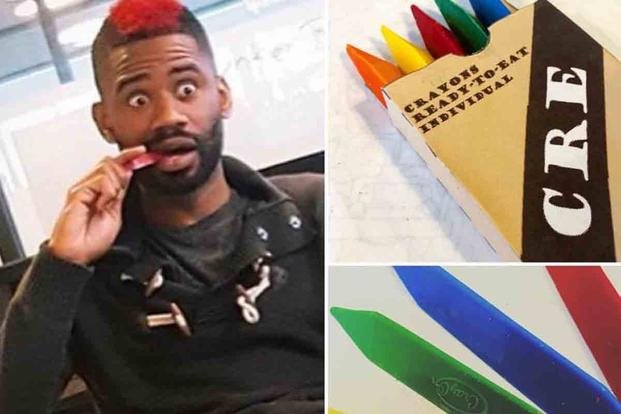 Long story short, Manteau had an idea he could work with. He walked out of the networking event with Marine models wanting to do photoshoots with his product and an offer to pitch to the Veterans in Residence program. Manteau hadn't yet started his business, but he was about to put it into high gear.
His efforts soon led to the formation of the business end of Crayons Ready-to-Eat, a website, merchandise, unique packaging reminiscent of military MRE pouches and unique colors named for the "derogatory" nicknames of all branches of the military: Jarhead Red, Squid Blue, Dogface Green, Flyboy Yellow and Puddle Pirate Orange. He soon will launch Space Cadet White to acknowledge the Space Force.
Currently, Crayons Ready-to-Eat are only available for pickup in the San Diego area, but the company is raising more capital to ship the product nationwide via Fund the First, a crowdfunding site created for first responders and military-connected startups. So far, Manteau has raised just shy of 10% of his $75,000 goal.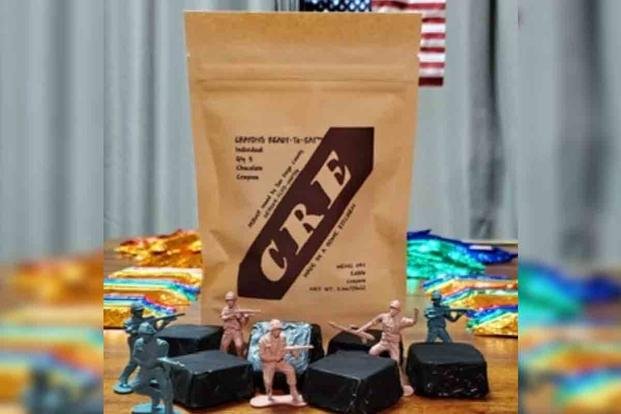 To help Manteau start shipping Crayons Ready-to-Eat, visit the company's crowdfunding page on Fund the First: Crayons Ready-to-Eat. To learn more about Manteau and how he's determined to make a crayon eater out of all of us, visit the Crayons Ready-to-Eat website.
-- Blake Stilwell can be reached at blake.stilwell@military.com. He can also be found on Twitter @blakestilwell or on Facebook.
Want to Know More About Veteran Jobs?
Be sure to get the latest news about post-military careers as well as critical info about veteran jobs and all the benefits of service. Subscribe to Military.com and receive customized updates delivered straight to your inbox.