These days, service members need to be wary of the multitude of online for-profit schools out to get a piece of their coveted Post-9/11 GI Bill benefits. Depending on which "academic institution" is looking to sign them up, the term "Results May Vary" doesn't come close to describing some of the "schools" out there.
But there are better choices for service members with non-traditional schedules who are looking for a good distance education to prepare them for life after the military. National University was founded by a veteran with similar issues and is today the second-largest nonprofit online school in America.
David Chigos' transition to civilian life had been rough. As a retiring naval officer in 1967, he tried to enroll in night classes at San Diego State University. The only problem, he said, was that San Diego State didn't offer night classes, so he was faced with the choice of going to school or working during the day. He knew there were veterans and civilians like him trying to balance both tasks.
In 1971, Chigos was working as a management development specialist for the General Dynamics corporation. The academic system in the U.S. kept many executives from pursuing higher education. So he did what any veteran might consider doing: fixing the problem by creating a college for the "real world" at a fraction of the cost.
"From the trunk of my car," he founded National University, completely upending the idea of how academic programs were formed, he said. Chigos created academic programs with a no-frills look at the world. National University would offer classes that would lead to education and employment. His first class numbered 27 students.
Instructors were hired based on the number of students who wanted to take their classes. He did away with the idea of tenure, allowing students to rate their professors. National University set a schedule that worked for the student body, not for the employment aspirations of academics.
Then, as now, students studied one subject for four weeks at a time. For military students, it provided the opportunity to take regular classes without being interrupted by the requirements of their service.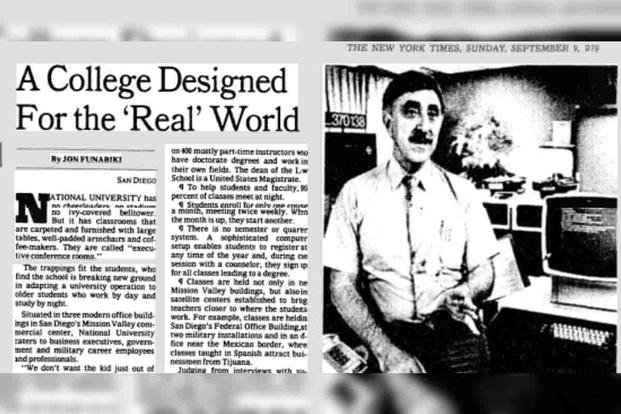 When the time came, National University blazed the trail of integrating computers into learning. It allowed students to register for every class needed to obtain a degree without registering every semester. He even began to create satellite campuses to make it easier for students to attend classes.
In 1996, National University launched its online degree programs. It wasn't the first online program, but unlike other early online schools, it maintained its nonprofit status and focus on real-world results.
National University had a rocky start in its early years, plagued with accusations of making the classes too easy, loss of accreditation and a host of other complaints. These days, however, those problems are long gone. National University is accredited by WASC Senior College and University Commission, along with 16 other regional and national accreditations, making students eligible for financial aid and other benefits available to any other recognized university.
The school maintains its yearlong, continuous schedule, meaning students can enroll in programs and classes at any time. Despite its considerable expansion over the last few decades, its focus is still on market-relevant degrees, meaning it offers everything from healthcare programs to data analytics to upskilling programs for corporate partners.
True to its military-oriented roots, National University still caters to military members and their unique needs. On top of the class length and schedule, it offers tuition discounts and accepts the Post-9/11 GI Bill. Service members who are , it says, will pay almost no out-of-pocket costs.
While not all for-profit distance learning schools are predatory, the cases of Corinthian College, Education Corporation of America and other distance learning scandals should give veterans pause when deciding where to spend their hard-earned benefits. Schools like National University show there are better choices out there.
-- Blake Stilwell can be reached at blake.stilwell@military.com. He can also be found on Twitter @blakestilwell or on Facebook.
Want to Know More About Veteran Jobs?
Be sure to get the latest news about post-military careers as well as critical info about veteran jobs and all the benefits of service. Subscribe to Military.com and receive customized updates delivered straight to your inbox.