Rumors about the demise of manufacturing in America are greatly exaggerated. In fact, millions of jobs are up for grabs in the U.S. manufacturing sector. These open vacancies exist because American industry needs good people with manufacturing skills to go to work in these roles.
"Our industry is constantly working to overcome the skills gap," says Babs Chase, Vice-President of Military & Veterans Programs at The Manufacturing Institute. "There were 826,000 manufacturing jobs open as of June, and the Manufacturing Institute and Deloitte's most recent skills gap study projects that -- if we don't do more to enhance training and recruitment practices -- 2.1 million manufacturing jobs will go unfilled by the end of the decade."
Manufacturers created the Manufacturing Institute to be the industry's workforce development and education organization. Simply put, its mission is to train workers for the manufacturing sector. The organization's latest effort, called Heroes MAKE America, focuses on transitioning service members, military veterans, members of the guard and reserve as well as military spouses.
"We've seen that the veterans who finish the Heroes MAKE America programming and transition into manufacturing tend to prove their excellence in fast-paced, challenging work environments," Chase says. "This has been especially true throughout the ongoing disruption of the pandemic."
During the height of the COVID-19 pandemic, American manufacturers practically were begging people to apply for jobs in their workplaces. To address the labor shortage, the Manufacturing Institute came up with a three-pronged approach to get military members and vets into their open jobs.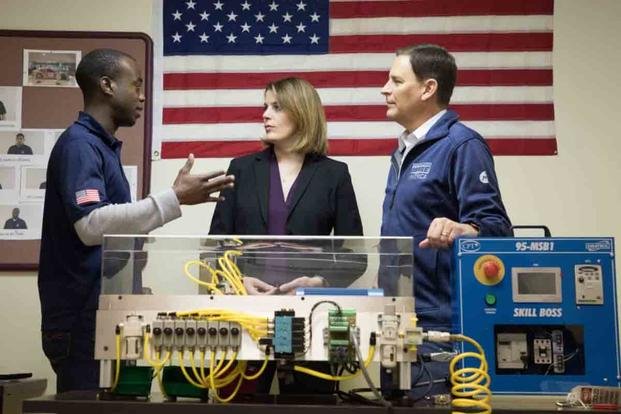 "The veterans we work with are uniquely positioned to step into manufacturing roles. They leave military service with technical training, leadership skills and mission-focus that will set them apart," says Chase. "Veterans are accustomed to working in teams toward a common goal. They are on time, disciplined and adaptable."
The first approach is called Heroes Connect, which is for those veterans who already have badly needed manufacturing skills. Through Heroes Connect, the Manufacturing Institute will link qualified candidates with opportunities at companies like General Electric, Johnson & Johnson, Sherwin-Williams and others. It's a chance to meet with people currently working at those companies and establish a relationship that could lead to employment.
Next, the institute established an online base of job-search resources for veterans interested in the manufacturing sector. The site not only provides a list of current openings, but also provides career development resources through the PsychArmor Institute. There, they can get training in professional networking, job interview skills and cover-letter writing, among others.
Finally, there's the Heroes MAKE America training program. This program offers reskilling training specific to the manufacturing sector, along with all necessary certifications so graduates can get right to work when they're finished. It's open to veterans, spouses and even military members in their last 180 days of service through the Department of Defense SkillBridge program.
Some might question how so many veterans could be trained on specific machinery when there are a limited number of machines on which to train. The Manufacturing Institute has teamed with a startup called TRANSFRVR and Oculus Quest to create a "hands-on" virtual reality training program for certified production technicians and certified logistics technicians.
"Since January 2021, participants at the Fort Riley, Kansas, location have been supplementing their hands-on lab training with TRANSFR's manufacturing simulations, which use state-of-the art virtual reality to vividly recreate the experience of working in a manufacturing workplace," Chase says.
Manufacturing in America is far from dead, but it needs more people in a hurry. The National Association of Manufacturers and its Manufacturing Institute want the work ethic and soft skills that veterans bring to the production line. The Bureau of Labor Statistics says the manufacturing workers can earn anywhere from $32,000 to $70,000 per year, depending on their skill level.
"Manufacturers recognize that members of the greater military community are phenomenal assets to any organization," Chase says. "Manufacturers benefit greatly from filling their ranks with natural leaders with specialized skills and a penchant for learning."
As more and more older manufacturing workers leave the workplace for retirement, the need for new skilled technicians will only grow, so a program like Heroes MAKE America and its 92% job placement rate would be a great place to start.
For more information, head over to the Manufacturing Institute's Heroes MAKE America page and submit the "Learn More" form.
-- Blake Stilwell can be reached at blake.stilwell@military.com. He can also be found on Twitter @blakestilwell or on Facebook.
Want to Know More About Veteran Jobs?
Be sure to get the latest news about post-military careers as well as critical info about veteran jobs and all the benefits of service. Subscribe to Military.com and receive customized updates delivered straight to your inbox.