When Tim Kirkpatrick left the Navy in 2012, he first went to film school, learning how to write and produce for television and movies. One of the biggest influences on his post-military career so far actually came after graduating, when he worked at a veterans center in Chatsworth, California.
That experience led to him co-founding Condition One Media and creating "Figure It Out," a show about transitioning from the military, just 10 years after leaving the Navy himself. It would premiere at the Warner Bros. studio in Los Angeles, and he would get to watch it on Amazon Prime.
Kirkpatrick was raised in Wichita, Kansas, and joined the Navy in 2007. He became a hospital corpsman and, within two years, went to the "greenside," field medical training to treat Marines in combat. In 2010, he found himself in Afghanistan's Helmand Province with 3rd Battalion, 5th Marines.
While in Helmand, Kirkpatrick was a "doc" for Marines during the Battle for Sangin, in what would be remembered as the bloodiest battle ground of the war in Afghanistan. He spent months treating the wounded in combat and was even injured himself, but went back to the line when he recovered. When it came time to get out of the military in 2012, he left.
"I am very proud of it," Kirkpatrick says of his time in Sangin. "But when I got back, I started applying to film schools, because the medical route just didn't appeal to me anymore."
His own military experience, combined with conversations he had from other veterans leaving the military and veterans from other eras, led to his first big move in the entertainment industry.
The story of his show began at that Chatsworth veterans center in 2017. It was a place where separated veterans from any era could get help with adjusting to civilian life, getting assistance with everything from job searching to VA benefits.
"As a doc who deployed with the Marines, I had a little chip on my shoulder, thinking I had one up on everybody with my deployment," Kirkpatrick tells Military.com. "Then I started working at the vet center, hearing stories from Korea, Vietnam and other places. The circumstances were a little different, but the end was the same. I learned I am not unique."
What was unique about his situation was that he soon began to pour his story out in the form of a script as a means of dealing with the emotions left over from his time in the Navy and how his own transition went.
As time went on, he secured an internship at a media production company in Hollywood, which led to a permanent role there. He met seasoned producers and investors who were willing to read his work and give him feedback on the story and how to get it produced. His first effort wasn't what ended up being the final product, but it was a valuable series of lessons.
"You never stop transitioning in life," he says. "Months and months grow into years; you pitch the idea to different people. Some people don't care much, and some people add their thoughts to it. The idea grows and grows."
Kirkpatrick soon began working in digital marketing, selling content online. He began to learn what companies were looking for in terms of return on investment. He was selling content produced by others to streaming services and began to think that he could apply those lessons to selling his own content. Then, the pandemic hit and he was laid off.
"I got so bored," he recalls. "So I said to myself, let's just start writing it. We started with the character and produced so many drafts. Producing the show ultimately came down to how investors get their money back, and I found a way to do it by selling content online."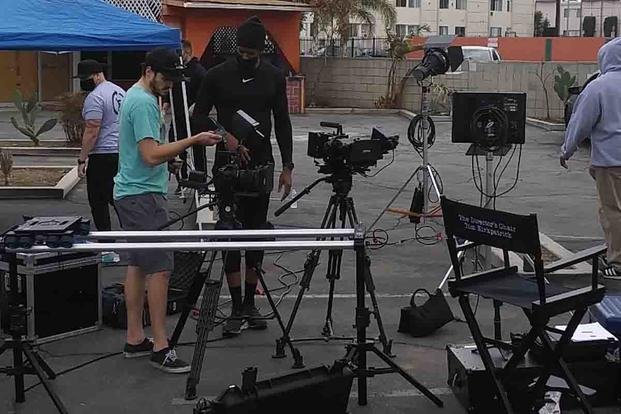 He not only went to investor meetings with a show in hand, but also a detailed business plan about how to earn money from the production and offer potential investors a return on their investment. As he built a team to produce the show, and reworked and rewrote the script, he was also raising money.
It didn't come easy. Kirkpatrick credits the proliferation of media and streaming services for having so many potential avenues, so many people to talk to and so much demand for content for making it possible. But he did a lot of legwork to find the people who believed in the project.
"I pitched so many people," he said. "I heard 'no' so often. I may have heard 'no' 5,500 times, but the three or four times I got a 'yes' meant people were willing to take a shot, even during a pandemic. Some even wanted to be a part of it."
With time, patience and a lot of effort, production on the show began in 2020. By 2022, the show was finished and available for purchase online and via streaming. Kirkpatrick and "Figure It Out" has since been featured in "LA Weekly," and the show launched in 71 countries. Now, he's looking to make the show into a television series. It all started by listening to the stories of others.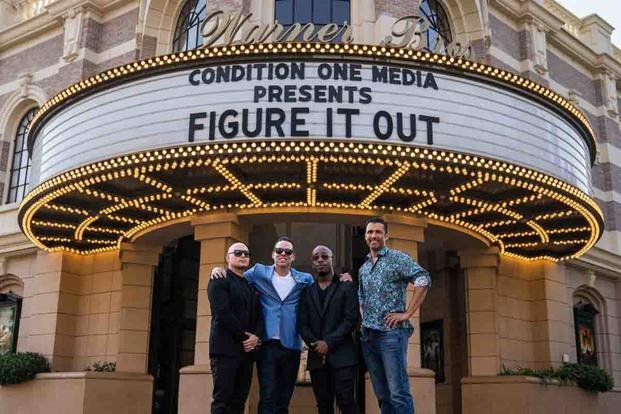 "I've been a storyteller my whole life," Kirkpatrick says. "Working with other people, hearing their stories, that empowers me to get to know myself better, to be better, to work harder. I've heard so much doubt, but I keep my head down, refuse to quit and now it's paying off."
"Figure It Out" is available for purchase at Condition One Media, or for rent or purchase on Amazon Prime.
-- Blake Stilwell can be reached at blake.stilwell@military.com. He can also be found on Twitter @blakestilwell or on Facebook.
Want to Know More About Veteran Jobs?
Be sure to get the latest news about post-military careers as well as critical info about veteran jobs and all the benefits of service. Subscribe to Military.com and receive customized updates delivered straight to your inbox.