As an Air Force noncommissioned officer working in communications, Timothy Montjoy had the uncommon experience of deploying to Afghanistan with an Army Provincial Reconstruction Team.
The only problem was that he was a single parent who had to leave his young daughter behind.
For many military families, this kind of separation is common. Montjoy and his daughter, Bethany, regularly spent time together doing activities and community service both on and off base. When Montjoy returned from Afghanistan in 2012, he had to start thinking about what to do after he retired in 2016.
He decided to find a way to directly support the children of military families. When it came time for him to retire, he and his daughter founded Operation Teammate with the help of his mother.
"I had to make a decision on what I was going to do," he told Military.com. "I reflected on my career, as well as the life lessons that my daughter and I either experienced together or separately based on me being away from home. We wanted to figure out a way to continue that service."
Bethany is now in college and supports the organization's work, joining events whenever possible.
Operation Teammate's mission is to provide memorable sporting experiences to military children through impactful athlete interaction. The program is open to military children ages 5 to 18. While it's open to children of troops who aren't deployed, the goal is to reach those whose parents are.
"Our audience are those kids that are currently experienced in some level of separation, deployment, training exercise or some sort of community relief effort," says Montjoy. "But even if the base doesn't have a high ops tempo, all children are welcome."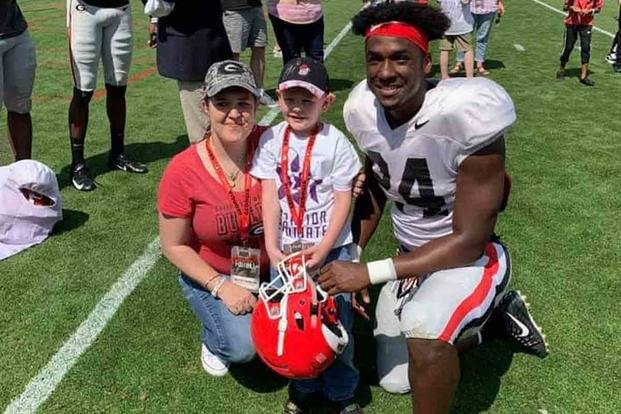 Through family support centers and other base offices, the organization gauges the interest level in holding an event, then reaches out to athletic groups in military communities, minor league baseball teams, college football teams and even individual athletes -- anyone willing to help.
An outing could involve football practice with the University of Georgia Bulldogs, watching the Charlotte Hornets play a visiting NBA team, or even a trip to a Nathan's Famous Hot Dog eating contest. The goal is to provide military children exclusive opportunities to learn life skills from the successful journey of college, amateur and professional athletes -- just not on game days.
Being a military child isn't easy. According to Operation Teammate, 1 in 4 military children have emotional-behavioral challenges associated with a military parent being deployed overseas to a war zone. Military children have to move every two to three years, with an average of six to nine moves during a kid's school career.
Montjoy hopes Operation Teammate events will help relieve the stresses military families face every day, but especially while service members are deployed.
"My being a single parent and my daughter being a single child, we experienced firsthand that military separation," he says. "The result of that separation, psychological and physical toll that it takes on the military child, just because mom or dad or both are away from home, is very personal to us. That's what really took us over the edge or over the top when we were trying to decide what we wanted to do."
Operation Teammate has held events all over the United States and are very popular with the children and the athletes, many of whom end up offering their time as volunteer ambassadors for the organization, helping it return to their area for more events.
"I don't say this to be cheesy, but believe me: When I go to these events and the smiles and excitement on the kids' faces when they interact with these athletes versus just seeing them on TV or in magazines -- I mean, it is just overwhelming," Montjoy says. "To be honest with you, that's why we do it, because we want the kids to have fun and to have a support system while mom, dad or both are away from home."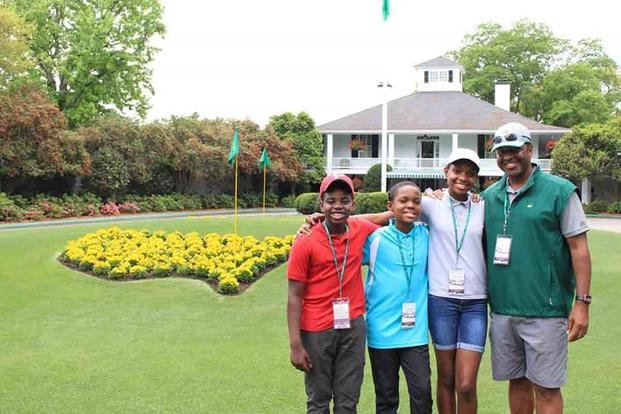 Operation Teammate's events went virtual in 2020 due to pandemic restrictions, but the organization plans to be back to in-person events by April -- just in time for the Month of the Military Child.
Check the Operation Teammate website for events featuring the Gronkowski family, the Wahlberg family, University of Georgia Swimming and even Olympic athletes, including Team USA Swimming.
To learn more about Operation Teammate, its events or how to set up a Teammate event in your area, visit its website.
-- Blake Stilwell can be reached at blake.stilwell@military.com. He can also be found on Twitter @blakestilwell or on Facebook.
Want to Know More About Veteran Jobs?
Be sure to get the latest news about post-military careers, as well as critical info about veteran jobs and all the benefits of service. Subscribe to Military.com and receive customized updates delivered straight to your inbox.