After seven years in the Air Force, Nathan Bienvenu recently accepted a job as a systems engineer at Northrop Grumman in Utah. Bienvenu actually tried to transition out of the military at the six-year mark, but "it didn't go quite as well. I wasn't really prepared," he told Military.com in a phone interview.
What changed? Bienvenu credits finding employment to Vets2Industry (V2I), which compiles information about military transition resources onto one website to support service members, veterans and their families during a period in their lives that can be confusing and frustrating.
Brian Arrington, who served 20 years in the Air Force before retiring in 2019, founded the nonprofit. Since starting V2I only months before leaving the military, Arrington said the organization -- which includes a staff that has grown to more than 110 volunteers and two part-time workers -- has accumulated more than one thousand resources, services and benefits in four years.
The only item on Vets2Industry's website that is not free is the Indigo personality and career assessment test, which is offered at a discount, Arrington said. V2I requires no registration process.
"[My last year of transitioning,] I learned that there were over 45,000 veterans service organizations nationwide that provided free resources and services and benefits to us and our families, but no one told me about them," Arrington told Military.com. "All I could think about when I learned about this was: How many airmen have I let get out of the military since 2002, when I put on E-5 [his first supervisory rank], without telling them and setting them up for success on the outside through my own ignorance of the existence of all these free resources?"
At the time, Arrington was so upset that he cried. He started what would become Vets2Industry by spending a year searching online for any resources that could benefit a transitioning service member. He built a presence on LinkedIn and developed a network of mentors on the social media platform.
A sailor about to leave the Navy asked for Arrington's help in connecting with the military community regarding hundreds of open jobs. Arrington created an online post that he said read: "Veterans. Career opportunities. Post below your desired career role, desired geographic location and when you can start working, and my friend will help you find a job anywhere in this nation."
"It was such an ignorant post," Arrington said. "It should have died on impact, because I had no followers and, instead, it went super viral."
Besides its resource library and job boards, the website includes:
Everything on Vets2Industry is vetted, Arrington said.
"We go to the website of the resource," he said. "We'll actually start looking at the site to see whether it's a new company. We'll look to see what they offer, what services they offer, then we'll look at any testimonials or complaints they have about them.
"We'll look at the social media of all the leadership in that company or organization and find out whether they have anything in their background where they've taken advantage of service members before or the military community or any customers, for that matter. We'll also look at their social media to see if they're activists or do anything that's kind of crazy or illegal. We're apolitical, so we're very cautious about that."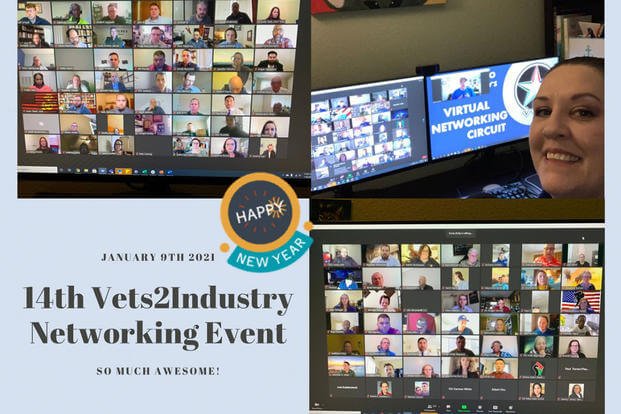 More than 169,000 people have visited the Vets2Industry website, Arrington said.
Bienvenu said he found information about making a good elevator pitch and the Department of Veterans Affairs especially helpful, as well as the event listings and ways to build a network.
"I used to think that networking was pointless and, after getting to know them, they showed me that [the importance of] networking is actually far greater than I thought," Bienvenu said.
Stationed at Joint Base Langley-Eustis, Virginia, airman Courtney Carter is planning to separate soon. She first learned of V2I in September 2022.
Carter has been in the Air Force for almost four years.
"I really had to do a lot of self-reflection about my own experiences and how I translate those," Carter told Military.com. "V2I made it very clear how I can translate those experiences into a way that other people in a room who aren't necessarily military would understand. If I can't explain my experience to you, you won't feel like I have the experience to perform the job that I'm interested in."
In the civilian world, Carter plans to pursue a job as a program manager for software development. When she achieves her goal, Arrington will certainly be pleased. He just won't be satisfied. "The hardest thing for me, and actually still is hard, is feeling like I'm doing enough. I don't feel like I'm doing enough," Arrington said. "... I don't know what will make me feel satisfied. I want to help everybody, because I was just so mad, still so mad, that DoD doesn't tell us about these resources."
-- Stephen Ruiz can be reached at stephen.ruiz@military.com.
Want to Know More About the Military?
Be sure to get the latest news about the U.S. military, as well as critical info about how to join and all the benefits of service. Subscribe to Military.com and receive customized updates delivered straight to your inbox.