In the past couple of years, American businesses have sought to do their part to solve the veteran unemployment crisis. And, largely, their response worked.
Before the COVID-19 pandemic, the veteran unemployment rate fell to 3.1%, the lowest since 2000, according to the Department of Labor.
While most businesses fulfilled their promises to hire vets (tips of the hat to Hilton Hotels and Starbucks Coffee, just to name a couple), some sadly offered more lip service than jobs. So the Labor Department devised a way to ensure businesses that actually hire veterans get the recognition they deserved.
To encourage hiring and retaining veterans, the U.S. government began honoring businesses with the HIRE Vets Medallion Award, given at different levels, as an incentive to keep employers looking for veterans to fill roles.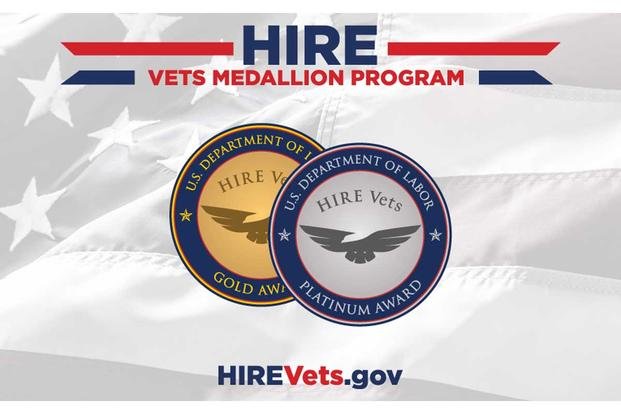 There are substantial benefits, backed up by years of research, to hiring vets.
Aside from giving back to the military-veteran community, the Labor Department wants businesses to know they only stand to benefit from veteran hires. American military veterans are renowned for their soft skills, like customer service, teamwork and leadership abilities. They are also easily trainable in multiple disciplines, just as their military service likely required.
What businesses get in return is more than just a hard worker who is loyal to the company. Once a veteran finds their niche inside a company, they are more likely to be promoted and become leaders, and are much easier to manage than their civilian counterparts, research has found.
But while hiring vets may seem like a slam dunk, veteran unemployment hovered around 3.4% higher than non-veteran counterparts for years following the Great Recession. In some places, veteran unemployment reached as high as 29%.
It was a full-blown crisis, and numerous government programs were created across administrations to handle it.
The latest is the Honoring Investments in Recruiting and Employing American Military Veterans Act of 2017 (or HIRE Vets Act), which recognizes employers who recruit, employ or retrain these high-functioning individuals through the Department of Labor. It allows employers to apply for the Medallion Award program and rewards their employment and training efforts.
The Medallions come in two levels (gold and platinum) on three tiers, depending on the size of the business. Businesses with one to 50 employees are considered "small;" those with 51 to 499 are "medium;" and any business with 500 or more employees is a "large" employer.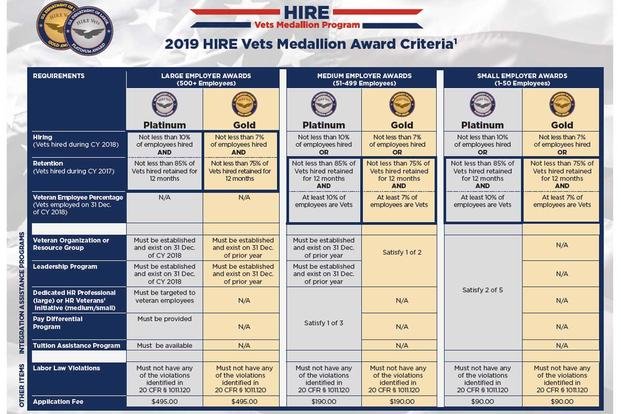 Criteria for an award of any level include:
Percentage of new veteran hires from the previous year
Percentage of veteran employees retained for the previous 12 months
Overall percentage of veterans in workforce
Provision of an internal veteran organization to assist with integration of new hires
Provision of leadership development programs for veteran hires
Employment of a dedicated HR professional for veteran hiring and retention
Compensating members of activated Guard or Reserve units with active-duty pay to ensure salaries meet pre-activation levels
Provision of tuition assistance programs to support post-secondary education programs during employment
Before the award can be given, the business is checked for any violations of the Uniformed Services Employment and Reemployment Rights Act (USERRA), legislation that protects activated reservists, and the Vietnam-Era Veterans Readjustment Act (VEVRAA), which protects Vietnam veterans from employment discrimination.
Applications for the HIRE Vets Medallion program are due Jan. 31 every year, and selectees will be notified by Oct. 11 of the same year. Awardees are publicly announced on Veterans Day, Nov. 11.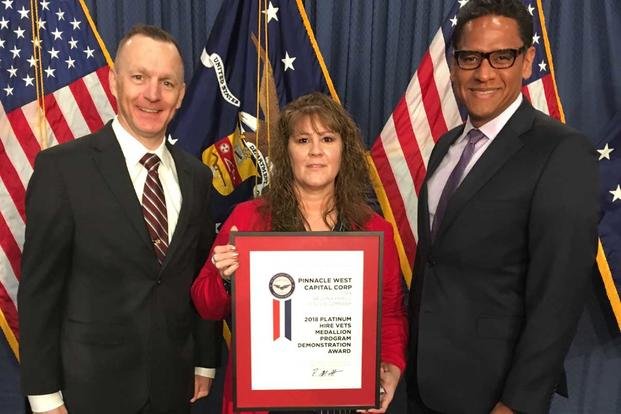 Successful businesses receive the medallion award to use in their marketing materials and are recognized on the program's website as a "veteran ready" company. The program lasts only a year, however, so eligible businesses will have to reapply to maintain their status.
Any veterans interested in working for one of these outstanding companies, which are dedicated to veteran success, can check out this year's awardees at HIREVets.gov. You can view them as a list or check out a clickable map that breaks down awardees by location.
-- Blake Stilwell can be reached at blake.stilwell@military.com. He can also be found on Twitter @blakestilwell or on Facebook.
Want to Know More About Veteran Jobs?
Be sure to get the latest news about post-military careers as well as critical info about veteran jobs and all the benefits of service. Subscribe to Military.com and receive customized updates delivered straight to your inbox.